Help your employees transition more smoothly into hybrid working with this expert advice from comms guru Advita Patel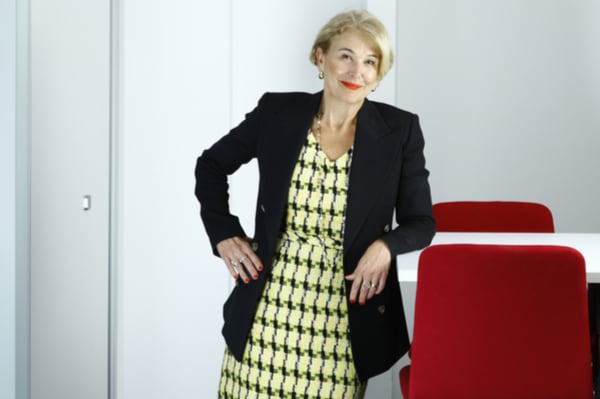 In the brave new world of hybrid working, effective communication will be crucial if we are to be successful as inclusive managers. So, for our latest Better Managers Briefing, I was excited to welcome Advita Patel, director of Comms Rebel, an internal communications consultancy whose clients include Royal Mail, Amazon, Magnox, Puma and NHS Norfolk.
Advita is also co-founder of A Leader Like Me, a membership organisation for underrepresented women looking to progress in their careers. She co-hosts an award-winning podcast called Edge Rebels and I asked her to share some thoughts on how managers can help their colleagues transition into more hybrid working.
Watch our conversation and read the summary below.
What does effective communication look like?
Effective communication is when people in your organisation feel connected to the objectives, strategy and direction of the business, says Advita "It's also about making sure that colleagues have the ability to feed back effectively and that feedback is actioned, which leads to better and effective communication throughout the organisation," she adds.
On the flip side, what does poor communication look like? Poor absence, retention and performance data are all signs that a team is suffering from poor communication. "Radio silence is another warning sign," she says. "If you're asking for ideas or solutions and you're getting nothing back, that's often an indication there's been poor or miscommunication in a business."
Be clear
If you're moving to a hybrid working model, it's vital to define and communicate what hybrid working actually means in your organisation. "Every single organisation will do it differently and we can't assume colleagues will share the same understanding. So as a leader, be very transparent and clear on what hybrid means in your organisation, its intentions and expectations," says Advita.
"And don't forget to explain why. As leaders, our long to-do lists mean we're focused on delivery, but it's important to also explain to colleagues why you need them to be in the room or at a particular meeting, or why it's important for them, if possible, to switch on their cameras."
Build connection
More than 18 months after the start of the pandemic, we no longer have any excuse not to have the right hybrid working tools and resources for our teams. "Do they have mechanisms for two-way communication, the same channels they would have accessed in the office?" asks Advita. "Think about the posters on the wall, the leaflets on the coffee tables, all those things that communicated what was happening when colleagues were in the office. How are you adapting your communication channels to make sure that when people are in different locations, they can also know and keep up to date with what's going on.
Making sure people have all the tools and resources they need to do their job means you're setting them up for success, argues Advita, who encourages managers to be just as intentional in building connections with colleagues.
"We know how much we all miss those trivial yet important watercooler conversations about what we watched on TV last night, so as a leader in this new hybrid model, be very intentional about how you connect on a regular and consistent basis with your team members. Have you got an open-door policy on a certain day? Can you clear your diary for a few hours so people can come and have a conversation with you?"
Be aware of bias
If, as a leader, you are going to be more present in the office than at home, be mindful of biases in favour of the colleagues you'll see in the office, cautions Advita.
"If you've got projects coming your way or you have tasks that need to be delegated out, who will get those opportunities? As leaders, we'll often lean towards the folks we're connected with most, which invariably is the people with whom we share a physical space. So be conscious of that and check your bias. Make sure everyone is aware of the opportunities."
Ensure a safe environment
As consumers we expect personalised communications, so why should it be any different when it comes to internal communications within a business?
"If people aren't engaging, it's our role as leaders to investigate the individual circumstances, dig a bit deeper and find solutions that will help them contribute more effectively," says Advita. "Are you making the environment safe enough for them to contribute or are there things you're doing that's making them feel excluded?"
It's important that leaders check in with their team members on a one-to-one basis and, when necessary, "lean into" an adult conversation, says Advita. She recommends managers read the book The Fearless Organization by Amy Edmondson (Wiley, 2018).
"The key is creating a safe space in which people feel able to share; actively listening to what they are telling you; and a willingness to be vulnerable yourself, so that colleagues aren't shy about sharing and don't fear humiliation or punishment."
Creating a safe environment is more challenging in hybrid and remote working, and demands more leadership by example. "You have to walk the talk and be able to share some of the mistakes that you've made, some of the failures that you've had," urges Advita. "That's how you build that trust in our team, and lay the foundation of a psychologically safe environment."
You might also like these posts on this topic:
Don't miss out - get notified of new content
Sign-up to become a Friend of CMI to recieve our free newsletter for a regular round-up of our latest insight and guidance.
CMI members always see more. For the widest selection of content, including CPD tools and multimedia resources, check out how to get involved with CMI membership.