We spend a day in the life of the 'Calendar Coach' to get her tips on how to organise your life to achieve your ambitions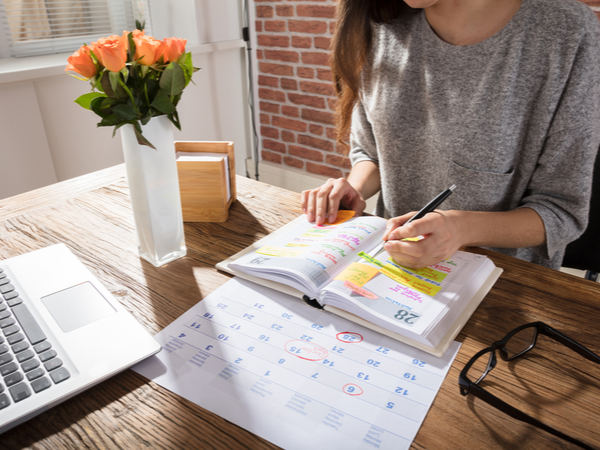 I would LOVE to tell you that I get up at 5am, perform some Insta-ready yoga poses, sweat on the 'Bicycle to Nowhere' for an hour, then after chugging down a lurid, grassy smoothie be at my desk, cracking my knuckles, ready to go by 7am.
In reality, my day starts the night before with an evening routine to help me minimise the shock of re-entry into the world the next morning.
My routine
My most valuable player is a clean coffee pot, ready to go, and that I have at least glanced at my calendar for the next day so my brain can start the process of priming and shaping what it needs. As The Calendar Coach, I believe that our calendar is the engine that drives us Monday to Friday and that we wilfully and woefully neglect its maintenance. Show me your calendar and, like a psychic, I can tell you lots about your past and predict a great deal about your future career.
We jam our calendar full of commitments, and tend passively to accept what others shove in there. That is the calendar which we mindlessly execute on daily; it ends up being how we live our lives. It is far too easy to default to busy; it takes courage to design your day to achieve your ambition. You may tell me that you would like a promotion or a career development opportunity. The seeds of that need to be in your calendar today, not next week or next month.
"How we spend our days is, of course, how we spend our lives," said Annie Dillard – and I carry that quote with me.
I usually embark on the day at 6.45am with an exercise commitment (Pilates or personal training) – I'm simply not wired for evening exercise. I also walk: in Dublin that's by the sea; whatever the weather; in London, it is chaperoning our elderly Jack Russell on an urban comfort break.
Being 'Timeous'
In life, whether I'm starting work, catching a plane, going out for dinner, I like to be 'timeous', a wonderful old Scottish word that means 'in good time, sufficiently early'. I need to prepare myself. I spend the first five minutes of desk-time downloading my brain onto a sheet of A3, creating a sketchy, colour-coded mindmap of my daily 'to-dos'. I was a prisoner of the never-ending, old-fashioned, numbered to-do list. But the way we work digitally now means that a traditional to-do list is redundant by mid-morning or even overnight if you are working across time-zones. There is none of that joy in achievement you get by crossing things off. The mindmap format means I can add and connect things in an organic way and still see the bigger picture, sparking ideas and connections in ways that a traditional to-do list simply doesn't allow for.
Using my virtual skills
In The One Moment Company our business is helping leaders and teams break through the time barrier. It makes for a varied day as my calendar can take me from corporate consulting and organisation development with clients, to training or leadership coaching and solitary writing. Three mornings a week I work directly online with Marty, my business partner. He is an accomplished author, thought leader and Zen priest which, combined with my accountancy background, makes us quite unique! He's in Devon and I'm in London and Dublin, and since we met back in 2017 we've become accustomed to collaborating virtually using a combination of Zoom and Google Docs.
The ubiquity of the virtual channel means that it is vital to be clear and intentional about what we are doing – it is far too easy to spend the day lurching from one commitment to the next. Knowing how to do this is a game-changer for our clients. As the world embarks on the experiment that is hybrid working, teaching our clients to be intentional about time, which we call 'timeframing', is where we are focused at the moment.
I carve out my own time
I'm far too easily engrossed, so I schedule breaks and make meetings 25 or 50 minutes short, so that there is in-built recovery time and I can switch gears – and I absolutely refuse to eat at my desk.
I'm no night-owl, so I aim to end the formal part of my day by closing my laptop at 6pm. This is the time I catch up and connect with family and friends and consume some undemanding TV to punctuate the transition between the working day and the evening. We eat dinner together early as otherwise I'm too full to sleep well and then it's time for my next-day routine! I have a neurotransmitter implant in my spine to regulate pain from a damaged nerve and in addition to all the other devices I need to charge I need to remember to charge myself too, it is the final task of the day.
For lots more great advice about burnout and time management, full CMI members can make use of our ManagementDirect platform. If you haven't yet tried it, it's awesome! Another fantastic resource CMI members have access to is their Career Development Centre, which is full of great advice about managing yourself and your career. 
You might also like these posts on this topic:
Don't miss out - get notified of new content
Sign-up to become a Friend of CMI to recieve our free newsletter for a regular round-up of our latest insight and guidance.
CMI members always see more. For the widest selection of content, including CPD tools and multimedia resources, check out how to get involved with CMI membership.