Graduates and young professionals all over the uk are entering a depleted job market - how are they handling the situation? And how can we help?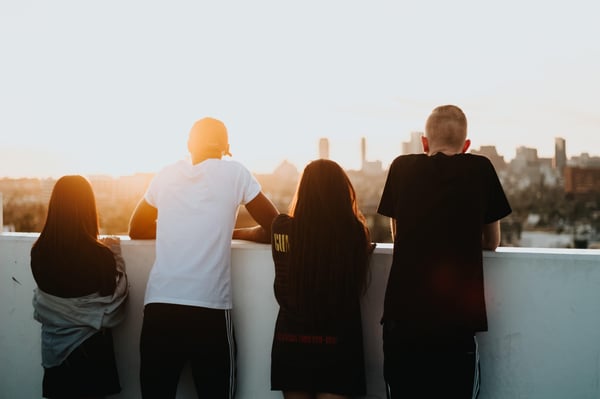 The far reach of the Covid-19 crisis is being felt keenly by those about to graduate and enter the job market. The FT reported that the number of people claiming unemployment benefits had drastically increased in recent months, and adverts are being posted less and less frequently on places like LinkedIn and Guardian Jobs.
A survey by The Institute of Student Employers revealed that while the majority of their members don't expect to make any changes to their graduate recruitment practices, just under a third expect the level of recruitment for their graduate roles to decrease and/or their internship programmes will be negatively impacted.
"I can only control what I can control"
It's a pretty bleak picture, which begs the question: what impact will this new employment landscape have on young professionals' confidence and mental health? They're graduating or starting on the career ladder during a pandemic and a global movement for racial equality, all while there's an ongoing environmental crisis and a looming recession.
Canisha Chakadya, a recent business management graduate from Swansea University, one of CMI's valued partners, told us that at the forefront of her mind is the intimidating job hunt. While she had initially planned to go travelling before starting a full-time role, this has changed dramatically since lockdown began in March.
"I knew I couldn't hope to travel anymore," Canisha says, "and that I needed to look for a full-time opportunity quickly. I started job hunting but was immediately aware of how big the challenge was: people were furloughed, made redundant, or graduates themselves, so the pool of candidates was huge."
For Canisha, who prefers to stay busy than sit idle, Covid-19 pushed her to think on her feet and become innovative in her search for a great role. While initially she felt demotivated and struggled to adjust to her new trajectory, she reframed the challenge as an opportunity - and the mindset made a wealth of difference: "I'm reaching out to people on LinkedIn. I'm researching companies I admire and getting in touch. Now that nearly everyone is working at home, there's more flexibility on when we can talk - at this point, I'm just trying to have conversations with them. I can only control what I can control: I can't make them run internships, but I can control how many applications I make and to who."
Job hunt burnout
"It's an awful time to find yourself on the job market," wrote Andrew MacAskill, founder of mentoring and coaching organisation Executive Career Jump. "So it is no surprise that many jobseekers are suffering from what we call the JABS: job acquisition burnout syndrome.
"It is a major problem and becomes dangerously self-fulfilling: the more stressed and desperate you feel, the worse you perform in your job search, which in turn knocks your confidence further and moves you further away from your goal. There is no magic bullet, but a little guidance, clarity, solidarity and support can make all of the difference. People are still getting job offers – it can be done!"
"For me personally, it's the uncertainty of it"
For another Swansea graduate, Josh Williams, the immediate challenge is getting used to not knowing what his next step is. Since lockdown, Josh has been stuck in "limbo", he says: "I was offered a position in recruitment at the company I worked for during my placement year," he says. "But since lockdown, the job hasn't exactly been taken away, but they're on a hiring freeze, so I don't know when I'll be able to start. So I am in a state of limbo."
"For me personally, there's a lot of anxiety and worry that comes with the uncertainty of what's going on – and I'm not alone in that. I have weekly quizzes with friends, but week by week, there's no update on job hunts or interviews. We're just kind of stuck here and that'll have a knock-on effect throughout life. Starting a career later, taking longer to save for a home, and things like that - it's all delayed now, because of this."
Rosie Tressler, CEO of Student Minds, says that universities need to support young people experiencing difficulties and improve their wellbeing. "We ought to commend people in their twenties for being so resilient in the face of a lot of challenges from housing costs to the job market, but much more can be done to ensure they thrive. We hope to see more universities and employers working together to review their strategy to support young graduates thrive in the workplace as a result."
But this is more difficult when students are no longer in your remit of pastoral care, and when many graduates may not feel comfortable turning to their tutors for advice or assistance. This is further exacerbated by no-one having an answer - so we're asking the CMI community: what advice do you have for young professionals during this difficult period of adjustment? How can they prepare for a future that's unknown? We'd love to hear your thoughts. Please email us with any ideas, comments, or useful tools.
CMI members can, of course, log into the following resources for free:
You might also like these posts on this topic:
Don't miss out - get notified of new content
Sign-up to become a Friend of CMI to recieve our free newsletter for a regular round-up of our latest insight and guidance.
CMI members always see more. For the widest selection of content, including CPD tools and multimedia resources, check out how to get involved with CMI membership.