Staggered starts, overlapping 'bubbles', anxiety issues. If you think your organisation is having a tough time getting back to business as usual, try running a primary school...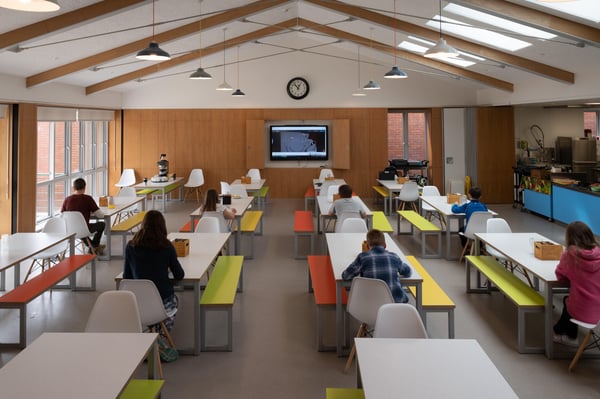 As a member of the leadership team at her primary school in south London, Jane (who wishes to remain anonymous) has been heavily involved in the plans for children to return in September.
The headteacher and deputy put together an initial plan as soon as government guidance was issued for schools on how to operate safely. With this plan in place, the rest of the leadership team worked on it to identify any potential issues and what could be done to manage them. One solution was to group children together in 'bubbles', so their interaction with other kids is more limited and contained.
"It's been a bit of a logistical nightmare," Jane explains. "For example, the computing suite. We can't have bubbles crossing in the computing suite, so only one bubble a day can use it. It has timetable implications."
The staggered starts for each year group create potential staffing issues, particularly for employees with children of their own. The leadership team is keeping in regular contact to make sure that staff are prepared.
The process involved very long Zoom discussions, going through particularly knotty problems and how to handle them. With some teaching assistants working with two separate year groups to help children with special educational needs, one 'bubble' had to be twice the size of the others. This needed to be carefully communicated to staff and parents of children in the larger bubble.
Part of the requirements is to write a recovery curriculum designed to ease children back into school and ensure that they can learn safely. Jane's school is prioritising children's wellbeing over everything else. As English coordinator, Jane is starting the year with a poetry exercise for all year groups, designed to help pupils express themselves and reacquaint with writing and speaking in class.
"We've identified that we might need a lot more 'circle time', where children talk about their experiences. Plus, teachers will need to feed off what the children are talking about. We know from the children that have been back already that there are misconceptions and errors in understanding that we need to deal with."
There is a lot of anxiety among pupils yet to return to school. Some haven't left their homes throughout lockdown, others are shielding, and some have even had parents in the hospital. The majority of the school's pupils are black, and the killing of George Floyd had a big impact on the children; some wrote on the school forum that they felt people didn't like them as a black person.
Jane and the rest of the teaching staff are prepared for some difficult conversations, and have made easing children's fears their priority. "There will be a lot of things that will come up that we're probably not prepared for, but we'll have to do our best to deal with them as they come."
PE will play a big part in developing social skills, but games have to be no-contact, which is another challenge. Thankfully the rules are more relaxed around early years pupils, where social distancing is practically impossible. "You have to try to be as careful as you can with washing hands and everything, but they haven't got the same restrictions as they do going up through the school."
Pupils aren't the only ones anxious about returning to school. The school's trust is offering resources to staff that are experiencing anxiety. On a more personal level, the headteacher set up WhatsApp groups to keep staff updated and connected, and has been putting in one-on-one time with each member of staff. Jane has been shielding throughout lockdown, for example: "He checked in with me regularly to see if I needed anything."
The biggest challenge of all, Jane says, is getting the children acclimated to the new way of learning. Settling in will be very hard for the children that have been the most isolated and affected. Differences in home learning is part of that – while some children have been learning with their parents, for others it's not been possible. Schools have until the summer of 2021 to address any learning gaps that might have occurred over lockdown.
"We have no idea what we're going back to," she says. "We've written the recovery curriculum and staff are adding ideas to it. We've got a plan in place for what we want the school to look like in terms of safety, but until we're actually doing it, there will be more things that come up."
Is your organisation starting to think about returning to the workplace? Read a case study to see how others are working out the logistics.
You might also like these posts on this topic:
Don't miss out - get notified of new content
Sign-up to become a Friend of CMI to recieve our free newsletter for a regular round-up of our latest insight and guidance.
CMI members always see more. For the widest selection of content, including CPD tools and multimedia resources, check out how to get involved with CMI membership.