Entrepreneurial managing director Bobby Singh Braich shares the story of his journey to managing a successful franchise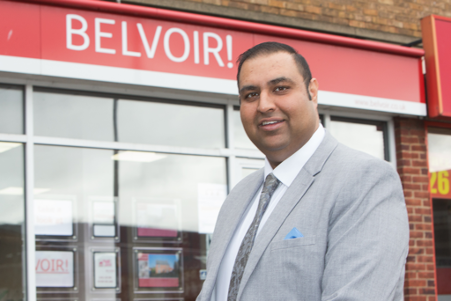 Bobby Singh Braich was born for property management. As a young child he was often seen tagging along with his father who self-managed the family's rental portfolio. He would hold tools when he was needed for maintenance jobs and would frequently accompany his dad to meet new prospective tenants.
As time went on, he gradually took on more and more responsibility in the family business, from showing potential tenants around the properties to arranging repairs and ordering materials. In the year 2000, he took on the whole portfolio.
"Passion isn't a skill, it's a feeling"
"I learned early on that whatever you do in business, you need passion," he says. "It's not a skill, it's a feeling, but without passion it's not going to work."
Bobby studied business and finance at De Montfort University, Leicester and has used his skills, experience and understanding of the lettings sector to quickly progress in the field.
The first business he bought solo was a local post office close to his home in Kettering, Northamptonshire. A few years later he added a local convenience store to his books and then about six years later a franchise opportunity came up at lettings and estate agency Belvoir, with a network of four offices.
As he had the capital already, Bobby decided to take the plunge.
"In 2012, I came across a Belvoir branch in Kettering, Northamptonshire where I lived," says Bobby. "As a landlord with a property portfolio, I made an enquiry about its Tenant Find Only service. I soon built up a good relationship with the owner and jokingly said that if he was ever looking to sell the business, I would be interested in purchasing it. Six months later, he contacted me to ask if I was still interested in buying his business. The ownership was transferred over to me mid-2014."
"Like any business, to make a franchise a success, it inevitably comes with some sleepless nights, uncapped working hours and you need the drive and passion for success. But, being part of a franchise also gives a sense of security and you know that your legal compliance is all in order so you can focus on growing the business right away."
Since then, he has acquired more Belvoir branches – one in Corby and one in Coventry – and has 16 staff across the three sites.
He adds: "Thankfully, all offices continue to go from strength to strength and are all profitable businesses in their own right."
Starting your own business?
Reach your full potential with CMI's resources tailored for entrepreneurs and self-starters. Complete three tasks and receive a digital certificate.
"When you're starting a business, consider the people"
Bobby aims to provide his clients with first-class service and advice. He is also Kettering-born and very knowledgeable of the local area, its current development and changes that are taking place. These features contribute towards Belvoir's success, alongside Bobby's strong, skilled and dedicated team.
He says: "When you are starting a business of any kind, you should really consider the people involved. From staff to suppliers and customers, think about who you will need to keep the business running seamlessly.
"Pull together a group of people you trust to look after the best interests of your business."
Most importantly, Bobby believes that achievement in business relies as much upon your personality as your skills and that patience is key.
"It's about you as a person," he says. "People buy from people. You need to be yourself and understand that business success is a marathon not a sprint. Take small steps, you're not going to succeed overnight. Get stronger from the knockbacks and be more prepared next time."
"It's a mark of professionalism and trust"
Bobby has a sharp eye for growth within the lettings industry and is able to adapt quickly to the industry needs and legislation changes.
His role as managing director involves a lot of work behind the scenes, ensuring that all aspects of the business run smoothly and needs are met. "You need good IT skills, a strong customer focus and impressive organisational skills to do my job," says Bobby. "I don't have much involvement with the front of the business, I employ people to do that. We are big enough that I don't need to be hands on. Mine is much more of a supporting role, but still very much a customer-centric one."
In February this year, Bobby achieved the Level 3 Award in Residential Letting and Property Management – a nationally recognised industry qualification allowing membership to the Association of Residential Letting Agents' (ARLA), the UK's foremost professional body for letting agents, which aims to promote better regulation and higher practice standards in the UK private rented sector.
Bobby, who is now an ARLA member, says: "It was important for me to secure this recognised qualification as a letting agent. It is not only a personal achievement but also a mark of professionalism and trust. It provides reassurance to tenants dealing with Belvoir that the agency adheres to the highest professional standards, that we go above and beyond, and that our employees are qualified and knowledgeable letting agents."
Starting your own business? Reach your full potential with CMI's resources tailored for entrepreneurs and self-starters. Complete three tasks and receive a digital certificate. Log in to get started.
CMI management qualifications are a mark of professionalism, proven to improve performance in the real-life management skills that you need. Secure yourself a recognised management qualification and find the right course for you today.
Image: Tony Hardacre
You might also like these posts on this topic:
Don't miss out - get notified of new content
Sign-up to become a Friend of CMI to recieve our free newsletter for a regular round-up of our latest insight and guidance.
CMI members always see more. For the widest selection of content, including CPD tools and multimedia resources, check out how to get involved with CMI membership.