Interview:
What does best-practice Gender Pay Gap reporting look like?
Wednesday 23 June 2021
For some companies, gender pay gap reporting is a legal requirement, but how do you make this data lead to actionable change?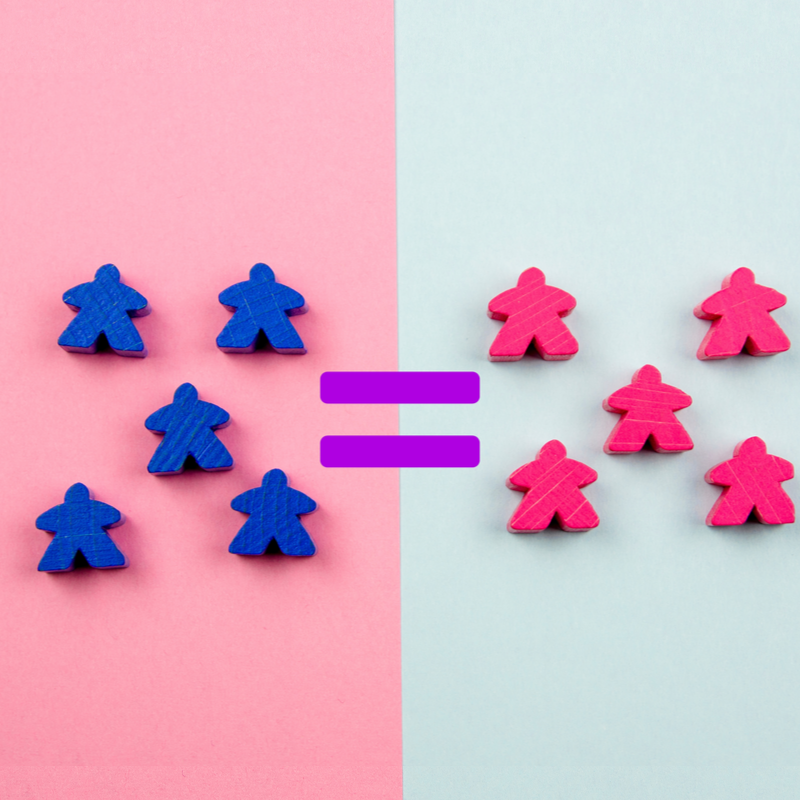 Companies with more than 250 employees are required to report their gender pay gap numbers. But during the Covid-19 pandemic, this requirement was paused. CMI brought together a group of Companions to discuss how to move gender pay gap reporting beyond box-ticking to a value-adding exercise. The discussion was chaired by Kate Grussing CMgr CCMI, managing director of Sapphire Partners executive search firm.
"Legislation requires companies to put a link to their gender pay reports on their website, and the government provides a portal, in which you can look up how companies are doing. So it gives a lot of visibility – and that's part of why the media covered this so assiduously when it was first launched," says Kate. "Covid-19 created a bit of controversy when it allowed companies to pause their gender pay gap reporting, so it's still not a very well-established practice."
"It still puzzles me that we're even having to have this conversion," says Nigel Girling CMgr CCMI, head of the professional development school at Inspirational Development Group. "It seems so obvious that we should have dealt with this 30 years ago."
The overall agreement in the group was that while the methodology for pay gap reporting wasn't perfect, it was a necessary tool for the greater good – but it does pose problems in terms of the reporting becoming a box-ticking exercise as opposed to the clarity for an action plan going forwards.
Tamara Box CMgr CCMI, managing partner for Europe and the Middle East for law firm Reed Smith, sums it up: "We published our ethnicity pay gap report as well as our disability pay gap reporting this year – like the gender pay gap reporting, it's not a perfect system. But, ultimately, I'm still a believer in sunlight being the best disinfectant. If we don't have some degree of accountability or expectation, then we're going to go on brushing it under the carpet."
If it's a legal requirement, why are we still having these conversations?
Chris Luck CB MBE CCMI, CEO of Shaw Trust, a charity which helps disabled and disadvantaged people into employment and independent living, is also impatient for change. "We don't need the government to tell us how to do it, we don't need organisations to tell us how to do it, we just need to get on and do it." Chris says that in the two years since taking on the role as CEO, he has seen the numbers of female employees stable at 66% of the organisation of 3,000 staff; has pushed the proportion of female executives to 44% and has raised the number of female trustees on the board to 38%. "We do that by making sure all the barriers are removed. Covid-19 has been a blessing to us because the forced acceptance of working from home has meant that an awful lot of – let's face it – female, primary carers are still able to access work," he says. "It's a deliberate choice to remove those barriers, look at the talent, and ask how we can enable the talent to do the work."
Robert Baker CMgr CCMI says there is real value in providing gender pay gap data, but that companies need to learn how to use the information for positive change. "We want to see real evidence that people are putting credible action plans in place. We want them to use this data to drive better decisions about supporting inclusion – it's about the analysis, not just reporting your numbers."
So what does – and should – best-practice GPG reporting look like?
It should make issues transparent
"It's something I have been passionate about for very many years," says Graham Belgrave CMgr CCMI, from research organisation Advanced Clinical. "I'm very lucky to work with a very large number of very talented women in the company. The whole drive of Advanced Clinical is to make sure that we are diverse, we are equitable, and we are inclusive. When myself and my role's counterpart in Europe were hired, our salaries were equal; all of the hiring I've ever done has never cared one iota what colour, creed, or religion that anybody is." In his organisation there's a 60/40 split of women/men in senior leadership positions. He says that they wouldn't have reached these numbers off the back of a government-mandated requirement alone; it was really down to an internal drive. "I'm very fortunate to work for a company that absolutely embraces gender parity." At the start of every board meeting they conduct a diversity healthcheck, and give space to discuss any issues.
Shaw Trust also believes in transparent pay scales: "Every role has a pay scale, which is based on your experience and competencies – meaning it can be proven and evaluated. Irrespective of gender, you cannot be paid more or less based on anything except that pay scale," says Chris. "One thing I did deliberately in my senior executive team is I raised the female executives' pay to a CEO's arbitrary decision. We redrew the baseline."
Sue Vinnicombe CBE CMgr CCMI, professor of women and leadership at Cranfield, says that people like Graham and Chris to advocate can be real agents of change "When I was appointed as an executive at my organisation, I was very lucky to have a dean who asked me if I realised I was underpaid by 15% – well no, I didn't! He told me he'd make sure they'd make it up to me. But how many CEOs do you have who'd actually say that?"
It should inspire leaders to act
"I've now got a portfolio NED career," says Robert. "One of the companies I work with, Spktral, are gender pay gap reporting specialists. They've been very active in the field, and we have a campaign at the moment to get companies to start their reporting earlier. It's crazy that companies leave it until the last minute or don't do it unless they absolutely have to – so we're trying to get people to see it's in their interests to do this all earlier, get the vital business intelligence about the representation of women in their organisation and then do something about it: not just leave it until the last minute and tick some boxes. For me, this isn't just about reporting. It's about representation of women in every level of an organisation and progression through those levels – we know that we have pitifully low levels of women at the tops of organisations. There are recent studies that show that progress has been painfully slow, especially for small and medium sized companies."
Indeed, the 'Hidden Truth: Diversity and Inclusion in the FTSE All-Share', a report from Women On Boards, reveals that less than half of the companies listed in the FTSE All-Share ex350 (48%) have met the target for 33% women on boards and more than half (54%) still have all-male executive leadership teams.
Cindy Rampersaud CMgr CCMI, senior vice-president at Pearson, also believes in using the data instead of just collecting. "In education, we have a large volume of women, and the point of interest is: what does that representation look like at different levels? And what does the representation of women look like in senior profit-and-loss roles, as opposed to support functions?...
"The challenge has to be: what does gender pay gap reporting look like in different functions and at different levels. In the way that the reporting is done in the UK currently, there's a lot that we still need to unpick."
It should ask the right questions
"One of the things I'm concerned about in terms of reporting is that we've seen what happens in organisations when they have to gather information like that," says Nigel. "I send my tax return in on time every year – doesn't make me any happier about paying my taxes! Likewise, the fact that people are reporting this data doesn't necessarily shift the mindset." That's why Nigel's approach tends to focus on developing leaders' attitudes and seeing diversity and inclusion on every level as an opportunity, not a hurdle. "I'm a little concerned with the focus on pay reporting; I'd much rather see us having a focus on understanding what on earth the problem was that got us here, and trying to fix it."
Chris agrees, adding: "we've got to deconstruct the system that got us here in the first place.  Sometimes we ask the wrong question to get the wrong answer. What is it we're trying to achieve? And therefore how do we get after it? It's about doing the right thing for the right reasons – and pay reporting doesn't ask the right question of the problem."
Gillian Wilmott CMgr CCMI of Zoo Digital Group, chairs a board on which she's currently the only woman – and says it's important colleagues are not apprehensive of gender pay gap reporting in case it made them seem like the 'causation'. "The Board must lead an objective look at the situation, and how they drive the solution," she says. They don't want the data to make their organisation appear biased against women when it's not – and by reframing the question from 'what's the problem?' to 'how can we work together to fix it?' could help.
It should reveal problems to solve
"Recently I've been doing gender pay audits," says Gillian. "I work in tech companies which means we often have well-paid men in technical roles, and women in support, customer-facing, non-technical, less well-paid roles – which is quite challenging. We've started some programmes to get women internally into some of those [technical] roles by retraining them and we've looked at our recruitment processes. We've started to close the gaps in some areas, but we've got a lot of work still to do."
"The way that gender pay gap reporting is presented is not very helpful, just in these four quartiles – no company works like that," says Sue. "You have to get down to granular levels."
Gillian says that by drilling down like this, organisations can analyse the root cause of the problem and find a solution. If there are roles that are predominantly filled by men, she says, ask why that is. "And how are we going to help, educate, and train women to get into these male-dominated roles? Each organisation has to unpick the figures that make sense to their organisation's needs – in terms of understanding what the problems are behind the figures, and then doing something about it."
It should be intersectional
Cindy says that in her organisation, employee resource groups have been instrumental in getting granular data and raising practical issues that can be solved. But she said that one issue these groups had uncovered is that by focusing on gender, other areas of diversity lagged behind. "Aspects like ethnicity, disability, age – they fell behind. So organisations need to have the ability to not look at these things in isolation, but to think about them in terms of intersectionality and inclusion in its broadest sense." This in itself is a challenge for leaders – read this article on being a diversity-fluent leader to understand more.
See how CMI is supporting gender equality in the workplace through our CMI Women network.
You might also like these posts on this topic:
Don't miss out - get notified of new content
Sign-up to become a Friend of CMI to recieve our free newsletter for a regular round-up of our latest insight and guidance.
CMI members always see more. For the widest selection of content, including CPD tools and multimedia resources, check out how to get involved with CMI membership.