Resource:
Act Like a Leader Think Like a Leader
Thursday 17 November 2016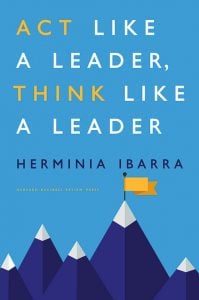 Today's breakneck pace of change has an immense impact on leaders – and as a result, on the organizations they run. All too often, people remain stuck in outdated mindsets and modes of operating, even after others recognize the need for change. Leaders need to learn to pivot even when there are no obvious signals guiding their way. Leadership expert Herminia Ibarra (INSEAD) upends traditional, introspective advice and says act first – and then change your way of thinking. In this unconventional book, Ibarra, one of the world's foremost experts on leadership transitions, provides the first practical guide on how to change when you also need to lead. Defying standard leadership development guidance, which encourages deep self-reflection into strengths and weaknesses, this book shows that the most effective way to change is through action, not analysis, and by learning from experience, not introspection. In short, it will teach you to change from the outside in by first acting like a leader and then thinking like one. Based on Ibarra's flagship executive education program at INSEAD, this book is for new and seasoned leaders alike who need to understand the new rules for success in their own organization, and in the global business environment at large. It's the essential guidebook for anyone who wants to upgrade their role or be the leader their organization needs them to be.
Read the full story: https://herminiaibarra.com/books/