Salmond "wins" final televised Scottish Independence debate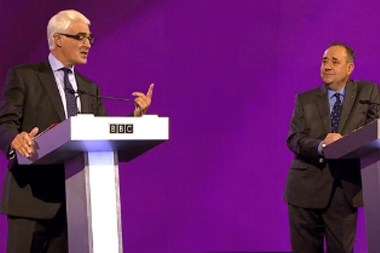 Poll suggests Scotland's first minister trounced Better Together chief Alistair Darling in their heated last head-to-head before the Independence vote
Farah Dib
An ICM survey for the Guardian has indicated that Scottish first minister Alex Salmond clinched a dramatic fightback against No-vote stalwart Alistair Darling in last night's crucial, second TV debate over Scotland's Independence question. After losing the first debate, the SNP leader delivered a much more convincing argument last night, attacking Darling's credibility and accusing him of siding with the Tories. His resurgence earned him a 71% lion's share of ICM's poll.
The debate descended into a shouting match, broadcast live across the UK from Glasgow, with the heated discussion focusing mainly on oil revenues, currency and the future of nuclear weapons.
"Why are you standing here defending Conservative policies on a joint platform with the Conservatives?" Salmond asked. In response, Darling refuted supporting either the Tories or the Scottish National party, and instead pressed Salmond on his Plan B and the impact of leaving the UK.
Better prepared this time around, Salmond offered "three Plan Bs" for the event of Westminster rejecting a currency union: 1) using sterling outside of the Union, 2) using the Euro, or 3) forming a Scottish currency. Darling pointed out that both sides would have to agree to a currency union, saying: "You are taking a huge risk if you think it is just all going to fall into place."
Salmond received loud support from vocal Yes voters as he stated that the referendum in three weeks will give the country "the opportunity to take power into Scotland's hands".
"Twice before in Scotland's recent history we've stood at the crossroads," the SNP leader said. "In 1979, we didn't get the Parliament we voted for, but instead got 18 years of Tory government – Margaret Thatcher, the de-industrialisation of Scotland, the Poll Tax.
"In 1997, we took our opportunity, and since the Parliament came to Scotland life has got better. We introduced free personal care for the elderly, we removed tuition fees. But there is much – far too much – that is still controlled by Westminster. We couldn't stop the bedroom tax, we can't stop illegal wars, we can't stop the poor and disabled bearing the brunt of welfare cuts, we can't stop the spread of food banks in this prosperous country, we can't stop countless billions being wasted on a new generation of weapons of mass destruction. Now we have the opportunity to change all of that."
Darling, in response, turned the tables on Salmond's credibility, saying he was "asking us to take his word for it on everything, [with] no plan B for anything", and accused the first minister of "using scare stories in order to make a point which has nothing to do with the referendum".
But, he continued: "The basic difference between Alex Salmond and me is this: my first priority is to build a fairer and better society. His first priority is to create a separate state no matter what the risks, [or] the cost.
Darling added: "While he has spent the last two years talking, I have been listening. I know people want change, but they also want security on jobs, on pensions, on their children's future. That's why my message is that 'No Thanks' will not mean no change. That's why there will be more powers for the Scottish Parliament on tax, on welfare, on everything that makes sense to decide here. We have delivered before – we will deliver again."
Salmond's victory strengthens the Yes campaign at a crucial time – just as around 750,000 postal votes for the referendum are due to be sent out over the next couple of days. However, longer-term polls suggest that Salmond's rally in last night's debate may not be enough to close down Better Together's lead, which remained ahead by 14 points as the debate began.
A previous Guardian/ICM snap poll immediately after the first live debate on 5 August gave Darling a victory of 56% to 44%. And with less than a month until polling day – despite the result of last night's BBC debate – the latest ICM poll suggested it made little difference to the overall backing for independence, with each campaign's support rising by one percentage point. Meanwhile, the number of undecided voters – the most important group of voters for the campaigns – fell by just two points.
That said, the debate signalled a renewed vigour on each side, and a more intense final phase – giving business leaders who have expressed concern about the impact of a Yes vote further cause to hope for clarity on the other side of the 18 September ballot.
Powered by
Professional Manager