Why Grant Thornton crowdsourced management strategies from staff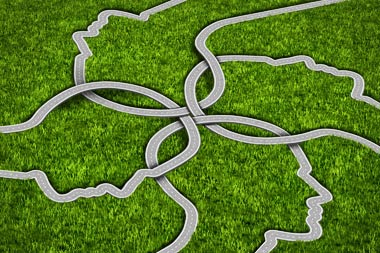 Online event has enabled workers to contribute their own ideas on how to keep the company in good shape
Jermaine Haughton
Bosses at accountancy firm Grant Thornton have crowdsourced workers' ideas on how to extend the company's run of success. Ahead of its glowing financial results today, the firm announced that it had brought together workers from across the firm's offices in 127 countries, in an online event powered by IBM's InnovationJam platform. The session gathered a host of ideas that participants felt should be included in the next corporate strategy.
More often associated with modern tech companies, the use of online crowdsourcing underlines Grant Thornton's ambitions to maintain its current ranking as the world's fastest-growing accountancy firm. Employees ranging from interns to senior staff took part in the event, which reinforced values of innovation, critique and creativity among the workforce. Workers clearly enjoyed discussing the firm's growth strategy in an active and open framework, because – according to IBM – the Grant Thornton participation of 37% almost doubled the average for previous online crowdsourcing events at major global corporations.
More than 24,000 visits were logged over the three-day session, generating some 13,000 comments. The findings and conclusions are expected to be presented at Grant Thornton's annual conference in Montreal later this month. Everyone in the organisation will be able to watch a live stream of the presentation, followed by real-time questions and comments.
Grant Thornton CEO Ed Nusbaum said: "In 2009, the Grant Thornton global leadership team developed a go-forward strategy that we called Ambition 2015, setting goals in growth, people development and thought leadership. Five years later, Ambition 2015 has been a success. Now Grant Thornton is looking beyond 2015, we wanted to tap directly into the wisdom of the crowd for driving our future growth strategy."
Under the leadership of chief executive Scott Barnes, the company's UK business has experienced five successive years of growth, and today's financial results showed that Grant Thornton's revenue rose by 9% to £512 million in the 2014 financial year, while profits jumped by 7.7%.
In the past year, three large, new clients – Interserve, Simply Health and Fullers – have led Grant Thornton to breathe down the necks of the "Big Four" auditors Deloitte, EY, KPMG and Accenture. However, Barnes says now is not the right time for Grant Thornton to tackle large corporations head-on. "Our key purpose," he told City AM, "is in the middle market. We see ourselves as a mid-market player representing mid-sized businesses. We will play in the larger corporate arena only where we think we have the expertise. For the last two or three years we've been trying to speak up for mid-sized businesses and identify them as a key part of the industry that can drive growth for the UK economy," he says.
He added: "If you look at all the stats relating to mid-sized businesses, they tend to be more productive, they grow more quickly. We've been trying to encourage politicians and policymakers to think about businesses in the 'mittelstand' – which is this German idea of medium-sized businesses that are driving economic growth."
For more thoughts on how to harness the power of collaboration, check out the details of this forthcoming CMI seminar, the Theory U Workshop.
Powered by
Professional Manager