Mayor bites back as airports chief quashes "Boris Island"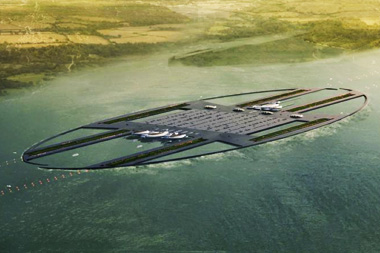 Johnson signals determination to keep Thames estuary project on track, and avoid "political Kryptonite" of third Heathrow runway
Matt Packer
London mayor Boris Johnson has poured scorn on a government rejection of his proposals for a new airport in the Thames estuary – a scheme with which he became so personally identified that it was dubbed "Boris Island".
In a decision published today, Airports Commission chair Sir Howard Davies said: "While we recognise the need for a hub airport, we believe this should be part of an effective system of competing airports to meet the needs of a widely spread and diverse market like London's. There are serious doubts about the delivery and operation of a very large hub airport in the estuary. The economic disruption would be huge, and there are environmental hurdles which may prove impossible, or very time consuming, to surmount. Even the least-ambitious version of the scheme would cost £70 to £90 billion, with much greater public expenditure involved than in other options – probably some £30 to £60 billion in total."
Although the Commission found the airport's designs "imaginative and considered", Davies stressed: "To roll the dice on a very risky project, where delays and overruns are highly likely, would be reckless. We need to focus on solutions which are deliverable, affordable and set the right balance for the future of aviation in the UK."
Last week, Johnson confirmed he would seek a Parliamentary seat at next year's General Election in the Uxbridge and South Ruislip constituency – an area that would be considerably affected by any move forward on parallel plans for a third runway at Heathrow. While the airport is a major source of jobs in the constituency, Johnson is concerned that building a third runway would throw residents' quality of life into disarray – making the estuary plans a more desirable option.
In a statement, Johnson's office said: "It is clear to the Mayor that the political Kryptonite of a third runway at Heathrow will run into immovable opposition, as it has in the past, because of the appalling environmental consequences it will deliver to a million or more Londoners. And building a fourth runway at Heathrow would be an environmental disaster for London. Equally, expanding Gatwick Airport would fail to provide the global connectivity that can only come from a large, four-runway hub airport."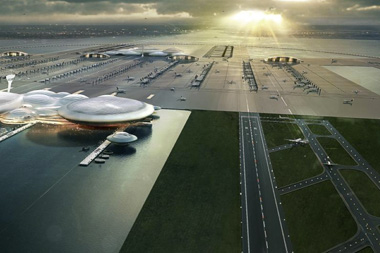 The mayor's team also noted that failure to greenlight the estuary project would deprive the Capital of an economic success story. As such, it accused the Commission of "turning its back" on a rapidly growing London population that "desperately" needs the homes and jobs that the plans would unlock.
In the team's view, a regeneration of east London and the Thames Gateway, "entirely in line with current government policy", would transform the south east and create 336,000 jobs across the UK. Meanwhile, they argue, it would add an annual £92 billion to UK GDP by 2050, "dwarfing" Heathrow and Gatwick. The mayor's office added: "Without a four-runway hub airport, it is clear that cities around the UK – whose airports have already lost their connection with Heathrow – will fail to get it back, as a third runway will be full from day one. Even the Airports Commission's calculations show that."
Johnson himself weighed in more emphatically. "In one myopic stroke," he said, "the Airports Commission has set the debate back by half a century and consigned their work to the long list of vertically filed reports on aviation expansion that are gathering dust on a shelf in Whitehall."
He added: "Gatwick is not a long-term solution, and Howard Davies must explain to the people of London how he can possibly envisage that an expansion of Heathrow – which would create unbelievable levels of noise, blight and pollution – is a better idea than a new airport to the east of London that he himself admits is visionary, and which would create the jobs and growth this country needs to remain competitive. It remains the only credible solution. Any process that fails to include it renders itself pretty much irrelevant, and I'm absolutely certain that it is the option that will eventually be chosen."
For more on these big-build issues, check out these details on CMI's qualification route for civil engineers.
Images courtesy of press release for original proposals.
Powered by
Professional Manager