Strike no more? Managers on red alert with union unity under pressure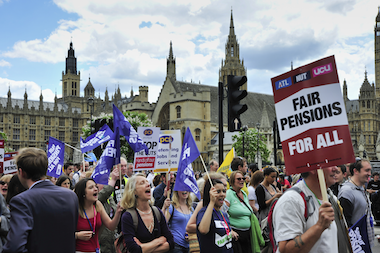 The Government has announced plans to strip up to 3.8m public sector workers of their right to have trade union subscriptions automatically deducted from their pay cheques. What do managers need to know?
Jermaine Haughton
In a move that will affect more than half of all public sector staff, workers will be forced to make their own arrangements to pay union subscriptions, most likely by direct debit. There will no doubt be consequences to relationships with bosses and managers, with civil servants, teachers and nurses among the union members affected by the updated Trade Union Bill.
Matt Hancock, the cabinet office minister, described it as an important step to modernising an "outdated" system, which was created long before many workers had access to numerous electronic and card-based payments and bank accounts.
Critics, however, condemn the action as another cynical attempt by the Tories to reduce the power and presence of trade unionism within the public sector. Labour Party leadership hopeful Andy Burnham labelled the measures as "vindictive".
In a week that trade union strikes halted services on London's underground transport system due to a row over the new Night Tube scheduled to launch next month, the relationship between the government, employers and workers seems as threadbare as ever.
Insights looks at three aspects that mangers should be on red alert for, should the changes occur:
Will it really save employers time and money?
The government proposes the changes to the way staff will have to pay trade unions will release some of the clerical burden from employers, both in time and money.
By removing the so-called "taxpayer-funded administrative burden", the Conservatives predict the measure will save more than £6m each year and fits in with the government's aims to streamline public service expenditure and focus on efficiency.
The government says employers will give adequate notice to allow union members to make other arrangement but Yvette Cooper, shadow home secretary and Labour leadership hopeful, argues the plans make "little sense" to do now, as the union check-off system is considered easy to use and convenient for most employers.
Even worse staff productivity?
Reforming union payment processes follows other policies from the Conservative-led government to limit the impact of trade unions on employers, including arbitrary ballot thresholds, criminalisation of picketing and the reduction of trade union facility time.
Recent research suggests that the cumulative effect would have a damaging effect on staff morale and productivity, which is currently at its worst since the Second World War.
Based on the government-sponsored Workplace Employment Relations Survey data (WERS 2011), joint research from Professor Nick Bacon (Cass Business School) and Professor Kim Hoque (Warwick Business School) found that a lack of union representation could strain the relations between managers and staff, particularly in the public sector. Their findings showed that labour turnover was almost three times higher and the industrial tribunal rate 14 times higher in NHS workplaces without union representatives, compared to workplaces where representatives were present.
Hardening ill-feeling between union staff and employers
With the battle between government and trade unions unlikely to calm over the next five years, the continued tug-of-war threatens to pull the workers and employers caught in the middle further apart.
Sajid Javid, secretary of state for business, innovation and skills, argues the Trade Union Bill will actually empower workers to make their own decisions on how they want to be represented by unions.
However, left-wing commentators such as columnist Ellie Mae O'Hagan dispute this, arguing that the government "doesn't really care about democratic engagement" and has ignored union calls to modernise, by conducting ballots by email or phone.
With some picking one side, and some picking the other, room for discussion and negotiation could be thwarted – leading to confrontations with management and further disruptions to public and private services.
Image courtesy of Matt Gibson via Shutterstock
Powered by
Professional Manager