Skills and work-life balance key to managers' New Year's Resolutions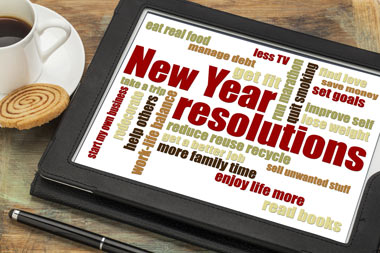 Equipping staffers – and themselves – with vital new talents is a major ambition for managers at the dawn of 2015
Matt Packer
Boosting skills and output are high on the agenda for bosses as we surge into 2015, according to the Chartered Management Institute (CMI) – with many of them also keen to carve out more rounded lifestyles amid their work commitments. A poll of 1,200 managers for CMI's recent Priorities and Expectations report showed that leaders' main New Year's Resolutions are:
1. Honing an edge
Devoting more time to continuous professional development was cited as a key objective by 53% of respondents, with 44% planning to take new courses or qualifications.
2. Work, rest and play
In second place, bosses want to find ways of becoming more productive (50%) while achieving a better work-life balance (47%). For 45%, their game plan will be to slash time wasted on needless meetings and emails.
3. Team talents
Completing the Top Three is a desire to support skills development within teams (50%). A substantial group within that response set have resolved to improve communication with their teams, or become mentors or coaches to skills-hungry staffers.
Interestingly, many of the New Year's Resolutions that have been unveiled by high-profile entrepreneurs chime with CMI's findings. On his official Facebook page, the social network's creator and leader Mark Zuckerberg revealed that he, too, is eager to soak up new ideas. "My challenge for 2015," he wrote, "is to read a new book every other week – with an emphasis on learning about different cultures, beliefs, histories and technologies."
Zuckerberg has been busily crowdsourcing book ideas from his legion of followers, and his first choice has a strong leadership theme. "Our first book of the year," he announced, "will be The End of Power by Moisés Naím. It's a book that explores how the world is shifting to give individual people more power that was traditionally only held by large governments, militaries and other organisations. The trend towards giving people more power is one I believe in deeply, and I'm looking forward to reading this book and exploring this in more detail."
Other entrepreneurial pledges for 2015 include:
Time to think
Brian Halligan, CEO of marketing and sales software provider HubSpot
"I'll have dozens of mediocre ideas and one or two really good ones. Invariably, those really good ones come to me when I'm on the way in or out of a nap or while I'm trying to clear my head while meditating. There's something about not actively thinking that creates a fertile ground in my brain for a breakthrough. I want to carve out more time in 2015 for those moments to happen." (Source)
Diversity
Tracy DiNunzio, CEO of online second-hand clothing store Tradesy
"Only 2.7% of venture-backed companies [in the US tech industry] have a female CEO, and less than 2% of venture capitalists are African-American or Latino. So I think our industry is missing out on a lot of opportunity and talent, and my resolution is to help change that." (Source)
Nearest and dearest
Simon Cowell, CEO of SyCo Records and X-Factor mogul
"…my New Year's Resolution is [that] gyms are really boring and family friends kids and animals make you happier." (Source)
For an infographic of CMI's findings, visit managers.org.uk/resolutions.
Powered by
Professional Manager