Five ways that driverless cars will be great for British business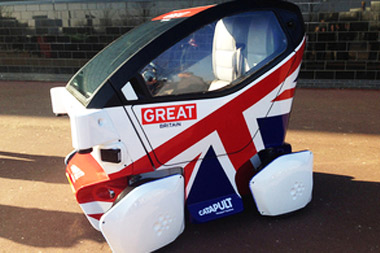 Areas of the UK economy are poised to accelerate as a result of an automotive revolution, says report
Jermaine Haughton
Driverless cars are revving up to supercharge the UK economy, according to new research from the Society of Motor Manufacturers & Traders (SMMT). In its report Connected and Autonomous Vehicles: The UK Economic Opportunity – published in partnership with KPMG – the organisation explained how the development of cars of those types will boost the UK motor sector, along with related industries such as insurance and digital technology.
At yesterday's launch event for the report, the latest driverless innovations by major automakers were exhibited, including models from BMW, Jaguar Land Rover, Mercedes-Benz and Nissan. Meanwhile, industry leaders revealed their thoughts on how business strategies around these new automobiles could spark developments in road infrastructure, liability policies, data and privacy management and cyber security.
With all that in mind, here are five ways – drawn from the report – that driverless cars will be great for the UK's economic prospects:
1. In the driving seat
Britain is in a prime position to be a global leader in connected and autonomous vehicle development, according to the research, with a two-year head start on other European countries. That stems from the UK government's decision in the 1960s not to ratifying the Vienna convention, enabling on-road driverless car pilots to take place without the need for primary legislation. KPMG has found that these new vehicles will deliver a £51 billion boost to the UK economy and, with the government's assistance, a further £200 million of industry investment into driverless research, development and demonstration. There are plenty of strong incentives for new and existing businesses to thrive in that climate.
2. Accelerating jobs
Those billions expected to be generated by the driverless car market will also trickle down to workers – whether engineers or support staff. Within the 320,000 jobs expected to be created, 25,000 will be within the automotive sector as a result of additional vehicle production and increased local content. However, more substantial job creation will occur as a knock-on effect across the whole economy, because of productivity improvements and greater mobility of workers.
3. Heavy data traffic
Businesses in sectors linked to the automotive industry will be provided with greater opportunities for technology-driven growth through the successful development of connected and autonomous vehicles. Driverless cars will need far superior wireless and web connectivity and support over the coming decade. As such, companies that specialise in decision-making software, which directs cars through the least-worst options in the event of accidents, and vehicle cyber security, which will help to prevent hacks and cyber attacks, will be on the threshold of huge opportunities.
4. Insurance engines
While insurers will initially be disrupted by the reduction in accidents spurred by safety improvements, they will transfer liability from drivers to manufacturers. From that point on, it is likely to be revenue from corporations rather than drivers that will fuel their coffers.
5. Safety belt
According to the SMMT, 25,000 serious accidents will be prevented and more than 2,500 lives will be saved through the technology. So far, self-parking systems and anti-crash sensors have improved journeys safer and easier, and forthcoming features such as Intersection Assistant technology – which drives vehicles through junctions – and Highway Autopilot, tasked with automatically controlling speed, will only be an improvement. This could have a dramatic, money-saving effect on NHS resources.
KPMG head of automotive John Leech said: "Our study has established that the UK is well positioned to capitalise on the development and production of connected and autonomous cars. Not only will these developments help vehicle manufacturers and their suppliers, they will bolster jobs, trade and productivity across the economy. Connected and autonomous vehicles will promote social inclusion, reduce pollution and save lives. This represents an important opportunity for the economy but one that requires continued focus and commitment from government and business."
For thoughts on changing an organisation's gears, sign up to this forthcoming CMI seminar.
Image of driverless car courtesy of the Department of Transport.
Powered by
Professional Manager