Dragon's Den meets X-Factor in UK startup scene
Heads up, entrepreneurs: two new platforms are helping people with great ideas to hook up with the wisest business minds around
Matthew Rock
Here's a familiar statement: the UK doesn't have the same critical mass of successful entrepreneurs as there is in the US. As a result, British entrepreneurialism is held back in Britain because the next generation doesn't get championed, business and management lessons don't get passed on, coaching and mentoring doesn't happen and, crucially, new startups don't receive personal investment from wealthy individuals.
Over the past 15 years, the tide has begun to turn. Since the 1990s – and particularly since the launch of the EIS (Enterprise Investment Scheme), which enabled private investors to get generous tax relief when they invested in private startups – Britain has seen more and more substantial entrepreneurial success stories, many of which have crystallised their wealth. There is, as they say, a lot of liquidity in the market.
To boost that link between startups and established entrepreneurs, angel investor networks have become more professional, and online crowdsourcing platforms have opened up instant access to the latest ideas.
Those improvements have continued this week with the launch of two, new online platforms – Toucan and Ideas Britain – which both aim to revolutionise the "ideas and mentoring" markets, and supercharge entrepreneurialism in the UK.
Toucan is the brainchild of Rasha Khawaja (above), daughter of businessman and philanthropist Wafic Said, who has brought together an awesomely impressive collection of mentor-entrepreneurs to its platform. As its tagline urges, "Who can? You can, with Toucan". Pret A Manger co-founder Julian Metcalfe, City legend Rupert Hambro and Masterchef star Marcus Wareing are all among its impressive array of founder mentors.
The Toucan concept is that any entrepreneur with an idea can pitch it on the platform, then the best ideas get filtered by a combination of voting and curation by the Toucan team – with only the best being brought to the mentors' attention. If they like what they see, they will ask the budding entrepreneurs to pitch at them. If the idea needs a touch of finessing, the wannabes can go through the Toucan Academy before getting the chance to pitch. If a deal is completed, Toucan takes an equity stake. All terms are negotiable, but the typical amount is approximately 5% to 10%.
Already, the site is getting "a few thousand" hits a day from a blend of young hopefuls looking to break into business and experienced professionals looking to be their own bosses. Khawaja says that food businesses feature prominently among the ideas being pitched so far.
Speaking at an event earlier this week, Innocent co-founder – and now Toucan mentor-entrepreneur – Richard Reed explained that Toucan would be "a filter of quality and commitment". He and his colleagues on the mentoring team already receive dozens of half-baked ideas and proposals, many of which could be vetted (and indeed improved) by the platform.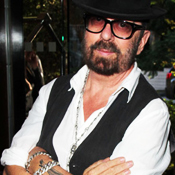 Ideas Britain, meanwhile, is backed by an equally star-studded cast of creative talent, including erstwhile Eurythmic Dave Stewart (left). The business is currently raising £300,000 via the CrowdCube platform.
CTO Morgan Sowden explains: "We've taken a social network and added a layer of game mechanics to make it a really rich and interesting user experience. I guess you could say it's something like Dragon's Den mixed with X Factor, but in an app." There are already plans in motion for Ideas America, Ideas Germany, Ideas Switzerland, and so on.
Both platforms are exciting additions to the UK's upswing of interest in entrepreneurialism. Record numbers of startups are launching every year, and growing numbers of executives are leaving corporate life to start their own businesses. Optimising their chances of success will make a serious difference to UK's economic performance and – crucially – productivity. As Ideas Britain chief executive Adam Shaw says: "Twitter, Facebook and LinkedIn have revolutionised the way that we communicate and network. Spotify, Netflix and YouTube have revolutionised the way that we distribute entertainment. We hope that we're going to revolutionise the way that ideas are traded, created and helped."
Find out about CMI's mentor-matching programme CMI Achieve.
Click here for details of CMI courses specially dedicated to coaching and mentoring.
Image of Rasha Khawaja courtesy of Toucan press office
Image of Dave Stewart courtesy of s_bukley / Shutterstock.
Powered by
Professional Manager