Stephen Robertson: In the boardroom, brutal honesty is king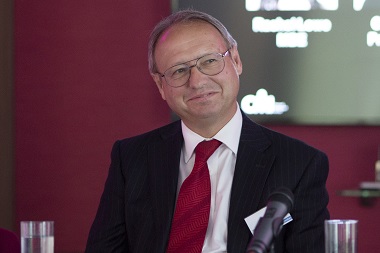 The former marketing director of Woolworth's talks to CMI about what went wrong at the failed retailer, and how other boards can avoid falling into the same trap
Matt Scott
When Stephen Robertson left Woolworths in 2007, it was a 99 year old high street stalwart, employing 7,000 staff and running 800 stores.
Fast forward just two years, however, and things were very different. Woolworths was in administration.
The writing was on the wall
Robertson says that it was clear from his position as marketing director that the writing was on the wall for the troubled retailer, and that is why he took the decision to leave.
"I left a couple years before [Woolworths entered administration]," he says. "The writing was on the wall already but I had been there three years as the marketing director and it is very troubling to leave a business that was clearly slipping into administration and to see such an important employer fail.
"It's not just jobs [that were lost], shareholders also lost a lot of money and you can't help feeling very bad about that, sad about the jobs and bruised as an individual that you haven't managed to contribute to saving the business."
"It was a painful time because when you leave you recognise: hang on, that's failure," he says.
But Robertson was not one to let this blip in his career keep him down, and has taken the opportunity to analyse what wrong at Woolworths and use this knowledge to help him in the non-executive director roles he has taken on since leaving the retailer.
An ineffective boardroom
Reflecting on his time at Woolworths, Robertson says it was an ineffective boardroom that contributed to the retailer's eventual fall from grace.
"Boardrooms are a team and the chief executive is the orchestra leader in that room, but there's a misconception that boards need to be happy, teamy places," he says. "Actually, boardrooms need to be rooms where honesty prevails as being the key characteristic, sometimes even brutal honesty.
"Sometimes that should make a boardroom an uncomfortable place. But the board need to be able to share with each other what's good and what's bad and to be very clear about the direction the business is taking and what the options available for it might be."
In this respect, Robertson says he too was found lacking during his time on the board at Woolworths.
"I didn't [challenge people] nearly enough," he says. "When I emerged from Woolworths, I thought about how much tougher the B&Q board was, which was facing similar challenges."
The dangers of sticking with the status quo
Robertson also says an inherent inertia and fear of taking risks limited what the board at Woolworths was able to do to turn the situation around.
"When you look at a business, we all talk about change is good and we need to take risks, but boards actually sometimes find that the status quo looks like a good place to be, but sometimes the status quo is the highest risk of all," he says. "Perhaps for Woolworths, that was exactly the case and looking back on that business we were worried – and perhaps that's part of being a publicly quoted business – that perhaps we couldn't take such large leaps, and yet actually the business needed radical surgery, and maybe by the time radical surgery arrived it was too late."
Powered by
Professional Manager