A crisis of uncertainty: Young people and the workplace [New Report]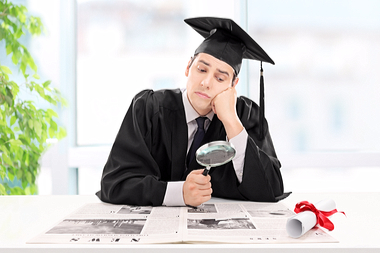 Few connections with employers. Scant access to work experience. Many young people are uncertain about entering the workplace. But there are ways to set this right
Matt Scott
A third of 16- to 21-year-olds in the UK (32%) aren't confident about finding a job in the next few years, according to the latest research from CMI and the EY Foundation.
A lack of information about local job opportunities is an issue for 35% of young people. So what's the answer?
CMI and the EY Foundation are calling on employers and schools to back a school-to-work syllabus as part of the national curriculum, to give young people fairer access to workplace opportunities and to improve their employability on leaving school.
CMI chief executive Ann Francke said: "Young people aspire to become leaders but it's currently the luck of the draw whether they get the necessary chances to learn how.
We need employers and educators to help the next generations to develop practical skills from a younger age.
"This includes making management and leadership skills part of the school curriculum so that employers can recognise their capabilities."
A new syllabus would provide every person in the UK aged 11 to 18 with the right support to make sure they have the best working prospects.
Without this intervention, the report suggests, young people's futures will be put at risk at a time when demand for high-skilled labour is forecast to grow.
Maryanne Matthews, chief executive of the EY Foundation, said: "There is a disconnect between having an experience of work and the confidence to get a job, especially if they [young people] come from a low-income household.
"And, while we are hearing that many employers, schools and colleges across the country are doing great things and offering inspiring experiences of work, there are still too many young people who are not getting this access."
GROWING TOMORROW'S PROFESSIONAL MANAGERS: 4 STEPS
1. Make sure that young people learn more about the world of work every year from 11 to 18 by introducing a school-to-work syllabus into the national curriculum
Employers must work with schools to offer a programme that supports the transition from school to work. This could include activities such as employer speaking programmes and extended work placements aimed at developing employability skills and a greater understanding of the variety of career pathways available over time.
Parents and carers must be included in any initiative, as they frequently act as role models who influence important life decisions. The EY Foundation and CMI will be setting up roundtables in key hubs across the UK to convene local employers, the education sector and other stakeholders, such as local councils and local enterprise partnerships, to begin discussions on what a school-to-work syllabus would look like.
2. Strengthen and champion all pathways into work, including apprenticeships and entrepreneurship
Employers, schools and colleges need to show they value diverse educational experiences and pathways into work, not just university, and champion the full range of career pathways.
With the introduction of the apprenticeship levy, and the launch of new degree apprenticeships, the landscape for education and training is being transformed. Information and guidance in schools for young people need to reflect this.
CMI is raising awareness of the new apprenticeship pathways into management as a profession and will work with employers, UCAS, careers advisory organisations and other partners, such as the new Institute for Apprenticeships and Technical Education, to showcase young people's progression and achievements through apprenticeships.
3. Develop key management and leadership skills from a younger age
Employability skills such as team leadership and management must be embedded in education from a young age. Schools and colleges in particular should be supported to increase access to professionally accredited schemes that offer employer recognition of the management skills developed as part of a new school-to-work syllabus.
4. Create an employer-backed school-to-work national youth panel
Young people's voices must be heard by those who have the power and ability
to create change. The EY Foundation and CMI will work to create a national school-to-work youth panel, and will seek support from leading employers directly and through the UK's leading business umbrella organisations.
The panel would be led by young people and backed by employers.
Find out more about CMI's school-to-work initiative in the new report, An Age of Uncertainty: Young People's Views on the Challenges of Getting into Work in 21st Century Britain. Join the debate on Twitter: @cmi_managers #schooltowork
Powered by
Professional Manager