The new physics of growth: Why scale-ups are the new start-ups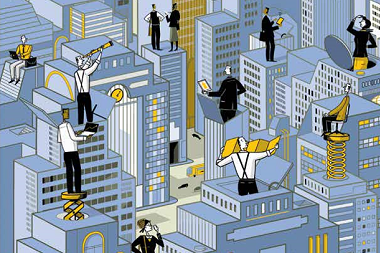 Inspired by Professor Dan Isenberg, the world authority on entrepreneurial ecosystems, a new orthodoxy is emerging about Britain's economic future, and it's this: if you have lots of people starting companies, you can't have lots of people growing companies. So stop encouraging start-ups and start thinking scale-ups
Stuart Rock
In the wake of the financial crisis, the start-up agenda had a galvanising effect on the UK economy. Since then, new business creation has been at historic highs. But, if the country is to keep its eyes on the long-term economic prize, then it's time to move beyond start-ups.
"Competitive advantage doesn't go to the nations that focus on creating companies; it goes to nations that focus on scaling companies," says Sherry Coutu, the entrepreneur and investor who was author of the influential Scaleup Report, published in late 2014.
The OECD definition of a 'scale-up company' is one that is growing its sales or employee numbers by 20% per annum over a three-year period, and which started that period of growth with at least ten employees.
They are certainly not all young, gee-whizz tech companies. A scale-up can be of any age and in any sector.
At present, it's estimated that there are just north of 10,000 scale-ups in the UK. If start-ups create opportunities for many and help to foster a vital, wider spirit of entrepreneurship in society, it is scale-ups that create long-term competitive advantage, economic growth, jobs and productivity.
Such companies added roughly £60 billion to the UK economy between 2010 and 2013.
In 2013, just 4% of fast-growth companies were responsible for nearly 20% of productivity growth in the UK economy. And such highly productive firms are twice as common in the scaleup community.
"What matters to growth companies matters for the UK economy as a whole," says Carolyn Fairbairn, director-general of the CBI. The potential collective impact of increasing their numbers by a single percentage point is enormous.
That small turn of the dial could put 150,000 new jobs in place by 2034, notes the Scale-up Report, and an additional £225bn towards UK GDP could be spread equally throughout the country.
Failure to scale
Yet the UK has lagged behind the US and other leading economies in the extent to which our companies scale up. Some of these companies struggle to grow in their home market; others to expand internationally.
Some may be bought by overseas acquirers before reaching their full productive potential. "Britain does not have a start-up problem; it has a growth problem," says Professor Mark Hart at Aston University, who is also deputy director of the national Enterprise Research Centre. The signs are that the UK is getting serious about addressing the problem.
Business owners who have the ambition to grow are becoming the focus of political attention. The new minister for small business, Margot James, said recently that she wants to "focus a great deal of energy on those SMEs that have the capacity to grow".
A substantial body of research literature and evidence is being compiled. In this magazine, you can read our latest insights into highly productive UK companies. And, for the past three years, the London Stock Exchange has published its annual list of 1,000 Companies to Inspire Britain.
This year, the innovation charity Nesta also published a report, Scaling Together, to identify best practice and top tips for effective collaboration between corporates and early-stage growth companies.
Meanwhile, the business schools of Oxford and Cambridge Universities, convened by Barclays, have published a report on the finance and skills needs of high-growth companies. And the CBI has produced a study on the productivity lessons from this community; medium-sized scaling businesses, it declared, "are the entrepreneurial heroes of the UK economy".
Business schools and institutions are focusing more attention on programmes for growth businesses. (This was noted in the 2015 CMI report Growing Your Small Business.)
The Goldman Sachs 10,000 Small Businesses programme provides a solid management education for the owners and directors of growth-minded businesses. (The profile of the average participant company: at least three years old, with a turnover of £1 million, and ten employees.)
Run through a network of university partners such as Aston Business School and Oxford's Saïd Business School, the education programme for business owners has already seen 1,000 'graduates' through its doors.
Within three years, 88% of the participating companies have increased revenues, and 90% have grown net employment.
In terms of business support for these companies, all of England's 4.7 million businesses are now covered by the 'growth hub network'. New initiatives such as the Mayor of London's Go To Grow programme have been launched explicitly to provide peer-to-peer mentoring and expert advice for high-growth London companies seeking to expand internationally.
When it comes to raising capital, new institutions such as the Business Growth Fund (BGF) and the British Business Bank are focused on scale-ups. The five-year-old BGF will pass £1bn in committed investments this year.
All about the ecosystem
However, the real challenge may be to stimulate every city and region to develop its own entrepreneurial ecosystem, in which all the players – companies, universities, local enterprise partnerships (LEPs), growth hubs, local government, large corporations, bankers and the advisory community – can interact positively and dynamically to drive local economic growth.
"A scale-up ecosystem is a culture that supports wealth creation and successful growth," says Professor Dan Isenberg of Babson Executive Education and Columbia Business School. Twice this year, Isenberg has led his course in the UK, educating teams of local leaders about stimulating local economic growth.
"It has many players, each of whom may be operating out of their own interests – but that is what makes an ecosystem work. A scale-up ecosystem is a culture that supports growth, which in turn addresses the different interests of a broad range of stakeholders."
Such an environment means less emphasis on start-ups. "The best scale-up environment has a modicum of start-ups," says Isenberg. "Just like doctors, teachers or scientists, start-ups are essential – but there is such a thing as having too many of them. It's a law of physics. If you have lots of people starting companies, you can't have lots of growing companies, partly because they compete for talent."
The data suggests that most companies in the UK are not growing; many have no intention to grow significantly. That's why identifying growing businesses is so important.
"Politicians say that small business is the backbone of the economy but, if you think that's the case, go and see a chiropractor," says Isenberg. "Small business per se is not an answer to prosperity: it's growing businesses that are the backbone. They can be small or large, publicly quoted or family businesses, but, without growing businesses, you don't have economic dynamism and the chance of growth and prosperity."
On the ground, locally and politically, this agenda provides a striking new challenge for LEPs and other local support networks. It challenges the norm, whereby the provision of business support has generally focused on assisting new enterprises – either through the encouragement of large inward investment projects or the creation of start-ups.
This agenda, by contrast, is focused on improving the environment for growth for existing local companies. Such companies' requirements – for capital, skills and management capabilities – are not only different from those of start-ups or inward investors but much more specific. They can't be neatly defined by their size, age or sector.
In some parts of the country, there has been little communication with or knowledge of fast-growth companies. In some regions, they're thin on the ground. Equally, not all founders and leaders of fast-growth companies have the inclination or knowledge to engage with local business-support networks.
While prepared to listen to their peers, business owners can be dismissive of officials who are 'here to help'. New bridges need to be built. How, for example, does a local economic development official in a medium-sized city start a conversation with a corporate executive who may be working with local high-growth companies?
Nurturing the ecosystem
Irene Graham is CEO of the ScaleUp Institute, the first organisation of its kind in the world, founded in late 2015. She says this driving of economic growth comes from all parties "leaning in and working together as an ecosystem".
At a local level, companies with the potential and ambition to grow rapidly have to be identified – and the environment that supports their growth has to be encouraged. Take careful note. Any talk of designing an ecosystem is very wide of the mark.
"An ecosystem is not a product that is built," says Isenberg. It can have tangible things – from working spaces to tax credits and grant finance – but an ecosystem is something that is cultivated, fostered, catalysed and stimulated.
"It's just as much about fuzzy things like culture, dialogue and alignment – for which nobody gets credit or reward – as it is about the hardware and the tools," he says. Isenberg also cautions against imitating or trying to identify a particular resource or stimulus that will catalyse an ecosystem. "Each environment is unique. You can get ideas from others but you have to use your own unique assets."
In particular, he warns, you'll learn virtually nothing from studying Silicon Valley: "A century ago it was the prune capital of the world. What does that teach you about developing your own ecosystem – that you should start by growing prunes? There are extraordinarily few things that you can learn from the complexity of another ecosystem."
Developing an entrepreneurial ecosystem will also take time. In the best realistic scenario, it will take five to 10 years to stimulate growth in a region, observes Isenberg. But, in the short term, he adds, you can dramatically "change the dialogue" so that a region's diverse influencers all "speak and share the language of growth".
The challenge for the UK, of course, is the uncertainty of Brexit. Fast growth companies face enough risks without having to deal with additional barriers to finding the right staff or tougher access to markets.
Getting the environment right for them has never been more important.
Stuart Rock was founding editor of Real Business and the Business is Great campaign
Powered by
Professional Manager