Inside Britain's most inspirational workplaces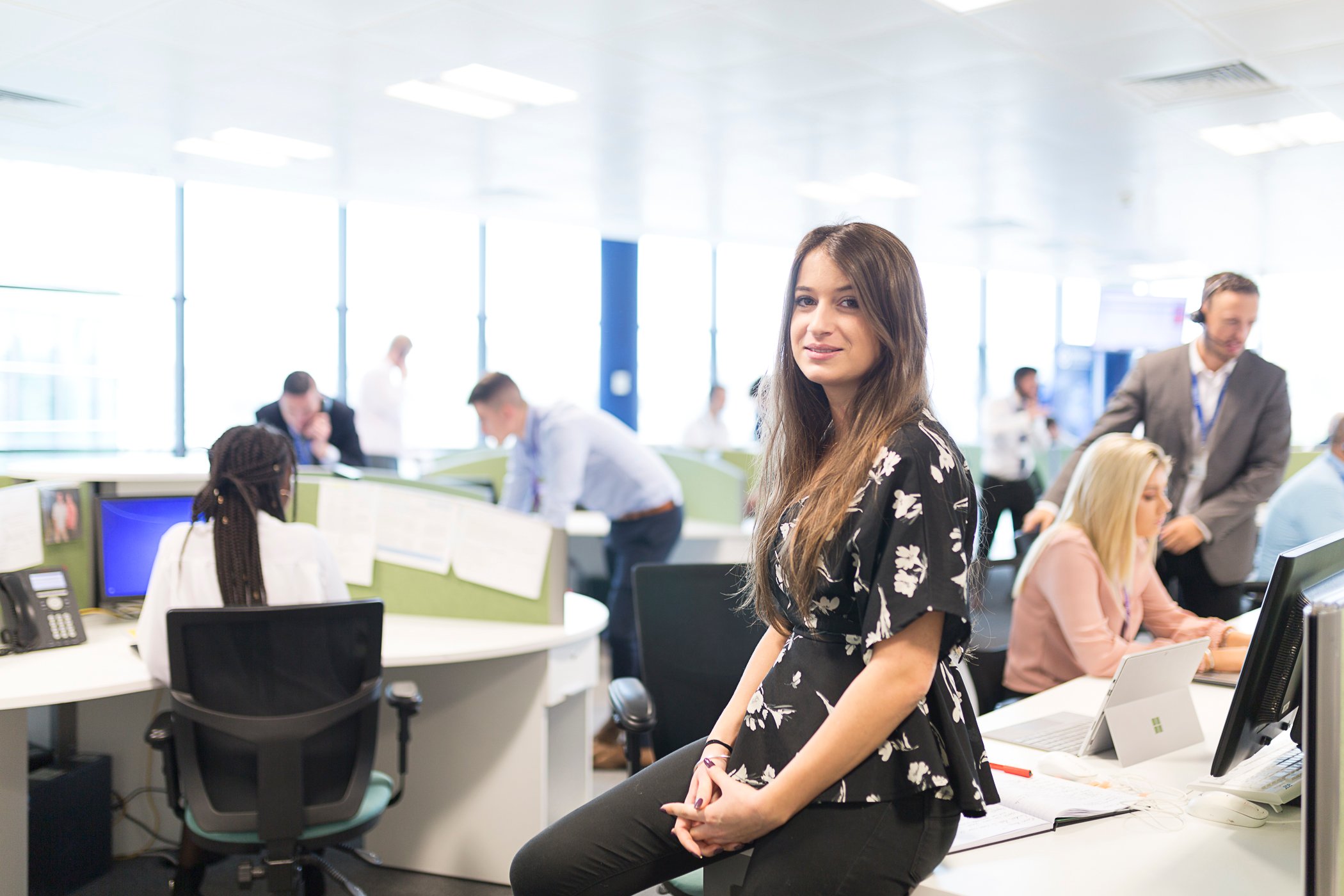 If you want to hire and inspire great candidates and employees, you need to set new standards in culture and leadership. The companies appearing in Leadership and Culture at Work: the CMI/Glassdoor Top 20 of 2018 show what it takes to build an environment that gets everybody talking...
Bain & Company
This year's highest-ranked company in 'Leadership and Culture at Work: the CMI/Glassdoor Top 20' is global management consultancy Bain & Company. The firm, which serves some of the world's leading corporates, scored highly across all measures, including a 99 per cent 'recommend to a friend' rating.
Small, "extraordinary teams" are the defining feature at Bain, says chief talent officer Barney Hamilton, from the London office. These teams generally comprise a partner, a project manager and four or five consultants. Teams rotate over time and with different clients.
The firm looks to recruit 'exciting' people who have a passion for making an impact, who bring energy to others and who have "the humility to recognise that we've never finished that journey of growth or professional development". Hamilton describes Bain as "an apprenticeship business" in which many senior leaders have worked their way through the firm.
Recruitment is a rigorous, firm-wide endeavour. Hamilton estimates that up to 80 per cent of the organisation will be involved in the evaluation and assessment process. "There are two things going on in our recruitment process," he says. "We are assessing the candidate, but the candidate is also assessing us."
Being a premium client services business makes this a demanding environment. "This commitment to deliver for our clients – to do whatever it takes, frankly, to support our clients – can push the boundaries on sustainability," says Hamilton. As a result, the leadership team devotes a lot of thought to how employees can keep their work and personal lives in healthy balance.
It takes a lot to be the best…
Investigo
Investigo trusts staff to manage their own time. The recruitment agency credits this, and a "meritocratic" environment, with helping it to outperform rivals.
In 2018, Investigo brought in a consultancy to help define its core values. With the workforce and revenue having grown by around 300 per cent in eight years, senior management wanted to ensure the current values were still appropriate. A company-wide survey and in-depth interviews revealed that expertise, passion, integrity and inclusivity were the values staff most related to.
In the past year, the company has launched Investigo Life (offering an insight into the employee experience), rolled out a new flexible and agile working policy, and introduced monthly wellbeing days. A new tech-led coaching tool, Open Blend, ensures everyone has a detailed career plan, while stressing the importance of work-life balance.
Northern Gas & Power
Northern Gas & Power describes its culture as "innovative", and that extends to defying the nine-to-five. Team members can finish work for the year once they've hit their annual financial target. "This leads to a boost in productivity," says marketing manager Járlath Da Silva Cooke.
Incentives are not just for top performers. "Work-life balance is as important as sales training in our eyes," says Da Silva Cooke. Rewards and events have an important role in company feedback. "We believe in social engagement to maintain communication – as well as motivation."
Day to day, a "structured hierarchy" drives success and morale at the Gateshead-based energy sales business. Managers are promoted from within, which fosters "a sense of confidence" among other team members. To support decision-making, managers have access to CRM data showing call durations and performance.
The Good Care Group
Entrepreneur Fiona Lowry started The Good Care Group in 2009 after seeing her grandmother's health decline rapidly in a care home. Her London-based company, which provides top-notch in-home care, is rated "outstanding" by the Care Quality Commission.
"That has certainly helped give us an advantage when recruiting and retaining the best employees," says Lowry. "We're seen to be professional in a market that isn't always considered that way."
The firm's six core values – expertise, teamwork, trust, empathy, professionalism and respect – were created through a bottom-up approach, set by the employees. In the latest employee survey, 86 per cent of carers said they think the values are demonstrated throughout the company. All carers take part in comprehensive training courses and are offered 24/7 support. And they recommend the company to others: The Good Care Group has recruited more than 30 employees this year alone through its referral scheme.
Chess
David Pollock founded Chess above a shop in Cheshire's Alderley Edge in 1993. Now it's a £110m-revenue tech company employing more than 500 people across seven UK sites.
The company's three core values – quality, passion and simplicity – remain in focus. "I knew those values could get watered down as we grew," says Pollock. "So, in 2005, the company spent six months running workshops, surveys and feedback sessions, culminating in our 'Blueprint for Success'." That blueprint is Chess's bible; every employee has a copy and each new starter is tested on it.
Chess is regularly named a Sunday Times 'Best Company to Work For', and bagged the top spot this year. It keeps its staff motivated with happiness training, a 'Harvest Festival rule' (meaning nobody should ever miss an event with their family), Aspiring Leaders and Empowering Women programmes, and a two-year Leadership Academy. Chess is big on 360-degree feedback and uses a bespoke app, Engage, to encourage open, honest and constructive communication. Teams also 'huddle' every morning. "We employ good people and help them become great," says Pollock. David Pollock founded Chess above a shop in Cheshire's Alderley Edge in 1993. Now it's a £110m-revenue tech company employing more than 500 people across seven UK sites.
The company's three core values – quality, passion and simplicity – remain in focus. "I knew those values could get watered down as we grew," says Pollock (below). "So, in 2005, the company spent six months running workshops, surveys and feedback sessions, culminating in our 'Blueprint for Success'." That blueprint is Chess's bible; every employee has a copy and each new starter is tested on it.
Goodman Masson
London-based finance and technology recruiter Goodman Masson aims to "treat our people better than any other business in the UK". And its collection of workplace gongs, including Best Recruitment Company to Work For (Recruitment International UK) and Best Employee Benefits Programme (Personnel Today Awards), proves it's taking this mission seriously. It has even trademarked its unique working environment and the way it looks after its staff: it's called The Experience® and is built around the four pillars of 'work', 'grow', 'reward' and 'connect'.
"The retention of our people is our primary strategic objective. It lies at the centre of everything we do," says CEO Guy Hayward. "We spend 90,000 hours at work during our lifetime and we believe it has to be a place that challenges, engages and inspires."
The company has special funds set up to help employees who are new parents, first-time buyers or saving for an exotic holiday. It also offers a home improvement loan, a 3.30pm Friday finish, free fruit in the office, a dry-cleaning collection service and access to a beauty therapist and barber. Hayward sums it up as "a modern revolution for the way we live and work".
XPO Logistics
One of the world's biggest logistics companies, XPO Logistics has 97,000 employees in 32 countries, and counts major retailers and blue-chip companies as clients. And yet this juggernaut of a business has fostered a culture that is inclusive, entrepreneurial and non-hierarchical. "Employees at all levels can reach out directly to our leadership teams, executive team and even our CEO, Brad Jacobs, and be heard," says Mark Simmons, UK HR director.
This is a firm that encourages self-managed teams, holds regular town hall webcasts for the entire business, uses collaboration platforms to help staff talk "openly" with senior leaders, and runs a quarterly global employee engagement survey to encourage feedback on what it's doing right – and wrong.
XPO aims to recruit the best talent from inside and outside the industry, and looks for employees who are "energetic, trustworthy and thrive in a fast-paced, exciting environment". It received the Glassdoor Employees' Choice Award last year and was recognised as one of its 'Best Places to Work'. But Simmons isn't resting on his laurels. "We're continually looking at ways we can improve," he says.
Auto Trader
Auto Trader appears in this list for the second time. The firm is on a mission to become "the UK's most-admired digital business" and invests significantly in maintaining a values-led company culture. "Our people and their experiences remain a key part of our attraction strategy. We share honest and authentic content across a range of channels, including our 'Auto Trader Life' social media platforms, and colleagues are encouraged to contribute," says employer brand manager Jane Fitzmaurice. The Auto Trader values – being curious, courageous, determined, reliable, humble and community-minded – guide the working lives of all employees.
Auto Trader operates a 'tribes, teams and squads' model, meaning multiple skills are brought together as staff collaborate on pioneering projects. "Auto Trader has a flat, non-hierarchical structure that encourages both self-leadership and all of our colleagues to act as owners of our business," says head of people and culture Stephen Moss.
Facebook
Facebook makes waves with a "very flat" structure: its HR team has revealed that managers are self-selected. That said, there are seven behaviours that are likely to identify candidates for leadership at the social media company. They are: showing care, supporting people, setting clear expectations, giving actionable feedback, providing the resources people need, holding people accountable and recognising great work. And, yes, if you work at Facebook, you'll be invited to a weekly live-streamed Q&A with founder Mark Zuckerberg.
PHMG
Founded in 1998, Manchester-based PHMG creates custom-made audio for more than 32,000 clients across 39 countries. Named for the fourth consecutive year among the '1,000 Companies to Inspire' by the London Stock Exchange, this is a company with "passion, hard work and continuous improvement" at its core, says founder and MD Grant Reed. "We use the industry's finest writing, composition and voiceover talent to deliver a world-class service – and that's earned us a 98.5 per cent satisfaction rating from our clients."
PHMG promotes from within: the majority of its management team have grown with the company and worked their way up the ranks. "This means they have an unrivalled understanding of the business and the inner workings of their team," says Reed. "They've learned to have high standards in their journey to senior level, and can apply these within their department."
PHMG gives back, too. Its charitable initiative, the PHMG Foundation, set up in 2013, has so far raised more than £250,000 for 70 different organisations.
Bromford
Bromford, based in the Midlands and south-west, is a social enterprise that provides affordable housing and specialist housing services. Recently merged with Merlin, it now has 90,000 customers and a planned investment of £1.5bn in 14,000 new homes over the next ten years. But chief executive Philippa Jones insists that "a home is just the start… We want to make a difference to people's lives every single day. We're really clear about that and we look for people who buy into that shared vision – whether you're a director, a construction manager, a plumber, a neighbourhood coach working on the front line, or part of our central service teams," she says.
Jones, who describes herself as a "calm revolutionary", spends half a day with every new recruit, training them up on the bigger picture – "why we're here, what we do and where we're going".
Bromford also prides itself on being a bit different. "A mantra for our colleagues is 'Add a bit of you in everything you do'," says Jones. "While we're serious about what we do, we have fun doing it."
Rentokil Initial
How do you manage a geographically dispersed workforce? At business services firm Rentokil Initial, the answer is to be visible: senior leaders spend six months of the year visiting operational branches and support centres, because each local business functions autonomously. Training comes from regional academies, and local managers also have small jurisdictions in order to adequately support those on the front line.
Rentokil uses social media to unite its workforce, and is the largest user of Google+ outside Asia. "The objective is to ensure progress, challenges and priorities are communicated regularly and in a timely manner," says area managing director Phill Wood.
Company surveys are considered essential. Every 18 months, staff give feedback; typically, over 90 per cent participate. New starters are questioned at four, eight and 12 weeks to assess progress. Hiring managers are drilled to look for self-motivated candidates.
Anglian Water
Peter Simpson knows a thing or two about leadership. As CEO of Anglian Water, he heads up the largest water and water-recycling company in England and Wales, employs nearly 4,500 people and was named one of the UK's top business leaders by Glassdoor earlier this year.
"Leadership, for me, is about creating an environment in which people can flourish," he says. "It's also about communicating a long-term picture of where we're going as a business so our employees can take ownership of their areas and drive us forward." Anglian Water is sharing the qualities of great leadership and investing in future superstars through its 'Transforming Our Leadership' programme, developed by Lane4 – the performance consultancy co-founded by Olympic gold medallist Adrian Moorhouse – and Loughborough University.
Simpson, who is chair of Business in the Community's wellbeing task force, has made employee wellbeing a focus in the boardroom. It's paid off. "It's helped improve the brand and customer engagement. It's reduced staff absence and raised productivity."
Peninsula Group
At HR consultancy Peninsula Group, there is a big focus on upskilling employees. "This is a high-performance culture where people are driven by a desire to be excellent," says group MD Peter Done. Candidates are sought who have a passion for learning, and they are paired with an experienced buddy in their department and set quarterly goals. "Over a shorter time frame, the goals are easier to set and the results easier to see," says Done. Training and development take place throughout the year and, crucially, success – from project completion to client wins – is celebrated, and that includes giving back to the community through charitable events. Done insists: "Work should not consist of a repetitive cycle of mundane tasks that churn out mediocre results. Work should be an inspiring place that provokes positive change and development."
HomeServe UK
Home repair business HomeServe UK adopts different management structures in different parts of its business. Autonomous teams, such as HomeServe Labs, are charged with innovation, while traditional hierarchies exist elsewhere. Above all, HomeServe prides itself on having an "open" culture. Senior managers are also described as "open and engaged". This commitment to transparency has spawned an internal communications TV channel called Big Red Sofa; a social network where 88 per cent of the workforce share messages; and the option to book a one-to-one meeting with CEO Greg Reed. He has held more than 3,000 one-to-ones since joining in 2012.
Lead Forensics
Lead Forensics is a software sales firm that "differs from other organisations because of its hunger to succeed", says James Markwell, senior digital marketing manager. The company mantra is 'We win together'. Therefore, managers are seen as motivators, and encouraged to drive performance by ensuring each individual receives attention in order to feel valued. "Senior management are out on the front line working to the same targets and as available as every team member," says Markwell. They spot and reward behaviours that reflect Lead Forensics' DNA – or core values – on a monthly basis. It's important that a company has set principles, says Markwell: "The beauty of our values is their simplicity, and the ease with which we can all apply ourselves to the values. When recruiting, our managers know the skills they're looking for too."
Hiscox
Hiscox defies insurance stereotypes – it is anything but dull. It fosters an entrepreneurial spirit, encourages staff to think creatively and has a relatively flat structure. "Employees love that they can make their job their own," says Amanda Brown, group HR director. "We expect our people to stick their heads above the parapet with opinions and ideas. If they spot an opportunity, they can run with it without being micromanaged. They're free to trust their instincts."
The company prides itself on challenging convention: it has a decommissioned rocket in its reception in York and an extensive art collection around its offices to spark conversation. Hiscox looks for "the right kind of attitude" in new recruits and offers a two-year graduate programme (with three secondments, including a spell abroad), apprenticeships for school-leavers and summer internships.
"We look to bring diverse thinking into the business – it's about challenging yourself to hire someone better than you, even if they're not like you," says Brown. "You can teach anyone about insurance – but not to go the extra mile for customers."
Lookers
Car dealership Lookers is another company making a second appearance in our top 20. Last year, CEO Andy Bruce told us that the "culture, and the strategy that goes along with it, is a product of the senior management team". Lookers' culture relies on communication. "Communication is key. It's really important that we're all moving in the same direction, which is why I make a point of visiting as many of our 160 nationwide franchised dealerships as I can throughout the year," says Bruce.
How does Lookers make sure it hires great managers? "I look for people who will challenge us with fresh thinking because that's what will help us to keep improving," says Bruce. "Equally, it's good to work with team players – people who know the whole is greater than the sum of the parts. Finally, it's really important to have a diverse workforce, and we're putting a lot of effort into this area."
Salesforce
Andrew Lawson can sum up the culture at cloud computing giant Salesforce in one word: 'ohana'. It's the Hawaiian word for family and represents caring, cooperating and community. "When Marc Benioff created Salesforce in 1999, he made sure that 'ohana' was in the company's foundations," explains Lawson, the company's executive vice president for EMEA. "We want every single employee to know they play an important role, regardless of their job function."
For Salesforce staff in the UK, there are pizza or pampering perks at the end of every quarter, mentoring schemes, mindfulness zones in the office, free healthy snacks, and lunchtime Pilates and yoga classes. The company has a model of 'integrated philanthropy': it contributes one per cent of its technology, time and resources back to the community, and every employee gets seven days a year to support a cause they care about. While the company has a hierarchical structure, teams are encouraged to collaborate globally with tools and social networking apps such as Chatter, Quip and Google Hangouts. Want to find out more? Check out #SalesforceOhana.
Helping Hands
Helping Hands was started in 1989 by former teacher Mary Lee. Now, with her son Tim at the helm, it's one of the UK's largest and fastest-growing providers of domiciliary and live-in care, with 89 branches and more than 3,000 employees.
"We're a family-owned and family-run company, and that's apparent in everything we do," says Lee, who has been named a 'Top CEO' by Glassdoor for the past two years. He has a 'Please disturb' sign on his door and visits the national training centre once a week to meet new recruits. "When your people are the service you deliver, it would be foolhardy not to give them the very best of your attention," he says.
Staff have monthly one-to-one meetings and are developed through mentoring and coaching with their managers. They are also recognised with 'Wow, we think you are amazing!' postcards. "The smallest gestures can have the biggest impact," says Lee. He sums up the company's core value as "doing the right thing".
More details on the Leadership and Culture at Work: The CMI/Glasssdoor Top 20 campaign are available here
Powered by
Professional Manager