Article:
How the Chartered Management Consultant Award (ChMC) will transform consultancy
Wednesday 28 April 2021
The new Chartered Management Consultant Award will elevate clients and the profession, and give individuals clear careerpaths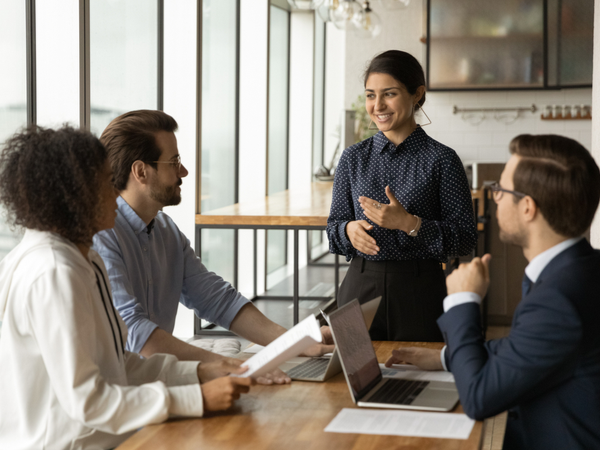 The Chartered Management Consultant (ChMC) award was created to benchmark and raise standards, encourage professional and personal development, offer quality assurance to clients, attract and retain talent, promote inclusivity and enhance the UK's reputation abroad. A strong billing, but that was the clear message from the ChMC launch event held on 26 April 2021, attended (virtually) by management consultants and clients from across the consulting industry.
Deserved recognition
The ChMC award is a means for the consulting industry itself to assure standards but also a way that the profession can externally assure clients and potential clients of consultants' quality, explained Tamzen Isacsson, chief executive of the Management Consultants Association (MCA).
"The competencies that underpin the Chartered award articulate the skills and capabilities a successful consultant needs to deliver for our clients," said Tamzen, who pointed out that the award is structured to match the standards of other professions and their qualifications. "The people we serve deserve no less; people we employ deserve the recognition of their many skills. It's about establishing a deep understanding of the values, ethics and behaviours that underpin our profession; a commitment to continuous personal development, constantly acquiring new skills and expertise. The Chartered award is a step change that I believe that will deliver progress."
Hallmark of quality excellence
As the professional home for the Institute of Consulting since 2005 and an organisation with deep experience in creating and assessing standards and competency frameworks, CMI has been the natural partner for the MCA in developing and launching the Chartered award. Ann Francke, chief executive of CMI, praised the "pioneers" – the 380 management consultants who have already achieved ChMC status, the 1,500 more working towards the award and the 30 consulting firms engaging with the standard. "Chartered status is one of the best recognised hallmarks of quality excellence and high standards, admired around the world," said Ann. "The Chartered Management Consultant award is about impact – impact for the individual organisations they work with and their wider clients and communities."
Inclusive and open to all
"Importantly, Chartered awards are inclusive and open to all who exhibit excellence in their profession," said Ann, a view shared by the event's keynote speaker Anne Boden, founder and chief executive of Starling Bank, who worked as a management consultant in the early stages of her career. "As the first British woman to have founded a bank, I'm a huge advocate of inclusivity and one of the reasons why I believe that the Chartered Consultant status is so important is because it successfully promotes this kind of inclusivity," she said. "It recognises and endorses talented ability at all levels. This awareness will allow individuals to be part of a community which ensures best-practice industry knowledge and commitment, based on competency."
The pandemic has provided an opportunity to reflect and reconsider what we do, how we do it, and why we do it, argued Anne. "The introduction of these awards is a prime example of us rethinking our systems and processes and making a fundamental change to the way we accredit management consultants."
Bolsters appeal abroad
Chartered accreditation is a significant milestone in the development of an industry, agreed Lord Gerry Grimstone, minister for investment at the Department for International Trade. "It denotes that an industry is mature enough to set the highest standards and hold itself accountable for maintaining that. It's a milestone that recognises that management consultants deliver quality services to their clients driven by high ethical standards and behaviours – and how important that is, in today's circumstances," he said. Lord Grimstone stated his belief that Chartered status will further cement the UK's world-leading reputation for professionalism. "The development places us another stride ahead of our international competitors, and with the UK export strategy to be published this year, Chartered accreditation bolsters the appeal of our consulting sector abroad, and I hope it will help drive growth in international markets."
Pride and reputation
Having pride in what you do is critical, said Marco Amitrano, head of clients and markets at PwC and one of the management consultants to have already achieved ChMC status. He recalled joining PwC from university to become an auditor and studying for the Institute of Chartered Accountants professional qualification. "It was hard – really hard – but it gave me a great sense of pride when I qualified.
"Clients are already getting a sense that these benchmark standards will benefit them when there are a lot of consultants out there. The Chartered award will be seen by them as a sign of reliability. Of course, if you put yourself forward as a Chartered Management Consultant, the bar suddenly goes up on the expectations of you and your organisation. But I think that is something that driven, ambitious people will look to, and will affect positively recruitment and the desire to enter the profession. We want to use this award to make sure that the world sees the best consultants coming from the UK."
Defining value
The ChMC strengthens the definition and value that consultants bring to their industry, said Yunus Ozler, consulting leader for EY's UK and Ireland Energy and Resources practice. "With this award, our profession is going to demonstrate the high-impact integrity that we bring to solving our clients' most important problems," he said. "Consultants must be at the forefront of change, and if we are advising our clients to change, this is our opportunity to show that we too are raising the bar.
"For our graduates, or younger talent, the award also provides the structure for them to understand what experiences or learnings they need to go through to feel confident about their ability."
Ethics to the fore
Chartered status helps management consulting provide clarity on the profession and standards within it, agreed Jen Hipkiss, senior management consultant for digital commerce at IBM iX. "It's really helping early-career consultants understand what good looks like, where they should be focusing their attention, what skills they should be working on. It also spotlights for them a list of leaders who've achieved Chartership and mentors from whom they can learn."
Jen said her friends include a Chartered Engineer, a Chartered Accountant, a Chartered Architect and a Chartered Tax Adviser. "For me, the Chartered award really helps put my career on an equal footing with them and it gives legitimacy to the profession that I've chosen to work in."
The award is also helpful in gathering under one banner the diverse profession of consultants working across a range of specialisms, said Jen, who appreciates the importance being placed on ethics. "As consultants, it's important to us that ethics are at the forefront of what we do. We are guided by them in the decisions that we make and how we advise as consultants. We also have the responsibility to bring in the very best of talent, and to create environments that nurture creativity, and make the profession accessible to all."
Levels the playing field
The ChMC kitemark is important for small and medium-sized consulting firms such as GoBeyond Partners, said its chief executive, Mark Palmer. "We're not a household name, but Chartered status assures clients that our consultants have passed the same 'medical' as everybody else, and that is hugely attractive to us," he said. "It levels the playing field and gives us every chance to win the work when up against larger organisations.
"It will also help us attract and retain talent too. We recruit from the top British business schools and when we present our business, the main question coming from students is, what is your development programme? Being able to offer them the Chartered pathway will be a huge asset for us.
"We have a responsibility to make clients aware of it too and explain the benefits. We must be the ambassadors for this award to ensure clients value it too."
Interested? You can find out more about the ChMC award here.
You might also like these posts on this topic:
Don't miss out - get notified of new content
Sign-up to become a Friend of CMI to recieve our free newsletter for a regular round-up of our latest insight and guidance.
CMI members always see more. For the widest selection of content, including CPD tools and multimedia resources, check out how to get involved with CMI membership.