Article:
Making the best of it. Self development tips for furloughed workers
Thursday 09 April 2020
All around the country, furloughed employees are finding innovative ways to look on the professional bright side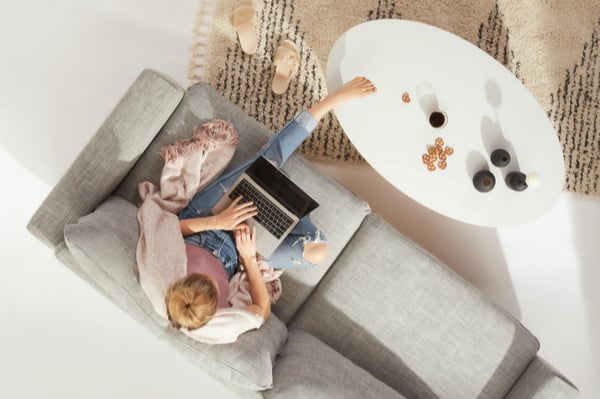 If you're reading this article, chances are you've been furloughed or are experiencing a notable decrease in workload since having to work from home. Many people are struggling to fill their time meaningfully, when they feel inspired to do so.
Self-development is always important but it's particularly so in this lockdown. Having a sense of purpose and structure in your day is also a proven way to maintain your mental focus. Keeping up your personal development will also mean that, when the time comes to go back to work, you won't struggle with structure. You never know, you may even have put yourself at a healthy advantage to your peers.
Some of the furloughed employees we spoke to for this article were looking on the bright side of the situation and using the time to learn skills they've always been curious about, or upskill in areas they knew they could be stronger in. One is already anticipating that their role will become more varied and fluid when they return to work, so is learning the core skills required in some other functions. That way, they'll be able to shift across if necessary.
We've trawled through CMI resources on self-development and skills gap analysis to find the ones that will be most useful for you during the furlough period. All of these resources are available to everyone (CMI members and non-members).
We do usually recommend speaking to your manager for their take on where you could develop so you can hit the ground running when you're back at work. But please remember that while furloughed, it's important to adhere to UK government guidelines: "Once you are on furlough you will not be able to work for your employer. You can undertake training or volunteer subject to public health guidance, as long as you're not making money [or providing services] for your employer or a company linked or associated to your employer."
WHERE DO YOU WANT TO START?
One of the places we recommend starting from is doing a skills gap analysis and building a skills plan from there. This is particularly helpful if you're unsure which skills areas you want to develop. First, list the skills you have as well as the ones you need for your job - or your dream job. Assess these skills (perhaps ranking them, or marking them out of 5) and circle the ones you'd find in improving. Having your job spec or a sample job description of your aspirational role will help to broaden your scope.
Bernice Warmsley's book Managing Yourself, written with the backing of CMI, explains that a skills gap is "when your actual capabilities and the required capabilities of your current or future work role are different. The difference is the skills gap. Analysing this gap obviously requires a depth of knowledge of both yourself and of the job that you do – or would like to do."
By identifying skills you may not have, or ones you want to bolster, you've already taken the first step and given yourself a bit of direction as well as a push towards the finish line. On our personal development plan page on our Knowledge Bank, you can find CMI's recommended cycle:
Establish your purpose or direction
Identify development needs
Identify learning opportunities
Formulate an action plan
Undertake the development
Record the outcomes
Evaluate and review
"A good starting point is your most up-to-date CV," writes Bernice. "If it is some time since you updated your CV then it will be a really useful exercise to write a new one. Next you need to add to it as much as you can about yourself. When you have a completed document that describes you and your capabilities you will be able to compare it with a job description and person specification and see just where the gaps are."
If you know exactly where you want to develop, go to CMI's ManagementDirect portal, search that skill in the top bar and find all the resources available. You'll find videos, articles, book chapters, how-to guides, checklists, models… whatever best suits your style of learning. If you're in need of a bit of inspiration, why not check out the below?
HOW TO MOTIVATE YOURSELF
Setting and sticking to goals can be difficult - not least because we're in the midst of a pandemic, our mental health may impact our performance, we're working around our family or flatmates, and we may have been furloughed or made redundant. All of these will impact our productivity and personal mojo - and it's important that we listen to these feelings, understand them, and find a way to overcome or adjust to them.
If you feel as though professional development is a useful way to keep your mind active while you're not working, or if your workload has decreased and you have more time in your day you're seeking to fill, then creating a structure for your learning with some achievable goals will help you on track. At CMI, we like to make our goals SMART:
Specific: be precise about what skill you are going to learn and why. Vague goals mean you can allow yourself to get either too carried away with how much you want to learn, or you'll keep putting it off because you don't know where to start!
Measurable: When writing down your specific goal, plot out smaller milestones to hit on your way there. Almost like a staircase, focus on one aspect at a time.
Achievable: When writing your goal, avoid looking through rose-tinted glasses. Remember that if you make a goal too unachievable you'll demotivate yourself if you don't excel initially. For instance, instead of 'Become a CEO', try aiming for a promotion; looking at the job spec of the role above yours will show you what skills you need to get there. Don't try and skip out steps!
Realistic: Rome wasn't built in a day! Likewise, chances are you won't become a master of crisis management in an afternoon. Give yourself enough time to actually complete the task, and break your goal into measurable chunks.
Time-bound: In order to keep yourself motivated, give yourself deadlines for your goal and the milestones between. Little rewards (like a takeaway, some online shopping, or an extra chocolate bar at lunch) will help to keep you on track along the way - remember to congratulate yourself for your hard work!
We also have a nifty video on SMART objectives you can watch here.
Don't forget: we have thousands of excellent articles which explore everyday management problems available right here on CMI Insights.
You can also explore our content relating to Covid-19 on our Leading Through Uncertainty.