Discover why becoming a chartered management consultant boosts credibility and confidence – and is "a prize worth going for"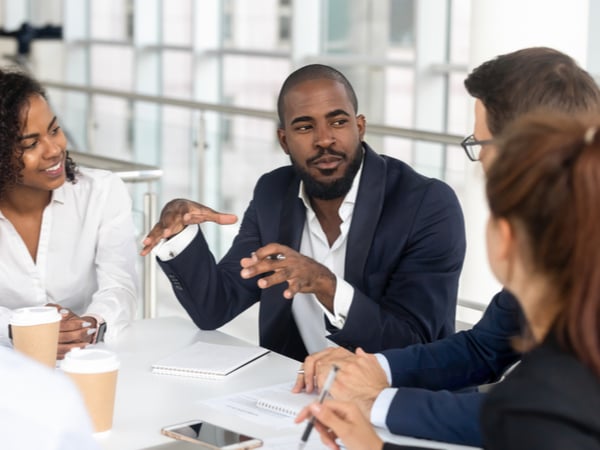 In September 2021, the Chartered Management Consultant (ChMC) scheme reached a significant milestone – passing its 500th accreditation.
John Tibble CMgr ChMC, head of secure government at Capita Consulting, was among the first 100 people to achieve ChMC status. "Given that I was already a Chartered Manager, I recognised the quality and the rigour of the assessment that goes with [becoming a Chartered Consultant]," says John.
Officially launched by CMI and the Management Consultancies Association (MCA) in April 2021, ChMC is the highest professional accolade you can achieve in the management consulting profession. It recognises consultants' commitment to professional standards, CPD and ethical conduct, as well as aiming to create a hallmark of expertise, knowledge and a commitment to quality and diversity. In short, ChMC is transforming consultancy.
Becoming a ChMC gave me a really good sense of self-worth. It was an incredibly valuable process.
Catherine McGregor ChMC
Who is ChMC for?
Those who have so far achieved the standards have come from a wide variety of backgrounds – from the very largest consultancies to sole practitioners in both the private and public sectors.
Currently, 518 consultants can place the ChMC letters after their name, a further 1,500 have begun the award process and another 2,000 consultants have expressed an interest in doing so.
The ChMC programme is giving organisations that are looking to procure consultancy services more choice and a level playing field. This is particularly true for public-sector bodies, which are required to procure a specified level of services from smaller suppliers. The ChMC can act as a quality mark, irrespective of the size of organisation – which is very important for clients, explains Nick Griffin, buyer of consultancy services for central government.
Catherine McGregor ChMC, who set up her own consultancy business in 2018, recognised that her business was at the stage where a professional award recognising her skills and approach was essential. "Becoming a ChMC gave me a really good sense of self-worth," she says. "The process felt rigorous, with a framework that focused on different competencies that you have to analyse. It was an incredibly valuable process."
Boosting credibility and confidence
According to CMI data, all those who have completed the programme say that the ChMC award recognises their proven track record in management consultancy. They all also say that they can now demonstrate a level of excellence and credibility to their clients.
Our clients see they're getting value for money, and we show what we can do as professional consultants.
John Tibble CMgr ChMC
"The commercial departments of our clients were also able to see they were getting value for money, as it's important that we show what we can do as professional consultants," explains John. Catherine says the award has helped when her clients recommend her services to colleagues – being a ChMC shows "that your consultant cares enough to go through the process".
As the UK government looks to boost emerging sectors such as artificial intelligence, the assurance that ChMC status gives over the high ethical standards will become increasingly valuable. This is recognised by those that have achieved the award – nearly all (97%) say that the award "demonstrates integrity and commitment to ethics".
On a more personal note, 85% of Chartered Management Consultants say the programme has increased their self-confidence, as well as self-awareness. John says he gained both internally and externally – internally because of the validation the award gave him, and externally through peer recognition.
Both John and Catherine conclude that although the process was challenging and required time to prepare well for the assessment, it ultimately has delivered positive results for them and their clients. "It should not be taken lightly," says John. "But it's a prize worth going for."
Image: Shutterstock/fizkes
Start your journey to ChMC
Join your colleagues getting chartered: find out what ChMC looks like for you or your organisation and register your interest today.
Learn more
You might also like these posts on this topic:
Don't miss out - get notified of new content
Sign-up to become a Friend of CMI to recieve our free newsletter for a regular round-up of our latest insight and guidance.
CMI members always see more. For the widest selection of content, including CPD tools and multimedia resources, check out how to get involved with CMI membership.