Blog:
Motivation masterclasses from business leaders
Friday 17 April 2020
As a further three weeks of lockdown is announced, here are some proven techniques to keep morale and motivation levels high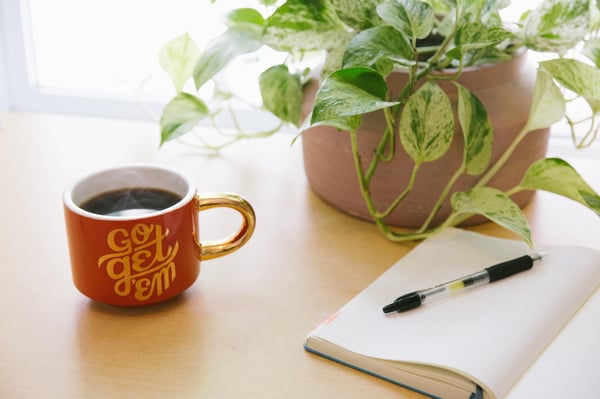 Firstly, we must accept that during a crisis our employees and colleagues will have larger concerns than their day-to-day workload. Accordingly, we need to expect and understand that they will produce less work than usual.
But that's not to say we shouldn't help to keep them engaged with their work wherever possible. When employees' motivation plateaus, they start to put in the minimum effort required, often to lacklustre results. In response to extreme change or crises – such as the drastic changes in work practices during the Covid-19 pandemic – morale can take big dips. It's important to continue to get to know your team to find out how you can further support (and therefore engage) them. Things like keeping colleagues and employees in the loop, with both formal and informal discussions, inviting suggestions and discussions and taking their aspirations or anxieties seriously will contribute to maintaining morale and motivation.
But it's worth remembering that not every employee will respond positively to new goals and skills-learning during the crisis. So pay attention to what each individual person needs in order to produce the best work they can. For some it may be increased or decreased check-ins, or a reevaluation of their workload, while for some it may simply be a quick call that's not about work.
Chris Jefford, managing partner and co-founder at Truant
"We're keeping the team motivated by staying in touch, communicating with them as often as we can, and encouraging them to explore new things whilst they're away from the office. For example, we've circulated a list of free courses they can try, and are sharing a growing compilation of binge-worthy boxsets.
Perhaps most importantly, we have to acknowledge that everyone works differently and working from home is no exception. We need to be accepting of the fact that everyone needs to find the working pattern that suits them. So we're completely flexible in how our people work – so if you're way more productive in the early hours, go for it. If you like a lunchtime bath, fill your boots/bath.
"Key here is that we don't become culturally separated while we're physically apart. So we've put in twice-weekly video sessions for us to catch up, and have opened up a permanent, virtual room on Google Hangouts for people to drop in at any time to catch up with colleagues. We've set up a lunchtime XBox/Playstation session for gamer fan colleagues to jump into, which is another great way of virtually getting together."
Bitesize motivational tips
Ask your team to send them their favourite bits of advice or famous quotes that keep them inspired so you can share a "quote of the day".
A manager's skill in supporting, guiding and relating to members of their team is a central factor in employee engagement. Set yourself a task of finding out a new thing about your colleagues every week – you never know, it could come in handy for that virtual pub quiz you're planning…
Transmit good energy! A positive attitude is contagious – so set an example for your team.
At the end of every week, ask your team what has gone well and not so well, and during that call find a solution that you can action next week. This is all a learning curve!
Appreciate them. A show of thanks doesn't have to be flashy, just a simple "you've done a great job" or "thanks for all the effort you're putting in today, it's appreciated" goes a long way.
Instead of trying to figure out from afar what may help your team, ask them directly.
For more best-practice management tips for managers and leaders in a crisis, visit our Leading Through Uncertainty hub.
Sue Lingard, director at Cezanne HR
"We've initiated a 'lunch and learn' session on a Friday; we wanted to make this a fun time to connect as a team. We've each picked an area that we're going to present on over the coming weeks, from chocolate making to learning some phrases in a new language. We're quite a close team, and people were missing socialising in their lunch break – the lunch and learn slot gives us something to look forward to and a chance to connect on a non-work-related topic!"
Nigel Davies, CEO of Claromentis
"We've created a chat channel in Slack called 'existential crisis' which is a safe space for our team to post despairing thoughts. It was set up because the general company chat channel was getting too deep, and too dark. Sometimes, compartmentalising is healthy!
"Similarly, we've created a dedicated page in our digital workplace with information and advice pulled in from WHO's Twitter feed, and links to NHS and government pages with advice and guidance on staying safe. This means the most up-to-date information is readily available but our people don't have to see it all the time.
"All our teams are having video calls during or at the end of the day to just have a chat, check in, and make sure everyone is feeling OK. The goal is to keep morale up and keep the team bonds as tight as they've always been. We're also hosting virtual 'beer Fridays' so the whole company can 'get together' and toast the end of the week, as well as weekly 'pub' quizzes and a photography competition. Everyone is sharing their own tips on how to stay motivated. We fully encourage recommendations for productivity apps and hacks, online comedy shows, webinars on how to stay healthy when working remotely, and ideas for home-based activities such as puzzles and creative projects."
What about furloughed workers' motivation?
Angela Love, director at Active Workplace Solutions
"Instead of the focus being on the actual quantity of the workforce being furloughed, the attention should now shift on how to manage their morale, their expectations and general wellbeing. The most important thing is to keep communication channels open. Business leaders might feel awkward, even guilty, about what has transpired but staying in constant dialogue with their teams is paramount. Furloughed staff are banned from doing any work, which means that they can't answer emails or take any work-related calls. But that doesn't mean you have to cut off all ties with them.
"Many people will be bored, while some might even be suffering from poor mental health. Social distancing can be a lonely and suffocating experience, especially for those who are alone or away from loved ones. To combat this, leaders should remember to ask their furloughed employees questions about what they are doing to pass the time—are they exercising, drawing or reading anything interesting? Regular wellbeing catch-ups will help furloughed staff to stick to a routine. Lots of people who need a daily routine to function have had their lives turned upside down. Organising calls at the same time every day, for example, will help people maintain some semblance of structure in their lives, allowing them to plan different activities around these events."
If you're a CMI member, why not log into ManagementDirect and see which motivational theory could help you implement the suggested practices above?