Blog:
CMI Hong Kong: updates from the board
Wednesday 15 November 2023
The latest news and updates from the CMI Hong Kong Regional Board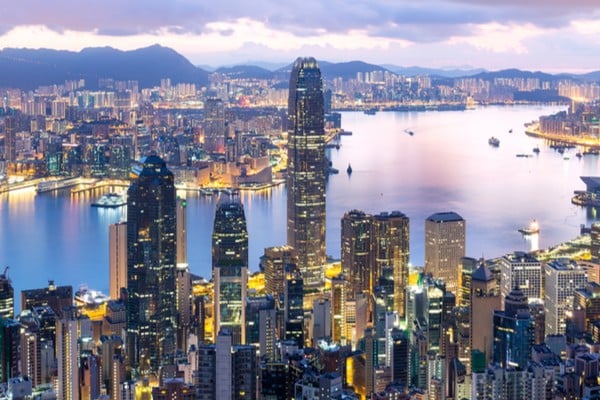 Ann Francke visits Hong Kong
CMI's CEO, Ann Francke OBE, and the CMI team recently touched back down in the UK after a brilliant trip to CMI's local chapters in the Asia-Pacific region. Don't miss Ann Francke OBE's top five takeaways from the trip here. 
It was a packed schedule. In Hong Kong, Ann attended CMI Hong Kong's AGM, where she delivered a keynote address. She also met with the new chair of CMI Hong Kong, Chang Rui Hua, and representatives from organisations across Hong Kong including HKU SPACE, City University of Hong Kong, CUHK Business School and The Hong Kong Polytechnic University. Ann also met with Titania Woo of The Hong Kong Management Association to discuss partnership opportunities in the region.
Furthermore, Ann was delighted to be able to personally present a number of Chartered Managers and Fellows with their certificates.
Learn more here.
CMI bolsters its presence in Australia
Last month, CMI participated in The PIE Live event in Gold Coast, Australia, alongside leaders in international education. The event provided extensive networking opportunities and served as an excellent platform to bolster CMI's presence in the Asia-Pacific (APAC) region.
Mellisa Patrick CMgr MCMI, CMI's programme development manager, attended the event to engage with potential new partners, including universities, colleges, and technical and vocational education and training (TVET) providers. Throughout these interactions, she not only highlighted the advantages of CMI but also shared the value that CMI has contributed through profound collaboration with existing learners and institutions in the APAC region.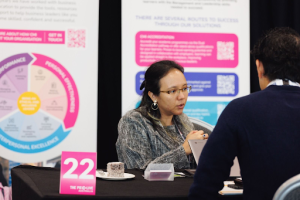 .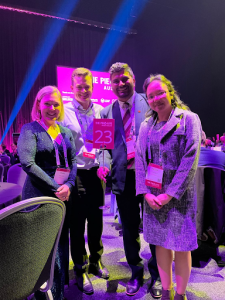 Congratulations from CMI Hong Kong on the Coronation of King Charles III and Queen Camilla
The CMI Hong Kong Board would like to convey our warmest congratulations to Their Majesties King Charles III and Queen Camilla on their coronation. We are delighted by this joyous occasion and wish them every success. The Coronation marks a new era of leadership, vision and progress under the British monarchy. We welcome this era with anticipation and look forward to the opportunities that it will bring to CMI members everywhere.
Joining the Celebration for the British Council's 75th Anniversary in Hong Kong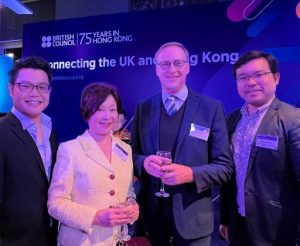 On 28 March, CMI Hong Kong board members were invited to join the reception at the British Council Hong Kong to celebrate the Council's 75th anniversary in the city. 
Since 1948, the Council has played an important part in the provision of English language education as well as the promotion of British culture and arts. The party was attended by a large number of guests, who came to show support and celebrate this memorable milestone. CMI Hong Kong members all had a pleasant time, enjoying conversations with friends and connections including Mr Brian Davidson (British Consul General to Hong Kong and Macao) and Ms Susannah Morley (Director, British Council Hong Kong).
CMI Hong Kong supports Futures of Education Forum 2022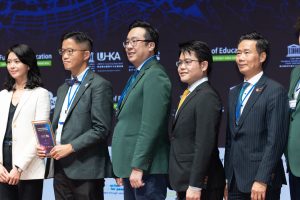 CMI Hong Kong was a supporting party for the UNESCO Hong Kong Association Global Peace Centre's Futures of Education Forum and its associated survey this year.
The Forum took place on 25 November at one of Hong Kong's latest iconic venues – the Hong Kong Palace Museum. Under the main theme of "Scaling up Capability and Capacity for a Sustainable Future", speakers and participants gathered to discuss ways of shaping education for the future via interdisciplinary learning and multi-sectoral collaboration.
Before the event, a survey was conducted to collect views and opinions from Hong Kong's working professionals. It aimed to explore issues regarding educational gaps, challenges and expectations. CMI Hong Kong members were also invited to take part in this survey.
Find more information about the event and survey results here.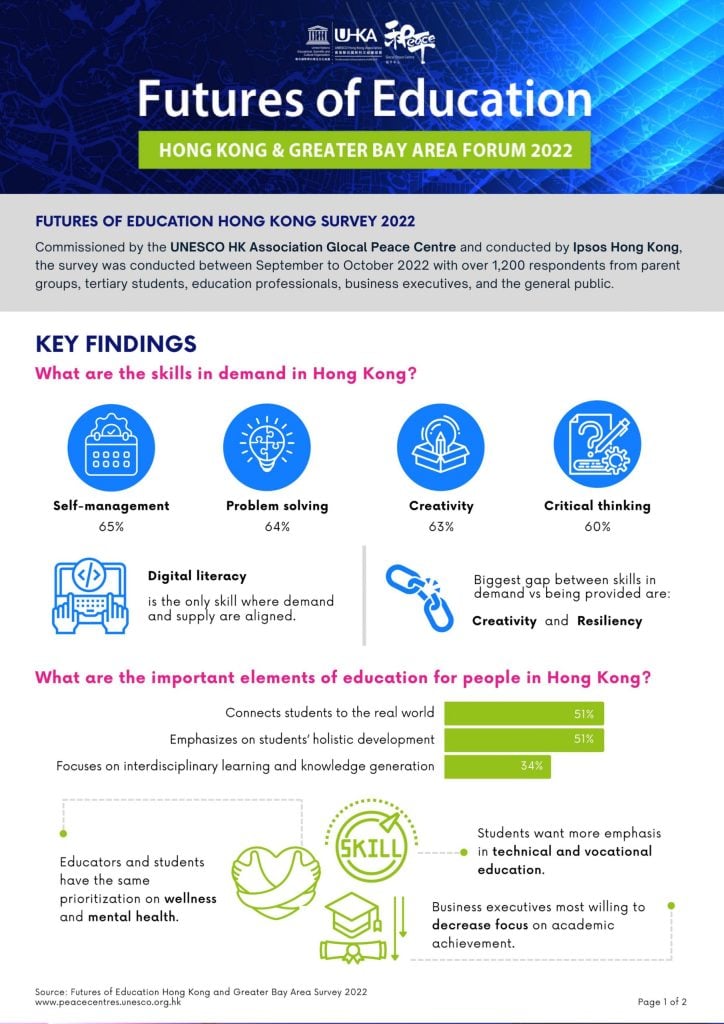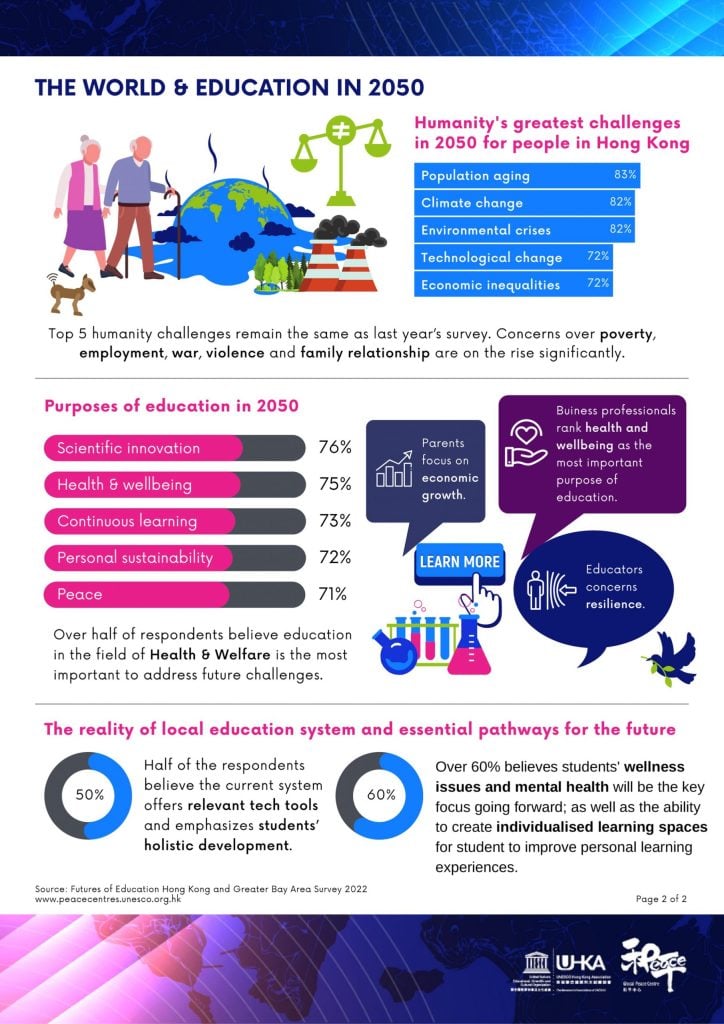 CMI Hong Kong hosts panel session at IEEE TENCON 2022
In November, CMI Hong Kong hosted a hybrid panel session at the IEEE TENCON 2022.
The session was entitled "Technology and Business Collaboration: Leadership and Management" and was moderated by Dr Alan Miller CMgr FCMI (former CMI Hong Kong Regional Board Member).
The panel speakers were CMI Hong Kong Regional Board Members Dr Paulina Chan CMgr CCMI (Chair), Derek Choi MCMI (Secretary & Events Lead), Michael Wong CMgr MCMI (Communications & Social Media Lead), Justin Leung (Board Member), Janice Tai CMgr MCMI (Board Member) and Dr Cecilia Tsui CMgr CCMI (Founding Chairlady).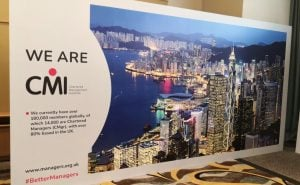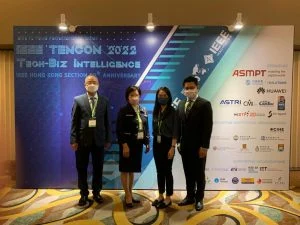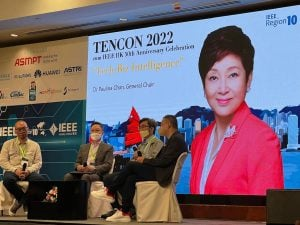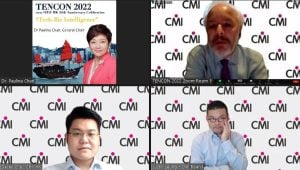 Digital event: Deep Dive into the Energy Sector
In case you missed it, the CMI APAC Regional Boards recently delivered a Deep Dive into the Energy Sector Digital Event.
During the event, Dr Alan Miller CMgr FCMI, former board member of CMI Hong Kong Regional Board, was joined by guest speakers Sze Lynn Seah, Asia Operations Excellence Leader at GE Gas Power Japan, and Govindaraj Naralasetti CMgr MCMI, Council Member of CMI Singapore Regional Board – who shared their insights and the latest trends in the Energy sector.
Watch the full webinar here: 
CMI Hong Kong AGM 2022 – chair's report
The CMI Hong Kong AGM took place in October; the chair, Dr. Paulina Chan CMgr CCMI, sent this report:
The theme for the CMI HK Board in 2021–22 was collaborations with International Chambers of Commerce and professional societies. With the collective effort of all board members, we fostered closer working relationships with the British, Irish and Kowloon Chambers of Commerce, alongside the Women's Foundation, the Chinese Club, the HKU School of Professional and Continuing Education. We also introduced the International Academy of Law and Business (IALBA) as a CMI Approved Centre.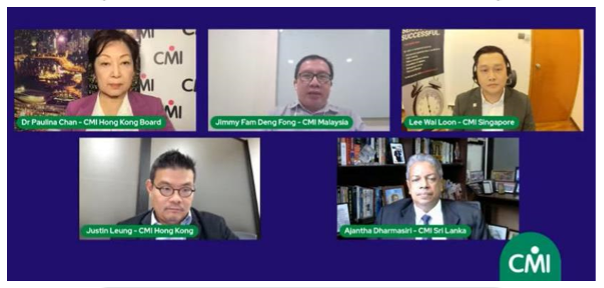 Other key events we hosted included an in-person networking event with the HKU SPACE GMBA students and alumni, and four webinars on different topics: "Future Leadership in the Fourth Industrial Revolution", "Deep Dives into STEM and Finance" as well as "Skills for New Employment Landscape" with the UNESCO HK Glocal Peace Centre.
We look forward to more collaborations with different organisations and insightful engagement events in the new year!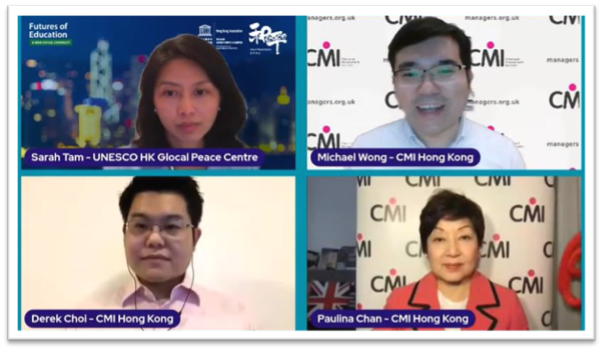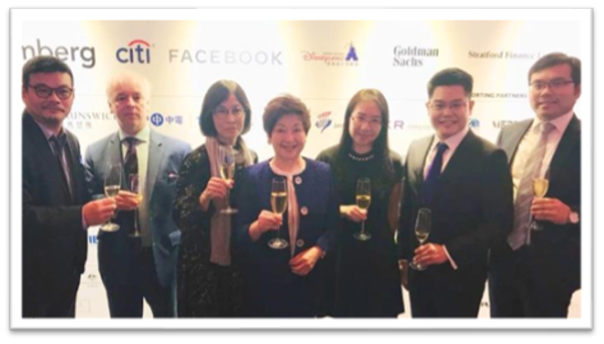 Leadership and management skillsets to enrich career aspiration of lawyers in HK and Greater Bay Area
The International Academy of Law and Business Administration (IALBA) is in the process of attaining formal accreditation by CMI, whereby it will run Business Administration courses with an emphasis on leadership and strategic management in Hong Kong, as well as the wider Guangdong–Hong Kong–Macau Greater Bay Area. The course will be the equivalent of a Level 5 or Level 7 qualification.
IALBA also plans to set up tuition courses to coach potential candidates to attain CMI's Chartered Manager status.
Registered in Hong Kong, the IALBA is established with a view of building more communication and education channels between the legal and business administration world in Hong Kong, mainland China and the international world. It is hoped that through encouraging and equipping more people to join the legal and/or business administration professions – plus the strong business administration courses from CMI – both Hong Kong and mainland China may benefit from the intellectual uplift and vibrant commercial exchanges.
It is noted nowadays that, within metropolises like Hong Kong and many other budding cities in the Greater Bay area, there is a great need to introduce business administration skills into the legal industry, and, at the same time, emphasise legal perspectives and legal compliance within the business administration sector.
IALBA is planning to recruit more teachers to design relevant courses to be offered in the future. Moreover, it is definitely looking forward to establishing more connections with the academic and business world in the Greater Bay Area once Covid-19 quarantine measures are rescinded.
CMI's The Everyone Economy report covered by the Asian Times
In case you didn't see already, CMI's Everyone Economy report was covered by the Asian Times – have a read here!
HKU SPACE x CMI Student & Alumni Event
The inaugural gathering for GMBA students and alumni of the University of London was held on 29 June 2022 in Hong Kong after two years of delay due to the Covid-19 pandemic. This event was co-organised by HKU SPACE (The University of Hong Kong School of Professional and Continuing Education) and CMI.
Attended by around 20 people, the event started with opening speeches by the Chair of CMI HK, Dr Paulina Chan, and HKU SPACE Program Director, Ms Veronica Ng. Mr Rodney Chan, Co-opted Board Member of CMI HK  led an ice-breaking activity, which was followed by lecturers, GMBA candidates and CMI members who discussed their experiences. 
Co-opted Board Member Ms Janice Tai also talked about her journey towards becoming a Chartered Manager and how this accreditation has empowered her career advancement in her position at an international non-governmental organisation.
In addition, two other Board Members – Dr Alan Miller CMgr FCMI (entrepreneur) and Vivian Chi FCMI (barrister at law) – were present to share their personal experience and explained the benefits in engaging multidisciplinary professionals in leadership and management best practices.
Upon listening to these inspiring experiences, as well as a full introduction of CMI by Dr Paulina Chan, the GMBA candidates and alumni are excited about applying to become a Chartered Manager and volunteering for CMI. The event was a success, as the participants had a great time learning from each other and building networks professionally.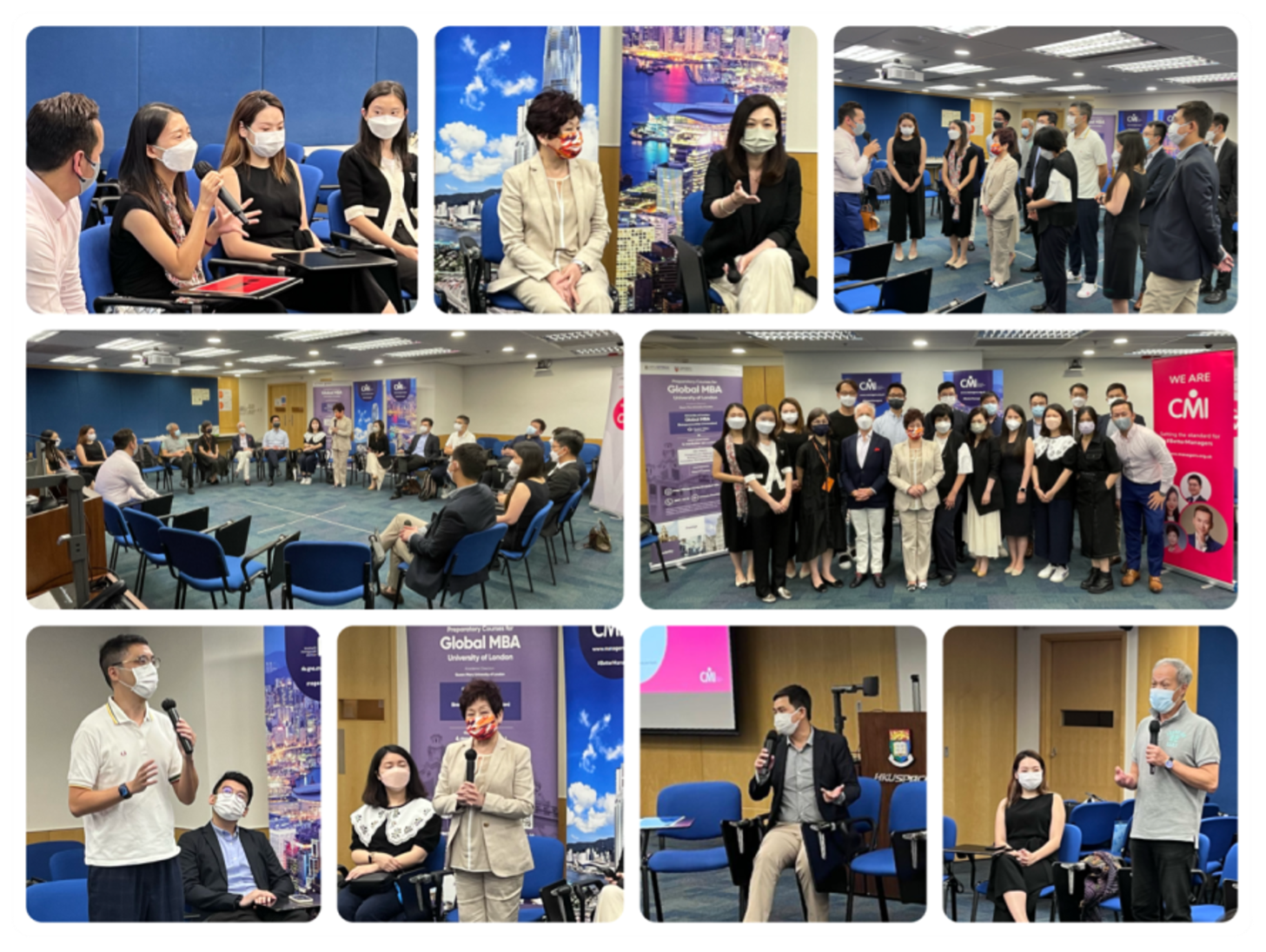 CMI Hong Kong board member shortlisted for CMI Volunteer of the Year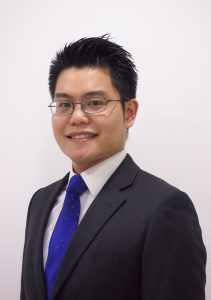 We are extremely proud to share with you that Derek Choi CMgr MCMI, secretary and events lead of the CMI Hong Kong Board, has been shortlisted for the CMI Volunteer of the Year Award.
Derek is director and senior advisor at Pathleader Education Consultants, a registered private K-12 institution in Hong Kong. Prior to the Covid-19 pandemic, he was one of the first educators in Hong Kong to facilitate online learning. He holds a number of other voluntary positions.
This is a prestigious recognition of his commitment, dedication and the impact he has made, and we hope you will join us in extending our warmest congratulations to him.
Networking with Irish Chamber of Commerce in Hong Kong
CMI Hong Kong is excited to be holding both face-to-face and virtual networking events and professional series in conjunction with various business societies and organisations in Hong Kong for CMI membership promotion and engagement.
Recently, CMI Hong Kong has been connecting with members of the Irish Chamber of Commerce through social gatherings and meetings. The events set the foundation for closer professional relations between both sides and facilitate future collaborations.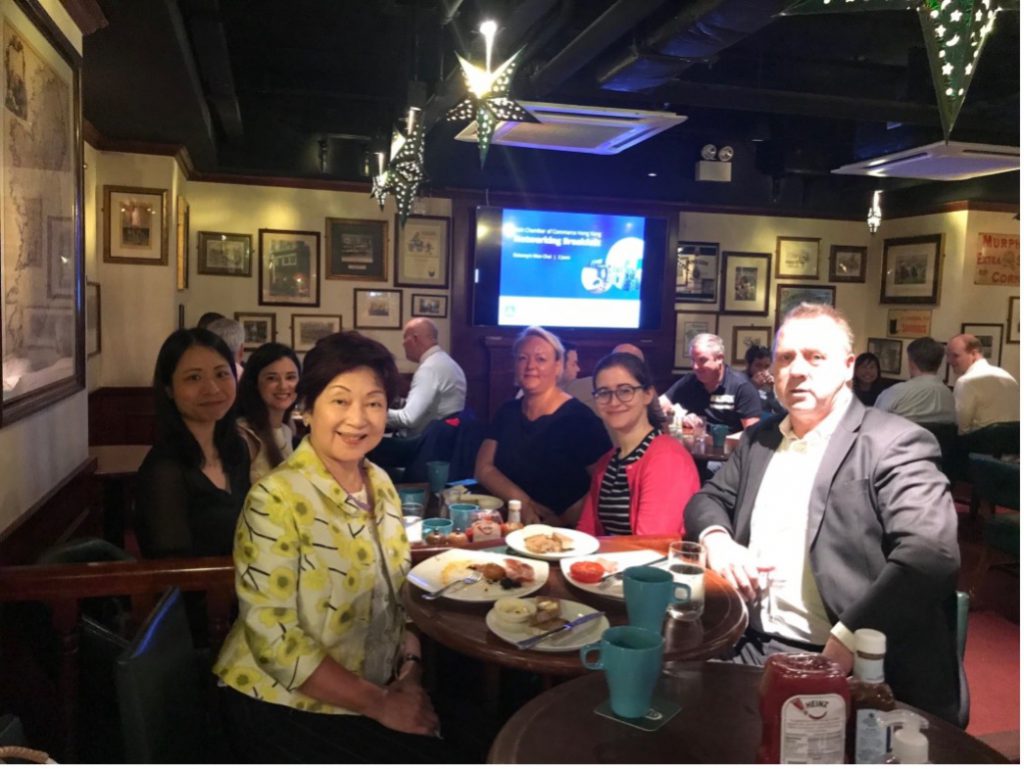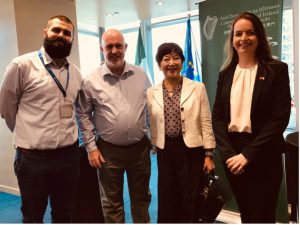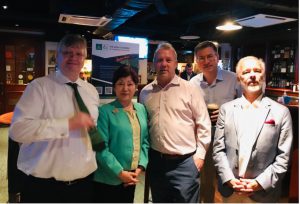 Success for latest digital event:
'Workforce for a sustainable tomorrow: skills for new employment landscapes'
As the world emerges from the Covid-19 pandemic, it has opened up room for imagining what the future holds and how we can prepare ourselves for the possibilities that future will present.
Leaders and managers of organisations from various sectors often face the question of how best to ensure people are ready for tomorrow. What skills should we pursue to suit our future needs? How can we strategically plan for sustainable development, formulate education and development plans, and prepare the workforce in advance?
On 28 April, the Hong Kong Regional Board of CMI organised a webinar in collaboration with the UNESCO Hong Kong Association's Global Peace Centre – for a discussion on the skills and competencies necessary for building a workforce that's ready to deliver the sustainable development of human society and the global economy.
Catch up on the webinar:
Sarah Tam, the Centre's managing commitment member and PR & media chair, shared insights from UNESCO's 'Future of Education' report, as well as the Peace Centre's survey. A panel made up of three CMI Hong Kong board members (Dr Paulina Chan CMgr, Derek Choi CMgr and Michael Wong CMgr) spoke to Sarah to exchange views on the topic of talent development for a sustainable future.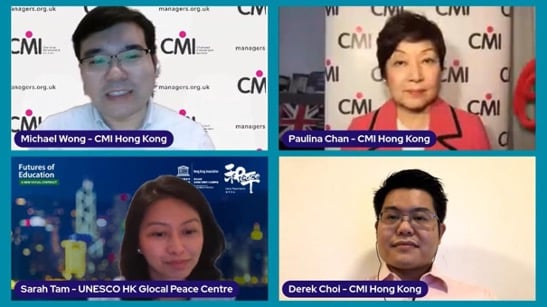 During the Q&A session, they also addressed questions collected from the 240+ people who signed up for this event.
This collaborative event between the two organisations resulted in remarkable success, with audience members commenting that they had found the webinar content "thought-provoking".
In the months to come, CMI Hong Kong will continue to build similar partnerships and bring forward a range of events to inspire fellow members of the CMI community.
🌸🌿🌸
Happy Spring Festival!
🌸🌿🌸

Dear CMI Companions, Fellows, Members, Associate Members, Chartered Managers, Friends of CMI, CMI world colleagues, and friends, 
You are cordially invited to join our professional community, live stream webinars worldwide, and in-person events and networking as public health policy permits. 
Celebrating the 75th Anniversary of CMI worldwide throughout 2022, CMI Hong Kong is showcasing: membership recruitment support, engagement, development and elevation across all membership grades.
Attentive to professional diversity and inclusion, we continue to collaborate among professional bodies, chambers of commerce, public sector, industries and higher education institutions on joint events of complementary relevance and membership benefits in leadership and management. 
Wishing you good health, prosperity and sustainable growth in 2022. 
Best,
Paulina Chan with the CMI Regional Board Hong Kong 🇭🇰
CMI Hong Kong Chair named ICAAHK Alumni of the Month
Dr. Paulina Chan CMgr CCMI, Chair of the CMI Hong Kong Regional Board, has been named as the Imperial College Alumni Association of Hong Kong (ICAAHK) Alumni of the Month for February 2022.
You can read more now.
Future Leadership In The Fourth Industrial Revolution
We are coming out of the third Industrial Revolution and entering the fourth Industrial Revolution.
Much of what was relevant in leadership and management is no longer applicable to upcoming generations. Leadership today is seen to be a social phenomenon, meaning it is not about management, however both factors are important for success.
During this digital event Dr Alan Miller CMgr FCMI (CMI Hong Kong) discussed the fourth industrial revolution, what it is and how future leadership may be impacted with Dr Paulina Chan CMgr CCMI (CMI Hong Kong), Tristan Tsoi (Imperial College London) and Jack Lee (Hong Kong Monetary Authority).
Together they looked at the various factors shaping the future workforce and discussed the culture that leadership must create in order to compete. Organisations or people who cannot evolve will not last, it is down to them to learn the necessary skills to reach their full potential.
You can view the event now.
CMI Hong Kong supports The Women's Foundation gala dinner as Silver Sponsor
In today's workplace, gender equality and inclusiveness is a mission that cannot be ignored. Yet there is still significant work to be done in many areas. The Women's Foundation in Hong Kong is a non-profit organisation dedicated to promoting gender equality, empowering underprivileged women and nurturing female leaders through research, community work, education and advocacy.
On 4th November, The Women's Foundation held a gala dinner with the theme of 'The Power of Togetherness' to raise funds for their meaningful work. CMI Hong Kong was present as a Silver Sponsor, and was represented by seven CMI members including Dr Paulina Chan, Mr Derek Choi, Mr Justin Leung, Ms Gigi Mak, Dr Alan Miller, Ms Veronica Ng and Mr Michael Wong. The Institute of Electrical and Electronics Engineers (IEEE) Hong Kong Section was also a co-sponsor of the event.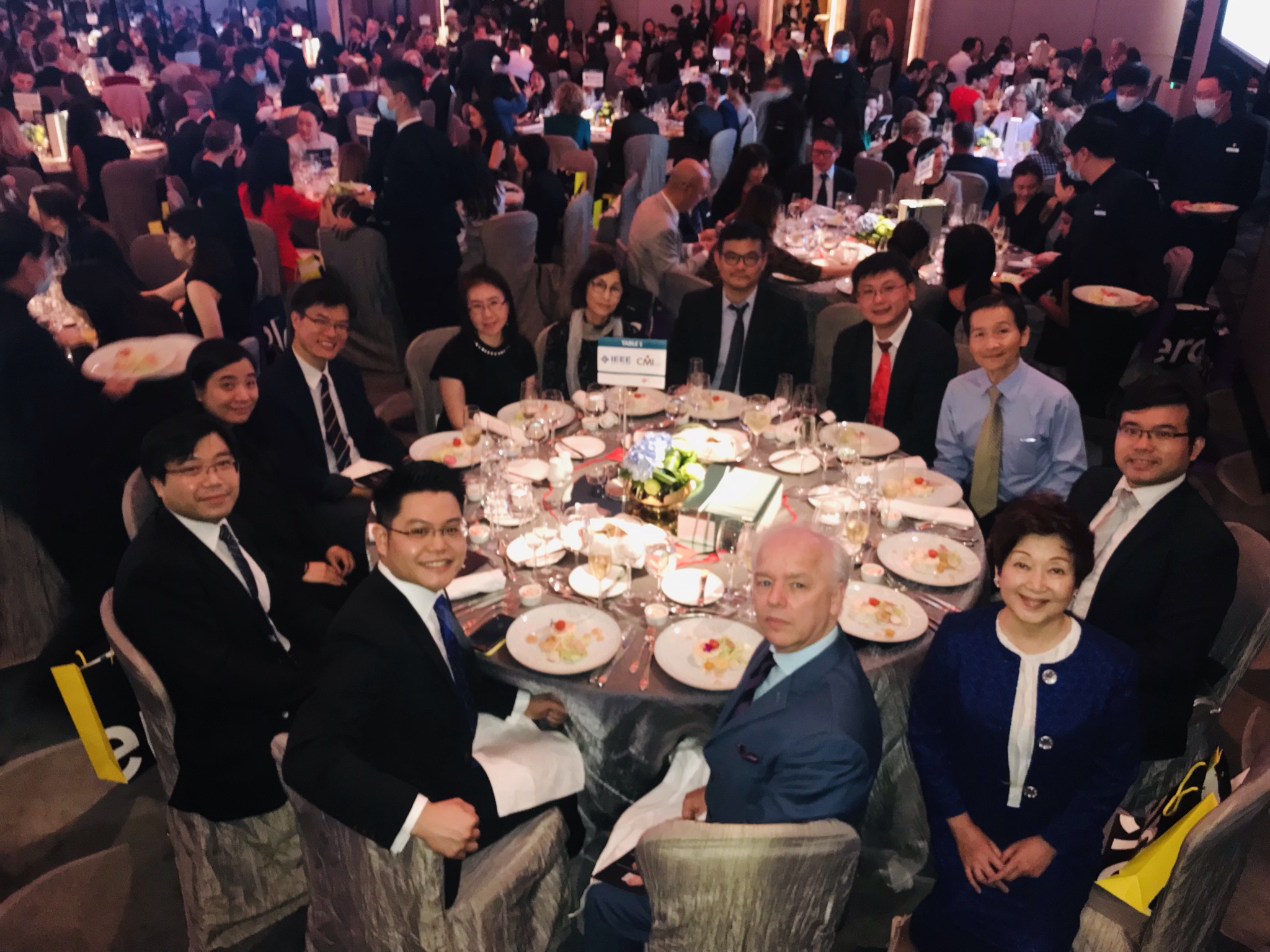 CMI Hong Kong is thrilled to be a corporate supporter of the Foundation's work and objectives. We believe in building and sustaining an equal and inclusive work environment for women; in challenging stereotypes, inequality and injustice against women; and that we should continue to encourage more women to take up management and leadership positions in various industries and sectors.
Over a million Hong Kong dollars was raised by the end of the gala dinner, demonstrating the high level of generosity and support from the stakeholders, donors and guests from around Hong Kong.
CMI Hong Kong will continue our commitment to the promotion and pursuit of equality and inclusiveness in collaboration with the Foundation, as well as different partners.
CMI Hong Kong Annual General Meeting 2021
CMI Hong Kong is pleased to announce that our 2021 Annual General Meeting (AGM) was successfully held via Zoom on the evening of Thursday 16 September.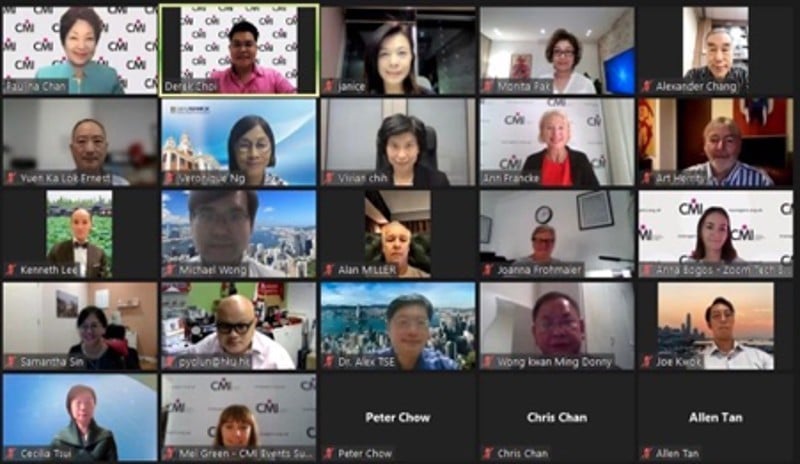 The meeting opened with a welcome message from Dr Ann Francke OBE, chief executive of CMI. Dr Paulina Chan, chairperson of CMI Hong Kong, then presented her Report of the Chair and reviewed the broad portfolio of activities achieved in the year 2020–2021 under the theme of 'Reaching Local, Bridging Global'.
It was undoubtedly a productive and fruitful year for CMI Hong Kong, as membership has grown continuously. Being one of the most active and thriving regions in Asia–Pacific, CMI Hong Kong organised webinars throughout the year and launched partnerships with various bodies such as chambers of commerce, higher education institutions, and non-government organisations.
At the AGM, the following CMI Hong Kong board members were officially elected and inaugurated:
Dr Paulina Chan (Chairperson),
Mr Derek Choi (Secretary),
Mr Ernest Yuen (Treasurer),
Ms Vivian Chih, Mr Justin Leung, Dr Alan Miller, Mr Michael Chi On Wong and Mr Patrick Yu.
Mr Rodney Chan and Ms Janice Tai, two co-representatives of the University of London–HKU SPACE–CMI dual accreditation programme, were also invited to join the board on a rotating basis.
In the coming year, CMI Hong Kong will continue to bring new and exciting events, while focusing on membership engagement and development to serve our fellow managers. In addition, we will connect with more professional communities and foster collaboration with our partners in different industries.
We welcome everyone to follow us and stay in touch with us on our LinkedIn page, where we will post the latest updates about our developments, events, and initiatives.
CMI Hong Kong update: A visit to Kowloon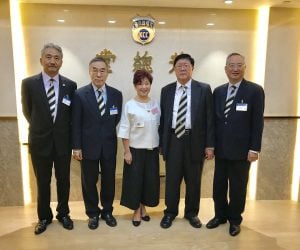 CMI Hong Kong has always been a strong advocate of forming partnerships with professional bodies, industrial associations and chambers of commerce in Hong Kong. The first corporate alliance that we have formed is with the Kowloon Chamber of Commerce (KCC).
The KCC is one of the largest and oldest business associations in Hong Kong. Four of their top executive members are also long-time Fellows of CMI, including Mr John Li, chairman of thechamber; Mr Ernest Yuen, vice chairman; Mr Conrad Lee, chairman of the board of supervisors, and Mr Alexander Chang, executive member. To commemorate this alliance, the KCC has incorporated the photo of the signing of the alliance into their 80th Anniversary Souvenir Sheet.
On Thursday 22 July, 2021, our honorary chair, Dr Paulina Chan, and honorary secretary, Mr. Derek Choi, were invited by Mr Conrad Lee to visit the chamber and present to their members the many benefits of CMI membership, and present the roadmap tobecoming a member of the CMI and becoming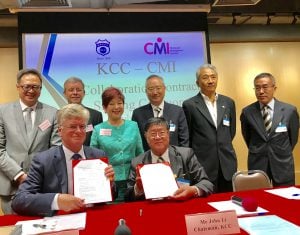 a chartered manager. The seminar was very well attended by over 20 senior and junior members of the chamber, all of whom were intrigued by the vast network of managers, the support provided to members by the CMI as well as the learning opportunities (which current members can access now by logging in). Prior to the seminar we had already received a cohort of applications for membership, and on the day we also received 30 new applications!  We look forward to welcoming these new members into our community.
Digital Event: Journey Towards Chartered Manager Status
CMI Hong Kong recently  hosted a digital session with  a panel of speakers from Hong Kong. They recounted their personal journeys towards   earning Chartered Manager (CMgr) status, the challenges they faced, and how the qualification will help them further their careers as professional managers.  Together, they offered advice to fellow learners and prospective applicants in the audience who are looking to attain the CMgr status.
Dr Paulina Chan, chairperson of CMI Hong Kong, facilitated the dialogue with the speakers who are working to become Chartered Managers via the route of the UoL GMBA programme.  Among the speakers were Mr Rodney Chan, consulting director, A PLUS Management Consulting; Ms Janice Tai founder of Circle of Life International Limited; and Ms Karan Lo,assistant director, Career and Management Centre, Graduate Programmes, at the Chinese University of Hong Kong –  Business School).  Dr John Cribbin, deputy director of HKU School of Professional and Continuing Education (HKUSPACE), pioneered the founding of the UoL-GMBA-CMI accreditation partnership with HKUSPACE was our guest speaker, and we were also joined by Mr Derek Choi ,honorary secretary of CMI Hong Kong and Mr Michael Wong, a member of CMI Hong Kong's Board  who shared their perspectives and experiences.
Everyone in the discussion agreed that the Chartered Manager pathway embodies the participants' dedication to lifelong learning and professional improvement.  Speakers knew  that becoming a Chartered Manager would enable them to enhance their management and leadership skills which support their career needs, broaden their horizons, and empower them at work through exposure to management knowledge and networks.  The qualification is also said to be value adding because it would help managers unlock personal potential It would also lead people in their teams to grow to new levels, and benefit their organisations as they implement management practices for reaching goals more successfully.
Exchanging ideas in the flagship Women In Engineering (WIE) International Leadership Conference 2021
The Women In Engineering (WIE) International Leadership Conference 2021 was sponsored by CMI – and was a huge success. The four-day virtual event hosted 120 speakers from 50 countries, and 425 industries were present across three time zones. It was a fantastic opportunity to share information and exchange ideas. Three members from the CMI Hong Kong board, Paulina Chan, Derek Choi, and Agness Wun, participated alongside members of WIE; Derek successfully managed the CMI Exhibition Booth, connecting with prospective members. Agnes joined the panel session titled 'Voices from WIE Asia', and Paulina, as a member on the Executive Committee of the conference, introduced CMI to the IEEE, facilitated the setup of the CMI booth, invited CMI's CEO Dr Ann Franke OBE as keynote speaker, and also moderated and spoke at 'Voices from WIE Asia'.
The pandemic has boosted the application of technologies across both public and private sectors. It is important for managers and leaders everywhere to maintain a high level of awareness of technologies in today's digital era. In Hong Kong alone, IEEE HK has 9,000 voting members, many of them scientists and engineers in leadership and management positions.
Through this international conference, the conversation between CMI and IEEE has been initiated and more collaborations are expected in the future, which we're very excited for and will keep you updated on this relationship as it continues to grow. The leadership of IEEE WIE are interested in joining CMI and promoting CMI news to the IEEE community. In the time to come, CMI Hong Kong will actively strive to foster closer relationships and develop joint initiatives between the two professional bodies.
On behalf of CMI Hong Kong, Paulina thanks Joanna Frohmaier, Jamil Karkach, Ian Doherty and Derek Choi for making the CMI Exhibition Booth possible and successful at the conference. The event was very successful and fruitful, and marked the start of an exciting collaboration opportunity.
Empowering University Teachers for Next-Stage Virtual Teaching
The COVID-19 pandemic has affected the teaching model of educational institutions worldwide.  After a year of experimentation and trial and error,, teachers and students are more supportive of remote learning and new learning technologies.   Institutions are now ready to create versatile, sustainable and disruption-resilient remote learning opportunities in the future.
In Hong Kong, the University Grants Committee (UGC) recently introduced a Special Grant for Strategic Development of Virtual Teaching and Learning (VTL) to universities.  The grant supports universities in developing governance frameworks for VTL, VTL development for skill-based training, and enriching the educational experience of VTL through professional development and technology/infrastructure development.
With the collaboration among different universities and organizations (e.g. Institute of Electrical and Electronics Engineers), inter-institutional professional development events on several VTL topics will be developed for teachers and learning designers in Hong Kong as well as the Asia-Pacific region:
Artificial intelligence for automating assessment in large classes, such that teachers spend less time on administrative work and more time for value-added personal student mentoring
Open educational resources (OER) and 'unbundled learning' for low-cost, stackable, integrity-promoted curriculum, such that more people get the flexibility and chances for updating their skills and preparing for career changes
Virtual reality and mixed reality for virtual instruction, such that students receive adequate essential practical and safety training before working on sites with potential dangers.
Dr Leon Lei
E-learning Technologist, The University of Hong Kong
Chair, IEEE Hong Kong Section Education Chapter
CMI Regional Voice from Hong Kong: Webinar on Management and Leadership Style for Education and Health in the New Economy
Covid-19 disrupted business and trade worldwide, seriously undermining the global economy – but hasn't it also helped to create new opportunities? The business environment shaped by the pandemic has reinvigorated management models and leadership styles as a result of increased digitalisation in sectors such as education and health, especially mental health. How have these sectors in the Asia Pacific been impacted by this 'new normal'? How have managers working in these areas utilised new opportunities creatively and strategically?
CMI Hong Kong recently hosted a webinar to explore these questions.  Among the panellists were:
Dr Paulina Chan, Regional Chair of CMI Hong Kong and Trustee on the Board of CMI
Dr Maggie Palmer, Associate Director of UK Department for International Trade (DIT) in Hong Kong
Dr Leon Lei, E-learning Technologist at the University of Hong Kong (HKU)
The Chair of CMI Singapore, Mr Tay Woon Teck
The Chair of Sri Lanka, Mr Indhra Kausha
Hon Secretary Ms Kamaya Perer
CMI Hong Kong board member Mr Derek Choi
CMI Hong Kong board member Mr Michael Chi On Wong
During the webinar, speakers across the regions acknowledged the pandemic's adverse impact on both people and business from the education and health sectors.  In order to overcome the challenges and barriers arising from changes in working styles and lifestyles, it was suggested that managers must acquire new skill sets and also make use of technological resources.  Citing cases and examples from Hong Kong, mainland China, Singapore and Sri Lanka, the speakers discussed the ways people in different regions have practised management and leadership in their respective contexts.  The common fundamental ingredients for success identified by the speakers were: resilience, agility, creativity, innovation, care, evolution, enthusiasm, and passion.
Application of Artificial Intelligence and Data Analytics in Recruitment
The Hong Kong Vocational Training Council (VTC), which grants the Higher Diploma in Human Resource Management and Talent Analytics, has now expanded its syllabus to include the use of artificial intelligence (AI) as automatic tools for job interviews.   AI applications are predicted to be used by human resources professionals in recruitment to predict success in the workplace.   The Hong Kong Productivity Council now offers courses to teach data analytics for managing human resources in a quantitative way;  these generate business opportunities for ed tech applications specialist and business entrepreneurs in the field.
You might also like these posts on this topic:
Don't miss out - get notified of new content
Sign-up to become a Friend of CMI to recieve our free newsletter for a regular round-up of our latest insight and guidance.
CMI members always see more. For the widest selection of content, including CPD tools and multimedia resources, check out how to get involved with CMI membership.