In this article, Liz White from the British Library discusses the milestones of their LGBTQ+ network – as well as the difference between being invited to the party and being asked to DJ...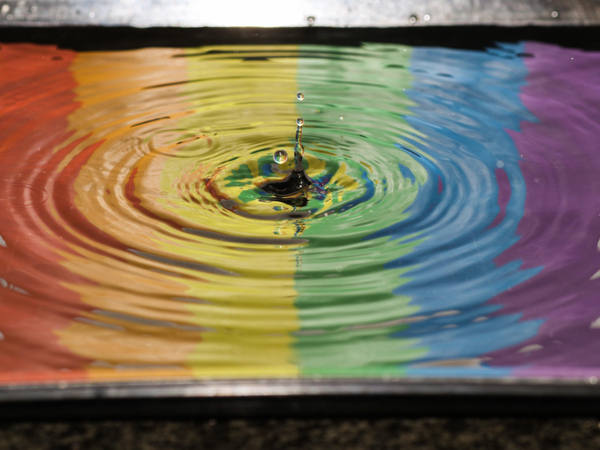 The British Library is the national library of the United Kingdom, with more than 170 million collection items in every imaginable format and in most known languages. Nearly 1600 colleagues look after many of the world's most exceptional treasures, sharing these with researchers, exhibition-goers and learners of all ages at our sites in London and West Yorkshire, plus millions more online. With a mission to make our intellectual heritage available to everyone, we also aim to be an institution where anyone could see themselves working.
The British Library's LGBTQ+ network was officially launched in 2017, drawing on and benefiting greatly from an informal staff network in place before that. This formal launch coincided with a major exhibition marking the 50th anniversary of the Sexual Offences Act 1967 and exploring aspects of gay liberation. Items from the exhibition can be found on the LGBTQ Histories website, an outstanding resource for anyone interested in LGBTQ+ lived experiences.
Inspired by the exhibition and the launch of the network, in summer 2017 members from the network and allies took part in Pride events in London, Leeds and York. This was an important milestones for the British Library: it showcased our important collection of LGBTQ+ history to the general public, but equally importantly it made visible our commitment to be an open and inclusive organisation and we have continued to take part in pride events ever since, even during lockdown.
Taking part in Pride is a part of our organisational commitment to LGBTQ+ equality, but the network's activity goes deeper than that. Colleagues from the network provide advice based on lived experiences to inform new processes and policies as well as playing a wider and important role in working with HR, our other networks and the Strategic Leadership Team to develop the organisation's own response to intersectional issues including racism, gender, mental health, class, disability and neurodiversity.
Why is this important?
Firstly, as a cultural institution, it's vital that the decisions we make today reflect the diversity of the communities we serve and that their voices and lived experiences are reflected in our work and services. Museum Detox, Museum as Muck and Museums Pride are some of the many staff-led networks working across the cultural sector and many examples of changes to institutional practice and engagement with diverse audiences have arisen from these (and others).
Secondly, we know that if LGBT colleagues are to really flourish at work, we need to create an environment where they feel welcome and supported, to be able to know that they can safely discuss the challenges they face and to believe that these will be not just listened to but also acted upon. The importance of role models and allies cannot be understated.
As the LGBT Britain in Work report by Stonewall and You Gov highlights, bullying and abuse against LGBTQ+ staff is still high within workplaces across the country. The good news is that positive action by employers can make a real difference.
"Employers who take active steps towards establishing inclusive work policies, by showing visible commitment to LGBT equality and showcasing best practice equality policies, have a real impact on the lives of LGBT staff, boost work morale and create a work environment that people are proud to work in."
Many discussions about workplace inclusion talk about how diversity is about being invited to the party and inclusion is about being invited to DJ. But truly inclusive organisations also need to listen with intent and to anticipate the needs of staff (from any group) and build these in to working practices. Our hope as an LGBTQ+ network is that we can make the British Library a place where everyone is encouraged to bring their whole selves, working together to be an organisation for everyone.
If you're looking for ways to make your workplace more diverse and inclusive, check out our Delivering Diversity campaign for ideas and research to bring positive change into your organisation.
You might also like these posts on this topic:
Don't miss out - get notified of new content
Sign-up to become a Friend of CMI to recieve our free newsletter for a regular round-up of our latest insight and guidance.
CMI members always see more. For the widest selection of content, including CPD tools and multimedia resources, check out how to get involved with CMI membership.