News:
CMI Singapore: Updates from the Board
Wednesday 15 November 2023
Get the latest news and updates from CMI Singapore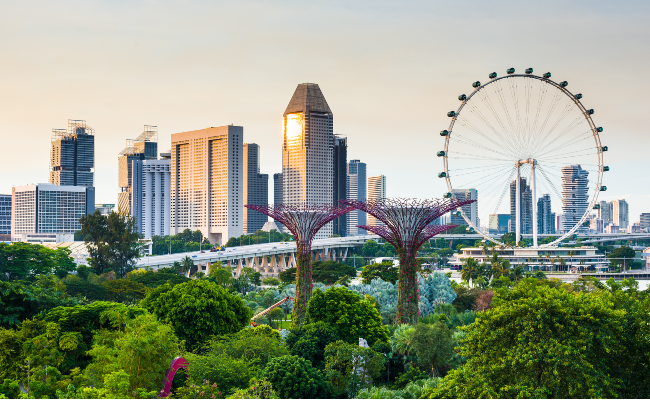 CMI Singapore's AGM 2023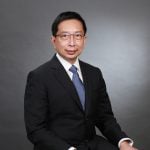 Earlier this month, CMI Singapore hosted the 47th Annual General Meeting (AGM) at Jia He Grand Restaurant.
The AGM was well-received, with members coming together to deliberate on the events and activities of the past year and to anticipate the year ahead. After the AGM, members enjoyed a dinner together, followed by a networking session.
We greatly appreciate the continuous support and active involvement of our CMI members in Singapore and look forward to another year of further growth for CMI Singapore!
CMI bolsters its presence in Australia
Last month, CMI participated in The PIE Live event in Gold Coast, Australia, alongside leaders in international education. The event provided extensive networking opportunities and served as an excellent platform to bolster CMI's presence in the Asia-Pacific (APAC) region.
Mellisa Patrick CMgr MCMI, CMI's programme development manager, attended the event to engage with potential new partners, including universities, colleges, and technical and vocational education and training (TVET) providers. Throughout these interactions, she not only highlighted the advantages of CMI but also shared the value that CMI has contributed through profound collaboration with existing learners and institutions in the APAC region.
   
Digital event: Deep Dive into the Energy Sector
In case you missed it, the CMI APAC Regional Boards recently delivered a Deep Dive into the Energy Sector Digital Event.
During the event, Dr Alan Miller CMgr FCMI, former board member of CMI Hong Kong Regional Board, was joined by guest speakers Sze Lynn Seah, Asia Operations Excellence Leader at GE Gas Power Japan, and Govindaraj Naralasetti CMgr MCMI, Council Member of CMI Singapore Regional Board – who shared their insights and the latest trends in the Energy sector.
Watch the full webinar here: 
CMI Singapore supports 25th SMEICC
CMI Singapore is pleased to be a supporting the organisation of the 25th SMEICC business conference and expo, to be held at the Suntec Singapore Convention & Exhibition Centre on 13–14 September 2022.
The event is organised by the Singapore Chinese Chamber of Commerce & Industry and features a range of sessions and speakers, with this year's theme being: "Ascending Beyond: Collaborate. Differentiate. Evolve. Forward Focus".
You can find out more by visiting the website.
CMI Singapore's 45th AGM
On Saturday 18 August, CMI Singapore held their 45th AGM at NUSS Suntec City Guild House, with CMI members and guests coming together for a lunch and networking session.
During the event, Ann Francke OBE, CEO of CMI, gave an opening address and Woon Teck Tay, chairman of CMI Singapore, gave an update on the regional board's performance for the previous year and their plans for the future. 
We would like to take this opportunity to congratulate the newly elected CMI Singapore council members and thank the Board for the support of CMI in Singapore. As we look forward to growing CMI in Singapore, stay tuned for more upcoming events and member engagement activities!
Learn more here.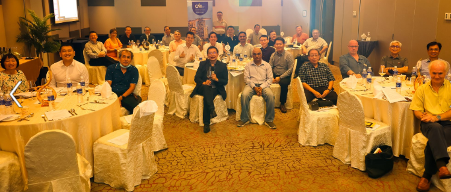 CMI Singapore at SIM student induction
On 13 July, Lee Wai Loon CMgr MCMI and Patrick O'Brien CMgr FCMI from the CMI Singapore Regional Board attended the Singapore Institute of Management to present to almost 200 students as part of a CMI induction session.
In addition to CMI staff providing information to the students on CMI's ManagementDirect resource portal, the Career Development Centre and other CMI member benefits, Wai Loon and Patrick were able to talk to the students about CMI Singapore's events activity and the benefits of CMI's Mentoring Platform, and the opportunity for the students to be mentored by one of the eight CMI Singapore Regional Board Members who have registered as mentors.
Better Managers Series face-to-face
event
On 13 January 2022, CMI Singapore hosted our first physical networking with the business leaders and our members on 13 January 2022 at the Refectory@351 Braddell Road.
The discussions explored various issues, challenges and opportunities facing managers and leaders across a diverse set of areas – technology and digital, travel, business and the regional economy.
Our panel of speakers Suan Teck Kin, Executive Director Global Economics and Markets Research, United Overseas Bank; Ben Tan, Board Member, Consultant and Former CEO; Yong Yun Siong,Senior Director, Expedia For Business; and Manoj Menon FCMI, founder and MD of Twimbit and programme director of CMI Singapore, shared the following insights:
We need to adapt to a rising interest rate, rising inflation and rising GST. Watch your debt level and focus on cash generating activities;
Digitalisation is effective only if it helps you reduce cost, increase revenue or reduce risk. Don't just follow blindly;
Leadership in the New Age requires empathetic leaders equipped with empathetic listening skills; be at ease with uncertainty; accept imperfection and failures and bounce back fast.
Many thanks to our GOH Roland Ng, President of Singapore Chinese Chamber of Commerce & Industry: Mr Gan Seow Kee, Deputy Chairman of Singapore Business Federation; our panel of speakers and friends of CMI.
You can watch the highlights here.
Wishing you and your family a happy, safe and healthy 2022!
Tay Woon Teck CMgr CCMI, Chairman of CMI Singapore
You might also like these posts on this topic:
Don't miss out - get notified of new content
Sign-up to become a Friend of CMI to recieve our free newsletter for a regular round-up of our latest insight and guidance.
CMI members always see more. For the widest selection of content, including CPD tools and multimedia resources, check out how to get involved with CMI membership.