News:
'The government must act on ftse gender stats' says cmi's ceo
Wednesday 14 November 2018
'The government must act on ftse gender stats' says cmi's ceo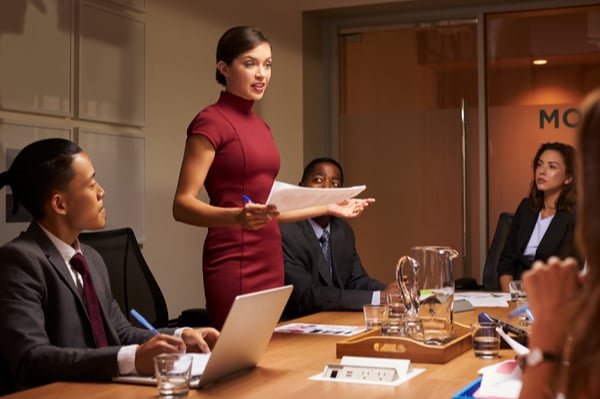 Ann Francke, chief executive of the CMI, has said today that "more needs to be done" to increase the number of women in leadership positions at the UK's biggest companies. She was speaking as the latest Hampton-Alexander Review revealed that while the proportion of women on boards in FTSE 350 businesses has marginally increased this year, just 12 of these companies have a female chief executive – down from 15 in 2017.
The report showed women hold 26.7% of boardroom positions in the FTSE 350. The government has backed a target that would see this figure rise to 33% by the year 2020, in order to ensure that women at the top of business are 'recognised, promoted and rewarded'.
Francke called progress towards this aim "slow" and added: "Not just words, but commitment to action is what is needed now if we are to meet targets. Businesses need to be put on notice. If they don't meet relatively modest targets by 2020, then the government must act."
Writing in the latest review, KPMG partner and CMI Companion Melanie Richards CCMI echoes Francke's words: "It is vital that the momentum the review has created translates into faster change in the future, motivating leaders to look at the demographics of their teams at every level," she says.
Some of the key figures in the Hampton-Alexander Review include:
More than 100 FTSE 350 businesses have met or exceeded the 33% target for women on boards
Burberry Group has the highest representation of women at 58%, followed by Next plc and Marks & Spencer at 46%.
There are 75 companies in the FTSE 350 with only one woman on their board
Alarmingly, four FTSE 350 companies have all-male boards. They are: British American Tobacco, Melrose Industries, Ashtead Group and Fresnillo
Excuses for boardroom inequality
Francke has called on FTSE 350 bosses to stop making "weak excuses" for the shortfall in the number of women on boards. Summing up the disappointing findings of the latest report, she says: "The result is that one in four companies have just one woman on the board and five all male boards remain, with the number of women in FTSE CEO positions falling from 15 to 12."
CMI research has consistently shown that women are underrepresented in leadership roles and overrepresented at junior level, making it harder for them to progress to board level. "The gender gap starts at managerial level with 40% more men than women rising to senior management positions – giving them a head start on getting to the board," says Francke.
In addition, for the relatively few females that make CEO level, there is a 55% pay gap between men and women. Total CEO pay including all bonuses, pensions and perks for the average male is £5.8m compared to £2.6m for their female counterparts. This difference is driven by opaque rewards such as bonuses, long-term incentive plans and perks. "This shows the challenge that needs to be faced," she adds.
To counter this trend – and the Hampton-Alexander statistics – Francke says investors should be encouraged to support leadership equality, says Francke. "Investors have made a difference to other aspects of corporate responsibility and could play a very important role in accelerating change."
Join the CMI Women network to champion equality in the workplace.