Article:
Long read: Do we have a problem with trust in leadership?
Written by Mark Rowland
Wednesday 01 September 2021
The latest CMI data reveals falling levels of trust in government among UK managers. What's going on here? We asked one of the UK's most trusted leaders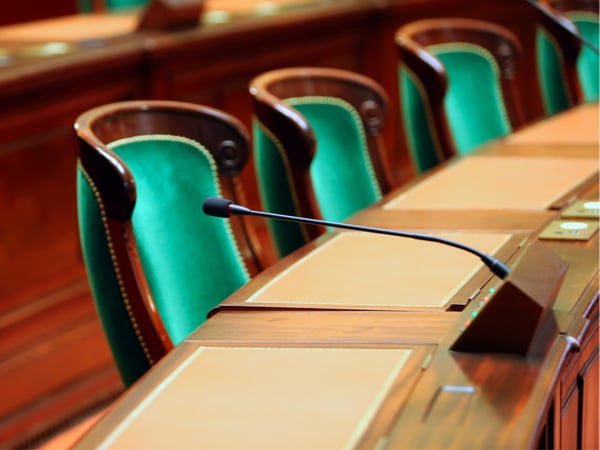 As the pandemic progressed, CMI watched managers' trust in government shift. Many institutions, both private and public, have had to fight hard to maintain trust over the past 18 months. Some, with a few careless words or actions, have lost it completely. It's a precarious position to be in – nothing can function without trust.
The results of CMI's latest Managers Voice poll show trust in the UK government's ability to grow the economy plummeting from +8% in May to -9% in June. While responses were not overwhelmingly negative (44% of managers said they did trust the government to get the economy going again; 53% did not), there's clearly some complexity here: Covid-19 business support measures, for example, were cited as a reason to both trust and not to trust the government to do so. Plus, over 80% of those who didn't trust the government's ability to kickstart the economy had concerns around the Government's transparency, reliability and fairness for supporting business. What can managers learn from this for their own organisations?
Building trust isn't just about facts
Julia Unwin DBE CMgr CCMI has spent her career building trust in organisations and thinking about trust levels in society. She's chaired an independent inquiry into civil society, was formerly chief executive of the Joseph Rowntree Foundation and is a CMI Lifetime Achievement Award winner. Who better to ask about whether we have a problem with trust and authority?
When Dame Julia took on the role as deputy chair of the Food Standards Agency (FSA), public confidence in the safety of food was at a low point, following BSE and salmonella outbreaks. So the FSA decided to be completely open, putting all scientific knowledge in the public domain and having decision-making meetings in public. While most people did not read the science or attend the meetings, the fact that they could made all the difference. Confidence in food safety started to grow.
The issues around the Covid-19 vaccine rollout are similar, says Julia: the messages are complicated, they require consistent communication and, critically, emotions need to be addressed as much as facts.
Most of the communications during the pandemic have ignored emotions in favour of facts, which has been a mistake from a trust perspective, Julia continues. "Facts on their own have never changed anybody's mind about anything. All of our decisions are shaped by emotions. Governments have got to get much cleverer about how they frame things like this."
Tackling the trust deficit
Trust in institutions has declined since the 1960s. That includes government, but also the press, the church, trade unions, the banking industry. So, before the pandemic we were already operating within a trust deficit. Trust in the government is linked to a wider framework. "I think that's quite well evidenced," says Julia.
Trust usually relies on a consistently positive long-term relationship, she observes. It involves demonstrating good judgment and expertise. The current government didn't have time to cement a positive long-term relationship, and was already divisive following the Brexit process. The Covid-19 pandemic was completely new; no-one knew what good expertise or judgment looked like.
The original stay-at-home message in March 2020 was unprecedented; a government message unheard of since the Blitz. It benefited from being simple and easy to follow. However, it's difficult to maintain a simple message over a long period of time. This is where consistent communication can help, says Julia. "In Scotland, you had a first minister who did a press conference every single day, and was reported to be a very strong communicator. The [Covid] numbers are no better there than in the rest of the UK, but the trust levels and confidence in her and the Scottish government are much higher."
What does this all mean for managers and leaders?
Anyone who has been in a leadership position knows that everyone's eyes are on you. That's why it's important to be consistent in your messaging and follow through with your actions. This hasn't necessarily happened during the pandemic, with several high-profile leaders acting counter to the messages they're putting out. "All my experience tells me that the only way people will follow you is if you're absolutely boringly consistent," says Julia.
Empathy is also a crucial element when it comes to gaining trust. As all decisions are driven to some extent by emotion, it pays to be able to read them. "That's a leadership skill that builds trust," says Julia. "That goes back to positive relationships being critical to building trust."
Trust is the asset worth more than anything else for most organisations
Julia Unwin CMgr CCMI
Many organisations have struggled to maintain trust during the pandemic. Julia is on the board of several companies whose executive team worked hard to maintain trust over the past 18 months. One of the biggest trust issues that organisations face is around how they treat office workers (who can work from home) compared to service and essential workers (who can't). The people who have put themselves most at risk during the pandemic are also some of the lowest paid. As we transition into a new hybrid approach to work, organisations must make sure that those key workers aren't left out of the conversation.
"If we only build trust in one part of the population, we create a new class divide," says Julia. "The clever leaders are managing to flex that and recognise that there's a human element to work."
Organisations that refuse to have that conversation, such as investment bank Goldman Sachs, which has insisted employees return to the office, risk destroying trust between leadership and staff – and an exodus of employees.
On the flip side, there are major advantages to engaging with staff and shaping a new way of working together. Not only can that build trust, it can also give certain groups, such as those with disabilities or chronic conditions, the chance to be more productive.
Ultimately, this is the message of this CMI data, says Julia. When people say they don't trust the government to grow the economy, they don't just mean the government; they are talking about the architecture under which institutions operate.
"It's a mixed story, but it's one that should make us all sit up and think. Trust is the asset worth more than anything else for most organisations. If trust goes, you can't deliver on anything that you said you'll do. And so it does matter."
If you'd like to join the Managers Voice Community, you can register your interest here.
More resources
You might also like these posts on this topic:
Don't miss out - get notified of new content
Sign-up to become a Friend of CMI to recieve our free newsletter for a regular round-up of our latest insight and guidance.
CMI members always see more. For the widest selection of content, including CPD tools and multimedia resources, check out how to get involved with CMI membership.