As lockdown restrictions ease around the world, Dame Fiona Kendrick DBE says we need visionary leaders who motivate people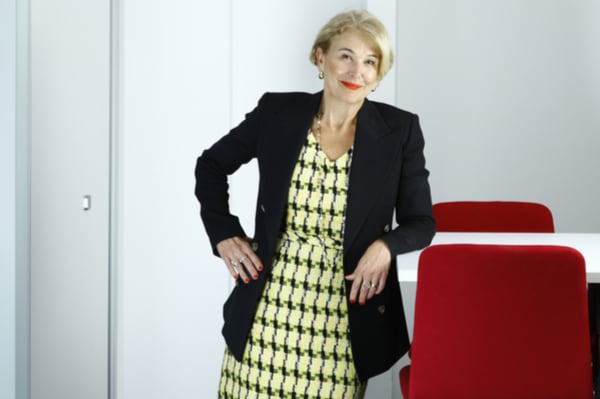 CMI's Management Transformed research found that where you work does not impact your productivity. But during these trying times when remote working is – and may continue to be – the norm, what will give our economy a much-needed productivity boost?
That was one of the questions I put to my special guest on the latest CMI Better Managers Briefing webinar: CMI Gold Medal winner Dame Fiona Kendrick, former chief executive of Nestlé UK & Ireland, and current chair of the NMiTE institute for engineers. Fiona is also chair of the PwC Public Interest Body, an adviser to the government's Innovate UK agency and sits on the business-led Productivity Leadership Group.
Make management the differentiator
According to Fiona, the landscape of work was changing well before Covid-19, but the pandemic has accelerated the need for workforce changes. "There is increasingly a mismatch as far as skills is concerned and digital transformation creates some big challenges for us," she says. "Of course, the country needs more engineers, more digital and tech skills. But without great management and leadership we are not going to move the needle on workforce productivity." Great leaders create visions, motivate people around a common purpose, guide and engage them, she believes.
This has been so crucial during the pandemic, she says. "Leaders now communicate more frequently, openly and honestly with their employees which is helping create a greater sense of community and inclusivity and enabling employees feel more connected."
But Fiona makes clear that she is not just talking about leadership and management at the top, but throughout the organisation. "We need great leaders and managers leading all departments, including these technical functions, because these people need support and training."
Close the skills gap Both government and business have a key role to play, argues Fiona. "There are significant gaps between the goals in our education system and the needs of business today," she says. "Government and particularly the Department for Education must heed the insights of business today. If not, the UK will simply continue to prepare people with competencies that are either outdated or in oversupply in the marketplace." Insights from business must be heeded by schools, colleges and universities too, she says. "There have been some great STEM initiatives raising the profile of careers that many young people can have. But progress is just too slow," says Fiona, who also believes the challenge is not just bringing young people into the workplace with those skills – it's about upskilling older people too. "Upskilling needs to be embedded in corporate culture, so let's sit business at the heart of the discussion about what skills are needed to drive this economy and make it more competitive for the future."
Place diversity at the centre
Decades of work to close the gender pay gap is at stake if pay gap reporting is suspended for a second year, campaigners have warned. And CMI research has revealed that 80% of managers say their company has not taken steps to ensure redundancies in 2021 do not fall disproportionately on women, or do not know if they have.
"I was so disappointed last year to read that gender pay gap reporting was suspended," says Fiona. "From the data that does exist we can see there is some progress. But it's minimal, and not happening at the speed required. I don't understand why, because it's well-documented that companies with greater diversity – not just gender, but also religion, race, ethnicity, cultural background too – outperform those with less. When you look at companies of great diversity, you can recognise that their innovation, creativity, decision-making and speed are all at a different pace. I think people are more loyal and engaged at more diverse organisations too, which see it as a source of competitive advantage."
The pandemic should prompt every organisation to review its diversity and inclusion strategy: "For me, it's not just about hiring more diverse employees at junior level. It has to be at all levels if we're really going to move the dial," argues Fiona. Thankfully the enforcement of gender pay gap reporting will recommence this year, albeit with a 'grace period' for employers, but Fiona says the "ethnicity pay gap needs to be brought to the fore. Organisations must build diversity and inclusion into their post-Covid return-to-work considerations, and integrate it into key processes that have been impacted by the pandemic. In my view, every company's D&I strategy must be reviewed."
Increase empowerment, drive accountability
The way we work has been changed fundamentally, but employers cannot sit back and wait to see what happens next, warns Fiona. "Post-pandemic, employees are going to be much more demanding, so there will need to be continued emphasis on employee well-being, both physical and mental," she says. "Employers are going to have to listen even harder and adapt attitudes to, for example, employees who've got childcare or caring responsibilities."
Leadership styles must also adapt to the new age of remote working. "The new ways of working will mean more empowerment of employees, but that in turn will drive accountability," she says. "And flexible and digital-enabled workforces will become the new cultural norm. That means employers will have to create and embed behaviours that enable a more flexible and agile working culture.
"I believe this will all drive productivity, if it's underpinned by appropriate technology – and most importantly, by leadership and culture in the organisation."
You can watch our conversation in full here.
And why not sign up to our digital event on choosing to challenge on 10 March? Dr Lois Farquharson will be joined by a panel of guest experts including Adie Dove, Tina Bessell & Louise Middleton to discuss the importance of creating change. To hear about how they were able to circumvent the barriers that were in their way of achieving excellence in their professional lives, and the strategies that they are using to maintain their excellence, sign up here. 
You might also like these posts on this topic:
Don't miss out - get notified of new content
Sign-up to become a Friend of CMI to recieve our free newsletter for a regular round-up of our latest insight and guidance.
CMI members always see more. For the widest selection of content, including CPD tools and multimedia resources, check out how to get involved with CMI membership.