Interview:
Never Knowingly Unproductive: Sir Charlie Mayfield on Workplace Productivity
Monday 20 May 2019
SINCE THE GREAT FINANCIAL CRISIS OF 2007-2008, UK PRODUCTIVITY LEVELS HAVE TANKED. THIS COULD LEAVE THE COUNTRY EXPOSED IN A POST-BREXIT ENVIRONMENT WHEN WE'LL NEED THE ECONOMY FIRING ON ALL CYLINDERS. SIR CHARLIE MAYFIELD CCMI, CHAIRMAN OF THE JOHN LEWIS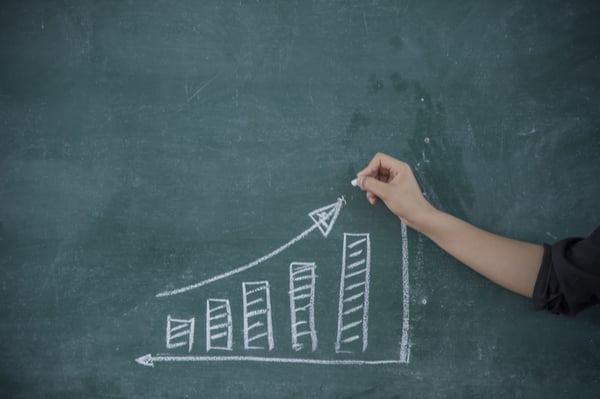 Around
Ann Francke CMgr CCMI FIC and Matthew Rock
It's estimated that poor productivity in Britain costs £84bn a year. How well is this understood, and what are the key causes?
'Productivity' is a phrase that tends to get used by economists and people in Whitehall, not by regular business people. Often for people, it means job cuts or working harder for the same money. And it's not always straightforward to measure either.
For me, the productivity debate is not about what value we lose from the economy, but what opportunity there is for us to do better. The analysis we've done shows that, if you could move quite a lot of companies up by a small amount, you could release more than £100bn into the economy each year.
At CMI, we believe that a root cause of productivity problems is accidental managers – people promoted on the basis of skills, but then not trained in leadership and management. Does that resonate with you?
There are a variety of reasons for the UK's relatively poor performance in productivity. But one of the major reasons is the quality of leadership and management; this is also one of the reasons you could do most about. Research shows that greater adoption of relatively commonplace practices would make a huge difference.
What practices could people and companies adhere to more to improve productivity?
Performance management is a key one. This starts with simple things such as setting targets, thinking about what success looks like, identifying what contribution people can make towards achieving that success, and then helping them understand the extent to which they've achieved it. It includes praising good performance, coaching and encouraging. It also means dealing with underperformance.
Then there is paying attention to what your competitors are up to, and having an external view of your business. A lot of people end up becoming internalised within a busy business life. Spending time looking at what other people are doing is strongly correlated with higher productivity.
So too is being an exporter. Companies that export are likely to be more productive because they are exposed to a more global competitive set. Then there is digital technology. You don't have to adopt hugely complex systems, but using it extensively in the business makes a difference.
How much do you think that improving productivity in the poorer-performing UK regions should be a major drive?
There is a big disparity in terms of productivity between regions in the UK. Productivity in London and the south-east is higher than that of a lot of other places here. But there is the potential to improve productivity in every region and sector of the economy, even in apparently higher-productivity areas.
Let's say one company was in the 44th percentile in their sector; if that company could get to the 54th percentile, and that improvement happened across lots of companies, that would drive over £100bn of additional value for the UK each year. You don't have to go from the bottom to the top quartile. It just requires businesses to improve to a level that's being achieved by similar firms in their sector.
How well is retail doing? What could your sector do differently and better?
Retail is intensely competitive. You're effectively on show to everybody; you can walk into a shop or go and look at a website and see what competitors are doing. It is very open to comparison and external benchmarking. That's why it's so dynamic.
But, increasingly, improvement relies on going beyond merchandising or operational practices that are already optimised. Customers are living their lives differently, and success in retail will depend on how well retailers anticipate and adapt to bigger trends.
Are you more inspired by or afraid of Amazon?
It's more a matter of being alert to the way technology is changing the way we live, and enabling different business models. Amazon is a sign of that, but so too is the fact that nearly 40 per cent of John Lewis sales are now online. We had an instinct nearly 20 years ago that our customers would want to shop differently.
We built capability each year to get to a point where our Waitrose and John Lewis businesses have strong positions in how they trade and how customers shop with us across multiple channels. We've developed significant competitive advantages. But we are not complacent. We're always looking at the next frontier.
How well are productivity practices implemented at John Lewis?
We've made productivity one of our priorities over this next period. We've seen progress even in the first half of this year, with our sales per partner, one measure of productivity, rising by over seven per cent.
We're also developing some of the processes that support progress. For example, we have completely changed the way we do performance management. About a year ago, we suspended what was a well-constructed performance-management process because it had become the focus of the activity rather than the means through which effective conversations were being achieved. We have just launched a much simpler, slimmed-down process, which we describe as "three clicks and a tweet".
The point we're making to our management teams is: look, instead of spending time filling in boxes with lots of text, spend that time talking to partners, having effective performance conversations, and coaching them and encouraging them. Doing that regularly throughout the year will yield big productivity gains.
Sometimes the process envelops the intent, rather than delivering it. That's what we are trying to change.
A completely different example is the way we are deploying investment and automation in our supply chain operations. That's made a huge difference to our productivity, and you can clearly measure it. Our distribution operations in John Lewis, for example, are ten times more productive in terms of units per hour, units per person and units per day than six or seven years ago. It's a huge step up and we couldn't have built our multi-channel business without it.
Many employees will become concerned when talk turns to productivity…
Yes, people can get concerned about productivity: is it at the price of jobs?
Productivity and employment are correlated, as productivity is a driver of competitiveness and growth. Those, ultimately, are keys to employment. If you aren't productive, you won't have jobs, because you will lose them through lack of competitiveness.
But, while there's an overall positive correlation between productivity and employment, that varies by sector and place. An obvious example is agriculture, where we're vastly more productive than 50 years ago, but employ far fewer people. Equally, that productivity gain has meant people are freed up to work elsewhere, but that won't happen smoothly or evenly in every instance.
There can also be a view that productivity must mean working harder for the same money. However, higher productivity is essential to higher wages. You can only sustain somebody in employment at a certain rate of pay if that rate is commensurate with the value of the contribution they make. Moving pay forward is important, but it requires higher productivity to do it.
Something to watch for is that we are raising the cost of employment, rightly in my view, at a time when the cost of technology is coming down, and the capability of automation and technology is rising.
Tell us about the priorities for your Productivity Leadership Group.
We are creating a movement called 'Be the Business'. It's not 'the ministry of productivity'. We have formed a small, high-quality team that will support the movement in three ways.
The first is to lead the campaign, creating a brand that's aspirational, inclusive and enabling. Second is to provide impact analytics. Most research and data on productivity is impenetrable or irrelevant to many firms. We are focusing on firm-level analytics that motivate and make a difference. Third, we will offer modern benchmarking tools and sponsor programmes, including some of the work championed by CMI. We aim to amplify, accelerate and aggregate all the great stuff that is going on across the UK.
Our job is to support and encourage, and provide an ecosystem within which there is a greater interest and demand for interventions that make a real difference to our productivity and the prosperity of the nation.
The Apprenticeship Levy is designed to address the underinvestment of British businesses in skills. What's your view of it?
The Levy is a bold and largely welcome intervention, in the sense that it provides the means and incentive for greater investment in skills. Some businesses invest brilliantly and do fantastic stuff, but they are not sufficiently prevalent for the UK's long-term success. I believe the Levy will improve that situation.
However, it must be delivered well and in a way that's sustained and improved over time. Historically, we've not done well in the UK when it comes to continuity in such initiatives. We've got to stick at it and make it work really well.
It would be sad if the Apprenticeship Levy becomes a payroll tax that people just pay but don't really do anything with. If employers don't spend it, it's most likely to be because it's too hard to implement rather than because of any lack of intent.
Is part of the problem that employers don't understand they can use the Levy to upskill their existing people?
Maybe. It's important that they do, as nearly nine out of ten people who will be in the workforce in ten years' time are in it now. If you think about the way technology is changing the nature of work, there is an urgent need to retrain existing people.
What role does the John Lewis Partnership's employee-owned structure play in your performance?
At its simplest level, our business can never be sold. There is no exit, which means that the only way forward is to make next Christmas better than last Christmas, or to make next week's customer interaction better than last week's. It's a basis for relentless continuous improvement.
It also means that the future is our responsibility today. No-one else will sort that out for us, so we think about the future a lot.
Also, we don't have highly geared individual incentive plans based on the delivery of, say, a five-year business plan. Some people say this is a weakness. I think it's a strength. It means that we don't have different sets of partners with different sets of interest. We have a common interest.
Finally, we have around half the staff turnover of most retailers. Let's say we spend £100 on training for a given partner. For other organisations, something in the order of £50 of that walks out the door at the end of every year. In our business, the majority stays. Then if we spend another £100 next year, we're building on that foundation again and again. Over time, that leads to a big difference, we hope, between John Lewis and Waitrose partners and some of the competitors.
You've had a distinguished military background. How did that influence your leadership?
The Army gave me a lot of responsibility very early, but within a framework. People have this image that the Army is all about shouting at people and command and control. For most of the time, Army leadership is about caring for the people you are responsible for and making sure they are as prepared as possible for whatever situation they may face.
In your speech when you won CMI's Gold Medal in 2017, you talked about caring, humility and self-doubt being fundamental tenets of leadership. Can you say more about this?
I've never done a job where I haven't reflected afterwards on how much better I could have done it. Of course, at some point that could become debilitating, but with a degree of moderation it becomes very helpful. Self-doubt can be the fuel for restlessness, self-improvement and learning.
For tools and advice to boost your organisation's productivity, visit bethebusiness.com