So, we embraced remote working; we're warming up to hybrid working; but what about squiggly working?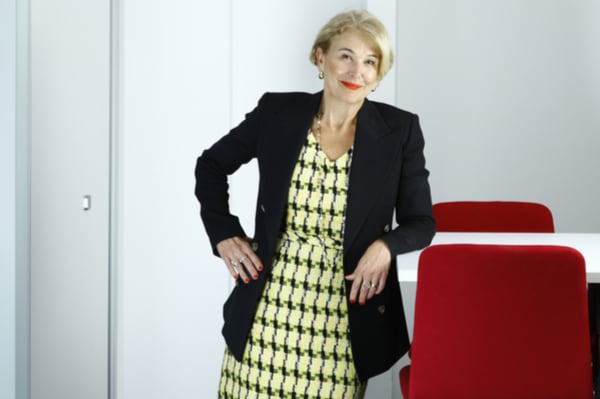 Over the last year at CMI, we've been tracking how managers feel about work, job satisfaction and hybrid working. Our research with partner WorkL, has shown that despite the stress of the pandemic, the move to more flexible working has been a positive for the majority of managers, allowing them to adapt how they work to their individual circumstances.
Greater flexibility and individuality in our work and careers was the theme of our latest Better Managers Briefing when I had an opportunity to talk with Helen Tupper, a CMI companion who, with Sarah Ellis, founded award-winning career development company Amazing If.
She and Sarah host the UK's number one careers podcast on careers called Squiggly Careers, which is also the title of their Sunday Times bestselling book (their new book, You Coach You, will be published in January 2022). I began our conversation by asking Helen to define a "squiggly career".
Ditching the career ladder
The squiggly career is a concept that Helen and Sarah use to describe work and what people want from work, in a world that is neither predictable nor linear, but full of change and uncertainty. "It's like how we draw a squiggle," explains Helen. "No two squiggles are ever the same and no matter how many times I draw a squiggle, it never looks the same. It's true of careers too. Everybody's squiggly career looks different. There's no good or bad squiggly careers, they're as individual as we are."
Contrast that with the old concept of careers as "ladders" where each step is linear and predictable, and the expectation is that we climb a series of steady rungs and promotions to get to the top. "In the times and world we live in today, the squiggly career concept is much more inclusive because at some point the ladder started holding more people back than it helped to move forward," says Helen. "And that just doesn't feel like a world that works for everybody."
The resulting imperative for employers, argues Helen, is to give individuals a sense of ownership for their career development. "It's about creating a capability and culture within an organisation that enables people to move around, that doesn't restrict them to one thing but gives them freedom to explore, develop and progress in different directions."
Helping people coach themselves
Sometimes it feels like we need someone else to solve a knotty problem for us. Perhaps it's a difficult relationship at work. Or that we've lost control of our time. Or maybe the last 12 months working from home has knocked our confidence. These are the sort of problems a coach could help us with. But what, asks Helen, if we were able to coach ourselves?
"We often feel like someone else has got all the answers to help us. And coaching relationships can be very helpful," she stresses. "However, when we start introducing dependencies for our development, we sometimes introduce hurdles. Is there a budget for a coach? Has my manager got time? Does my mentor care about me and my development?"
Helen and Sarah's next book, You Coach You, will outline how people can acquire the skills to coach themselves out of knotty moments. "The intention is not to replace coaching conversations, but better prepare you for them by being more self-aware, able to ask better questions and take more effective action as a result," she says.
Diving deeper
At its simplest, says Helen, coaching is about great listening and questioning. "We can all develop those skills of active listening and great questioning skills," she says. Helen and Sarah advocate an approach that they call "dive deeper questioning."
"Often, because of time pressure or because it's uncomfortable, questioning doesn't get much beyond the surface," says Helen. "We don't dive that deep into what's going on and why we might be feeling a certain way. But if I want to coach myself through that knotty moment, I need to dive a bit deeper with my questioning. If I dive a bit deeper, I increase my learning and I can take more meaningful action."
Level one questioning might simply gather the facts, says Helen. Level two questioning might take us deeper into asking questions about feelings and how our thoughts might be affecting the situation. Level three questioning – and the deepest level that many of us avoid – is all about fears. What am I actually worried about? "When you start to think about the facts, the feelings and the fears, the action that you take as a result of that becomes much more meaningful," argues Helen.
Avoiding assumptions
The charity Working Families, of which Helen is a trustee, recently published research that highlighted the fears of many women that their flexible working might hold them back and make them more vulnerable to redundancy. Helen says organisations must banish such fears. "The language we use when we talk about flexible working and people's choices is really important," she says. "And let's not make assumptions just because someone is a working parent or works away from the office or doesn't want to be involved in a particular project. We need more role models too – female leaders who are working flexibly and show that we don't have to be some kind of robot leader who doesn't have a life to succeed at work."
You can watch our conversation in full here, and a previous piece on Helen Tupper's growth mindset here.
You might also like these posts on this topic:
Don't miss out - get notified of new content
Sign-up to become a Friend of CMI to recieve our free newsletter for a regular round-up of our latest insight and guidance.
CMI members always see more. For the widest selection of content, including CPD tools and multimedia resources, check out how to get involved with CMI membership.