The latest events, ideas and updates from CMI Malaysia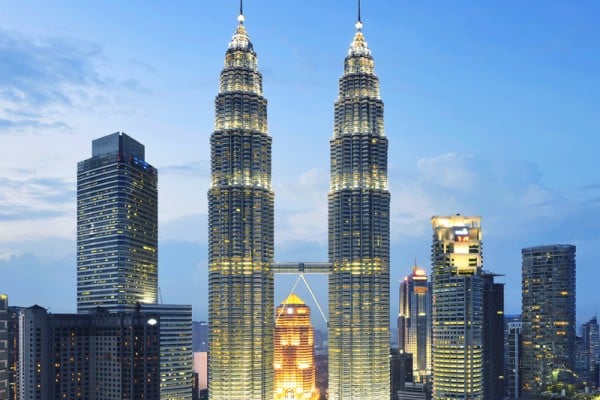 Ann Francke visits Kuala Lumpur
The CMI team recently touched back down in the UK after a brilliant trip to CMI's local chapters in the Asia-Pacific region. Don't miss Ann Francke OBE's top five takeaways from the trip here. 
It was a packed schedule. In Malaysia, Ann met with representatives from Universiti Utara Malaysia, Universiti Tun Abdul Razak and Universiti Teknologi MARA. She also joined the panels at CMI Malaysia's in person event, Managing Hybrid Teams, along with Jennifer Lopez, CEO of the British Malaysian Chamber of Commerce, and People As Competitive Advantage, hosted by Sunway University.
Ann also attended CMI Malaysia's 2023 AGM.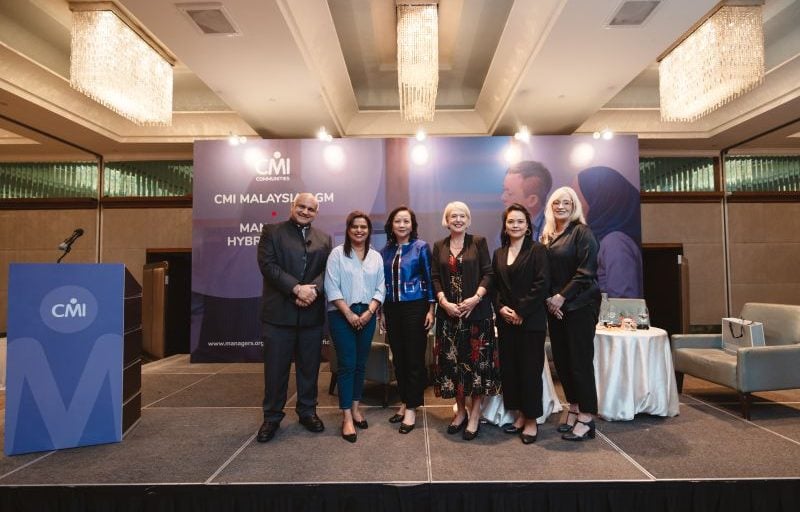 Ann was also delighted to be able to personally present a number of recently qualified Chartered Managers with their certificates.
CMI bolsters its presence in Australia
Last month, CMI participated in The PIE Live event in Gold Coast, Australia, alongside leaders in international education. The event provided extensive networking opportunities and served as an excellent platform to bolster CMI's presence in the Asia-Pacific (APAC) region.
Mellisa Patrick CMgr MCMI, CMI's programme development manager, attended the event to engage with potential new partners, including universities, colleges, and technical and vocational education and training (TVET) providers. Throughout these interactions, she not only highlighted the advantages of CMI but also shared the value that CMI has contributed through profound collaboration with existing learners and institutions in the APAC region.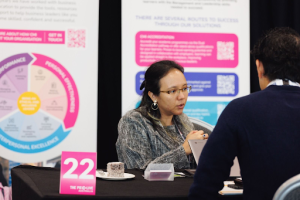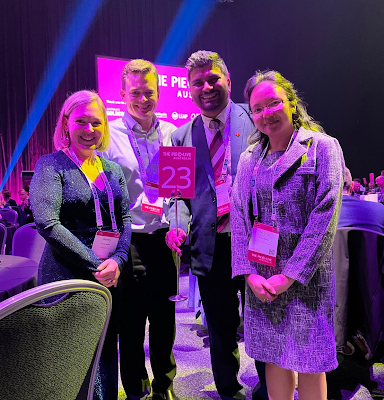 President of CMI Malaysia forges connections in Kazakhstan
President of CMI Malaysia, Taranjeet Singh, recently made a trip to Esil University in Astana, Kazakhstan to discuss bringing CMI to Central Asia.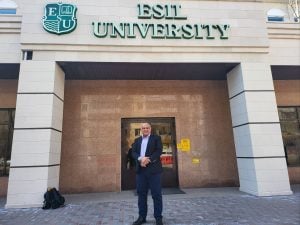 What an amazing opportunity to witness the entry of CMI into Central Asia through the collaboration between Esil University in Astana and the Chartered Management Institute.

The first steps to a long journey have commenced and I look forward to witnessing and actively participating in the first of the milestones being delivered in due course.

It was a pleasure to share the table with Hon Minister of Labour and Social 

Protection, Tamara Duisenova; the Hon Minister of Higher Education, Sayasat Nurbek; the Hon Deputy of the Majlis, Berik Beisengaliyev; the Hon Rector of Esil University, Ayapbergen Taubayev; and Chair of Esil University, Yerzhan Beysengaliyev – and of course Zain Munir CMgr FCMI, Head of International, CMI. A fabulous job done here by all parties.

The path towards the professional credentialing of managers and leaders in Kazakhstan has only just begun and what an amazing journey ahead it promises. It's all about striving for standards of excellence and accountability to do the right things in the interest of the National Agenda development.

Wishing all parties at the table a great journey ahead.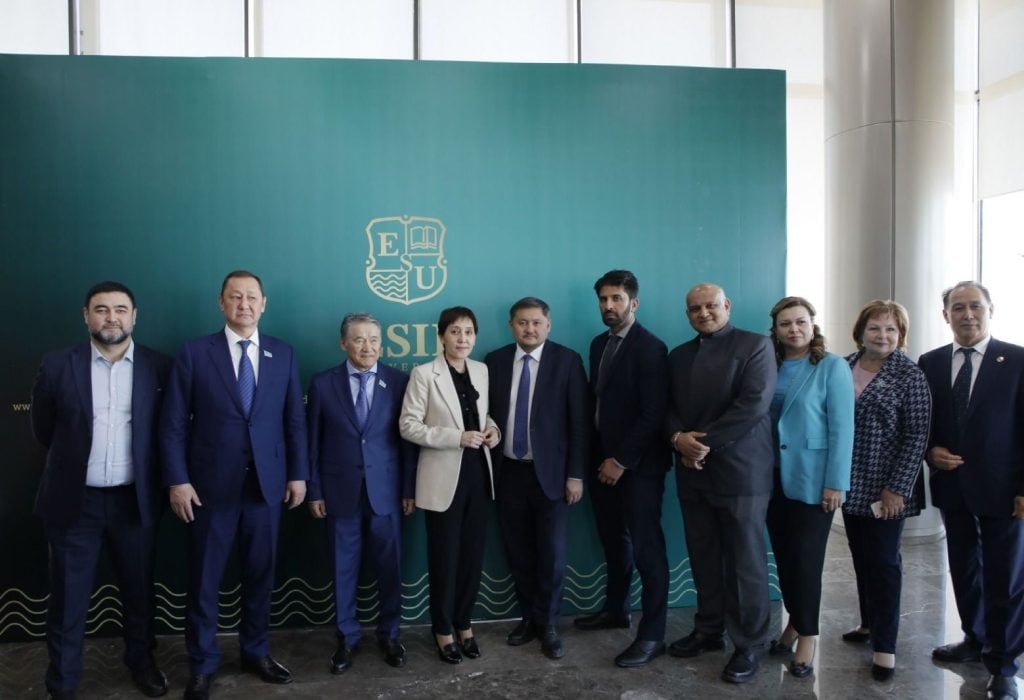 CMI Malaysia Chair on leadership podcast
Taranjeet Singh, chair of CMI Malaysia, spoke with leadership effectiveness expert Kate Thomas for The Leadership Effectiveness Podcast. They discussed the strategic impact that leadership assessment and profiling can have on successful executive succession planning.
"Do have a listen," said Taranjeet on LinkedIn, "to the insightful questions posed, the wholesome topics that we touched on and the impact that a simple profiling exercise has on the future growth, development and maturity of talent, no matter which level they play at within the organisation, as well as the maturity levels of organisations as a whole.
"Enjoy, learn, unlearn and reframe and, as always, if you need even more details, reach out and enquire."
Listen to their discussion here!
CMI Malaysia at IET Gala
On 18 February, representatives from CMI Malaysia attended the Institution of Engineering and Technology (IET) Malaysia prestige lecture and award dinner. Chair Taranjeet Singh CMgr CCMI released the following statement on LinkedIn:
What an amazing Gala Award and Dinner this evening, hosted by IET Malaysia.

Speaking as chair of the CMI Malaysia Regional Board, we are truly honoured to have been invited for this evening's event.

Well coordinated and managed, it celebrated the best that the profession has to offer. Kudos to all award recipients and shortlisted candidates.

A note of thanks to those around the table for their time and effort to join me today.

Here's to more of such fellowships in future.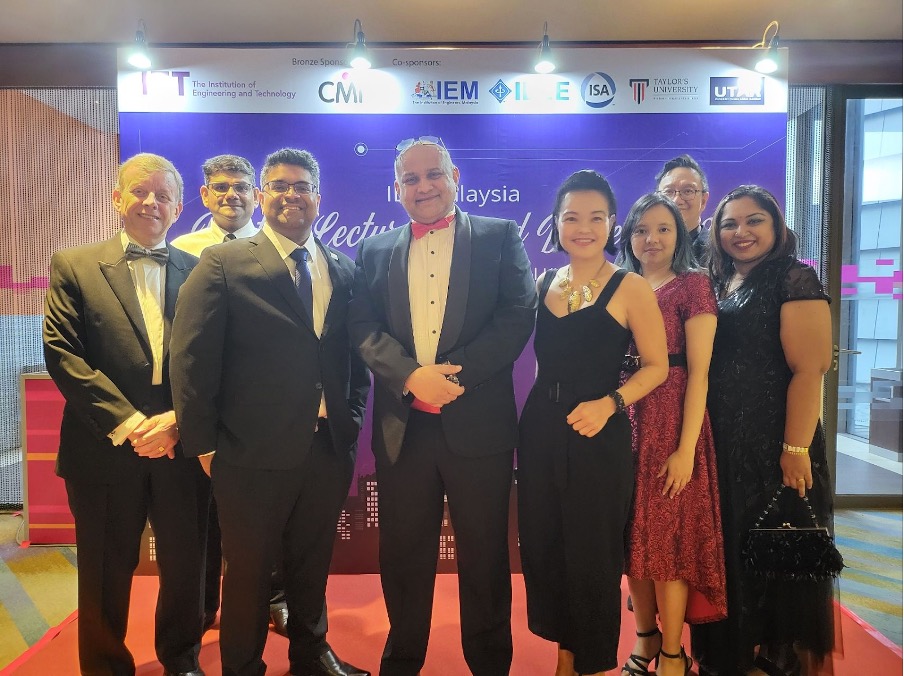 Digital event: Deep Dive into the Energy Sector
In case you missed it, the CMI APAC Regional Boards recently delivered a Deep Dive into the Energy Sector Digital Event.
During the event, Dr Alan Miller CMgr FCMI, former board member of CMI Hong Kong Regional Board, was joined by guest speakers Sze Lynn Seah, Asia Operations Excellence Leader at GE Gas Power Japan, and Govindaraj Naralasetti CMgr MCMI, Council Member of CMI Singapore Regional Board – who shared their insights and the latest trends in the Energy sector.
Watch the full webinar here: 
Event: Managing in a Disruptive Environment
On 18 August, CMI Malaysia hosted our Managing in a Disruptive Environment event. We were honoured to be joined by our panellists Tarminder Singh and Major Dr. Prebagaran Jayaraman FCMI, and our moderator David Khaw from the Project Management Institute Malaysia.
During this event, the panellists shared perspectives on project management and how the practice has evolved over the years to become a vital component of today's 21st century organisation. Insights were shared in terms of how project management, as a skill and as a distinct role, can benefit the organisation by driving teams towards achieving goals despite continuous disruption.
Watch the highlights now:
CMI Malaysia 2022 AGM
The 5th CMI Malaysia AGM took place on 6 October at the KL Hilton. Chair Taranjeet Singh CMgr CCMI released the following statement on LinkedIn:
It was a delight to chair the 5th CMI Malaysia AGM yesterday at the KL Hilton.

Reminiscing with old friends, meeting new members and sharing of thoughts and experiences were most certainly the order of the day.

With my fellow Office Bearers, Prof Dr Rebecca Taylor, Prof Dr Vinitha Guptan and Gerald Guan Gan GOH, and Hon Members of the Regional Board, we had a sterling audience comprising of Chartered Companions, Chartered Fellows, Chartered Managers and Student Members of CMI Malaysia.

And in the wings were support provided by Samantha L., Mellisa Patrick, Goldie Polycarp respectively.

A note of thanks to Joanna Frohmaier, Jamil Karkach and Charlotte Bradshaw for being on the call with us and for providing great updates and insights from a CMI UK and Higher Education perspective.

It is with a tinge of sadness that we say farewell to "retiring" board members Steven Foong, Jimmy Fam, Datin Dr Wendy Liow, Dr Seng Poh Chew, Mahendra Chandra and Badrie Abdullah and thank them for the sterling contributions that they have made to the Board and the CMI "Cause" within Malaysia and the region.

On the same note, we are honoured to have step up to the proverbial plate Major Dr Prebagaran Jayaraman, Kishenjeet Dhillon and Isabel Mok respectively. It's also good to see the Board going through a revitalisation process.

We are here to serve you, the Members of the Chartered Management Institute. We look forward to forging even deeper relationships, fostering better engagements and having insightful and purposeful sharings over the coming year.

Should anyone wish to play a more active and a more prominent role within this space, please feel free to reach out to us or DM me directly.

Stay tuned for upcoming events and we look forward to seeing you there.
CMI Malaysia chair meets with CMI CEO
Chair of CMI Malaysia Taranjeet Singh CMgr CCMI met with CMI CEO Ann Francke OBE at the CMI office in London.
"What a pleasure it was to hear [Ann's] feedback on the exemplary work that is being done by CMI Malaysia … it was insightful to hear Ann's perspectives on the focus for the coming year for CMI and how this will translate to us within APAC, and Malaysia specifically."
CMI on mentorship
President of CMI Malaysia Taranjeet Singh has been receiving a number of requests asking him what mentorship is all about. On LinkedIn, he recommended this video from CMI: "Here's a CMI-specific clip on mentoring and what a credentialled mentor brings to the table. Have a listen… It's worth your while."
CMI Malaysia presence at PBS induction
Ms Deborah Marie Polycarp, international engagement manager of CMI Malaysia, attended the virtual orientation and induction session for new students at Putra Business School, Serdang – one of CMI Malaysia's valued business partners. Attended by over 100 local and  international participants, the session brought together a number of the school's management, partners, academics and students for an inaugural address and informative presentations.
Learn more here.
CMI Malaysia's president joins UMK advisory council
President of CMI Malaysia Taranjeet Singh has been invited to support Universiti Malaysia Kelantan on their advisory council. 
"[I am] looking forward to making a positive impact on and with the graduate school, both at a university and a state level, where possible," he said on LinkedIn of the appointment. "Loads of learnings and sharings in store for me as well." 
With over 25 years in the management consulting world, Taranjeet is a highly sought-after consultant and currently is CEO of Quantum Steppe Advisory, based in Kuala Lumpur.
Should corruption be a specialisation in an MBA programme?
On 25 August 2022, Kings College Malaysia hosted an insightful hybrid management forum in collaboration with KELAB Asian Institute of Management and Universiti Malaysia Kelantan (UMK) in Kuala Lumpur. The discussion tackled the question: "Should corruption be a specialisation in an MBA programme?"
Dato' Sri Akhbar Satar, the president of the Malaysian Association of Certified Fraud Examiners, delivered a keynote speech, which was followed by a discussion with panellists Prof. Dr. Roselina Saufi of UMK's Malaysian Graduate School of Entrepreneurship and Business, Prof Nagarajah Lee of Wilmington Metropolitan University and moderator Yazdi Jehangir Bankwala, director at Arpitha Associates consultancy.
Taranjeet Singh, president of CMI Malaysia, said: "[It is] a pertinent topic indeed given our present state of affairs in the nation. [There were] some good areas for discussion by the esteemed panellists and insightful questions raised by the floor."
Managing in an uncertain environment, part 2
On 18 August, CMI Malaysia hosted their second face-to-face panel discussion on the exciting topic of managing in an uncertain environment from a project management perspective. 
Great insights were shared by the panellists Major Dr Prebagaran Jayarama and Tarminder Singh, moderated by David Khaw, president of the Project Management Institute Malaysia.
Khishenjeet Dhillon CMgr MCMI, stakeholder engagement lead for CMI Malaysia, said, "It was a great time for us to interact with members of the CMI community in Malaysia and hear some of their challenges in managing the new environment we have post-pandemic and mid-cost of living crisis.
"[It] was a great chance for me to hear [members'] thoughts and views on what can make CMI better. I gained many insights from this event and benefitted from the networking opportunities shortly after."
Read more here.
New Board Members
CMI Malaysia has two new co-opted Regional Board Members – Kishenjeet Dhillon CMgr MCMI and Major Dr. Prebagaran Jayaraman FCMI. Congratulations and welcome to both, and we look forward to working with you over the coming year. You can find out more about Kishenjeet and Major Dr. Praba here.
Local event on 18 August – Managing in a disruptive environment: Project management perspectives
Thursday 18 August 2022, 16:30–19:00 MYT at WORQ TTDI at Glo Damansara Shopping Mall, Kuala Lumpur
Join us for this CMI Malaysia event in collaboration with the Project Management Institute Malaysia to gain insights into how project management can succeed despite continuous disruption. 
The expert panellists will draw on their respective experience to share perspectives on project management and how the practice has evolved over the years, as well as showcase how proper project management can cut through workplace complexities to bring about better results for yourself, your team and your organisation.
Find out more and book your place here.
CMI Malaysia will be represented by new board member Major Dr. Prebagaran Jayaraman FCMI.
CMI Malaysia Member shortlisted for CMI Outstanding Student of the Year Award
Norharizan Hussain ACMI is one of the three shortlisters for the CMI Outstanding Student of the Year Award 2022. The award recognises a high level of academic attainment, plus dedication to their course and to their own personal and professional development.
Norharizan began her career as a supervisor of an operation support team for the first few Marrybrown Fried Chicken outlets in 1989 – and she rose up, launching her first ever business as franchisee operator of Marrybrown Fried Chicken in a number of locations in Malaysia.
Never wanting to quit growing and improving herself, Norharizan ventured back to academia by obtaining a degree in Business Administration at Universiti Utara Malaysia after 8 years of running her businesses. Her thirst for learning never stopped there as she pursued her MBA 2 years after obtaining her Bachelor's Degree.
Congratulations, Norharizan!
CMI's The Everyone Economy report covered by the Asian Times
In case you didn't see already, CMI's Everyone Economy report was covered by the Asian Times – have a read here!
Chair of CMI Malaysia discusses the gig economy
Chair of CMI Malaysia Taranjeet Singh CMgr CCMI and his team at Quantum Steppe Advisory have completed a fascinating project on the gig economy.
The past several months has been focused on getting to grips with a topic that is very close to all our hearts today… that of the gig economy and the implications that it has had on the way we operate, we work, and the way we treat those who work for and with us. This is a teaser for you and the main body of this white paper will be released on the Quantum Steppe Advisory website in due course. Stay tuned and enjoy the read.
Taranjeet Singh CMgr CCMI
CMI Malaysia hosts its first post-Covid in person event
On 31 March 2022 the CMI Malaysia Regional Board held its first face-to-face event since the Covid pandemic struck. It was great to see engagement with both CMI members and non-members for a discussion on levelling up management and leadership.
We would also like to extend our appreciation and thanks to the panel speakers Shahryn Azmi, Associate Professor Dr Baharom Abdul Hamid, Dr Datuk Seri CMgr CCMI, Dr MD Zabid Haji Abdul Rashid CMgr CCMI and moderator Taranjeet Singh CMgr CCMI, Chair of the CMI Malaysia Regional Board, for sharing their insights. 
You can now watch a short montage video of the event (courtesy of and with thanks to Saito University College):
Plus, in case you missed it, you can also watch back our recent webinar on inclusiveness and resilience at work:
You might also like these posts on this topic:
Don't miss out - get notified of new content
Sign-up to become a Friend of CMI to recieve our free newsletter for a regular round-up of our latest insight and guidance.
CMI members always see more. For the widest selection of content, including CPD tools and multimedia resources, check out how to get involved with CMI membership.