Re-onboarding will be stressful. The trick will be to treat returners as new starters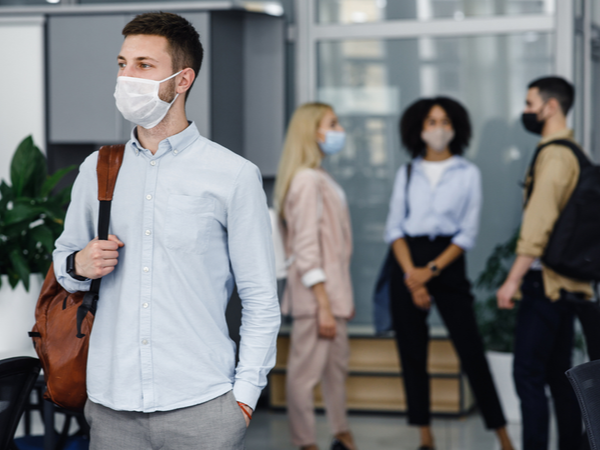 If homeworking has become the norm at your organisation during lockdowns and restrictions, chances are that getting people back to the office is a very gradual process.
Many companies are keen not to rush colleagues back in, or insist on a pre-Coronavirus style presence, five days per week.
Employee worries – including among the C-suite, let's not forget – are myriad and justifiable, and while not all can be controlled, there are certainly elements that can be eased.
It's no exaggeration to state that in extreme cases, some staff could experience a PTSD-type reaction to re-onboarding. There are other concerns, such as anxiety over using public transport. While you cannot influence what happens on or around trains, trams or buses, you could reassess car parking, for example, sourcing and subsidising extra spaces for staff use. And although a workplace is by definition communal, you can re-arrange furniture to give each employee more space.
Here are some thoughts and ideas for navigating this unprecedented situation.
Treat returners as new starters
If staff have been away for a long time, many will feel unsure and unsafe. They will require a full re-induction on everything from what happens when the fire alarm goes off, to where to find pencils and paper clips.
Be careful to action what's likely to be a long list of requests for adjustments to individual workspaces – personnel are used to having their essentials arranged just how they like them, and there's no 'one size fits all'.
Hopefully by the time staff begin to return, the building will have undergone a deep clean, with perhaps some fresh décor and even a reconfiguration of room layouts – giving as much thought as possible to environmental sustainability, of course – to provide comfortable breakout and meeting spaces.
Also, have specialists been called in to service the lifts and clean the gutters? Have all other fixes and checks been carried out? Staff retention is likely to be an issue for many firms in the months ahead and it really is a case of first impressions count.
Involve everyone in changes
During lockdown, many people have been rethinking their futures, considering long-held hopes and dreams. Being back with their old team, and the same old irritations, might not be top of their wish-list.
What can you do to make employees see their role anew, and fall in love with it again? It costs time and money to travel to work, so what will make them excited to be back? What is the benefit to them, in comparison with staying at home?
The answer to this will depend on the company culture and your workforce profile in general but a complete overhaul of things such as perks, team building and social opportunities could help – alongside those new sofas and plants, of course.
It's crucial that your vision for change is sustainable, properly consulted upon and communicated. Build in opportunities for all colleagues to have their say, at every stage – ideally before they set foot in the office, if there's still time.
Sharing your strategy, and acting upon the contributions of others, will lead to their buy-in, and your ultimate, collaborative success.
Think about moving
Now might not be the time to make permanent decisions about your company's future home, but you could certainly consider, say, three different scenarios and monitor them, ready for when working patterns and preferences settle down.
In the longer term, do you need to be in a city centre anymore? Would a reboot in a fresh, eco-conscious building help energise your teams for the challenges ahead? Planning ahead for this possibility will put your company in a well-researched and considered position to act, when the time is right.
This year is truly the start of a new era – and what firms do now will pave the way for future success.
You can also read how Stephen Pierce from Hitachi Europe is approaching his return-to-work plans here, and check out our other Covid-19 related content in our Leading Through Uncertainty hub.
You might also like these posts on this topic:
Don't miss out - get notified of new content
Sign-up to become a Friend of CMI to recieve our free newsletter for a regular round-up of our latest insight and guidance.
CMI members always see more. For the widest selection of content, including CPD tools and multimedia resources, check out how to get involved with CMI membership.